Where might you hear a "thunder" unlike any other you've ever experienced? Come to Bar Harbor, Maine, and plan a visit to Acadia National Park. If you time your visit during mid-tide on a rising sea, and you may hear and feel thunder caused by waves rolling into Thunder Hole.
Located on the Atlantic Coast of Acadia National Park, Thunder Hole was created by the unceasing pounding of waves. A large, rectangular crevice with vertical walls was formed when large blocks of the granite coastline broke away, creating a long chasm. Now, as the waves push into the chasm, rocks along its bottom are pushed inward, and then pulled outward. At low tide, you can see and hear their rumbling movements.
Air captured at the back of the chasm by inrushing waves becomes compressed. Depending on the tide and wave conditions, you may only hear sloshing or gurgling sounds. But if the conditions are right, the compressed air will "boom" like thunder.
Experiencing Thunder Hole
The park offers a safe walkway with railings to view and listen to the phenomenon of Thunder Hole. But take care: You may get wet with the soaring spray of the crashing waves if you are not vigilant.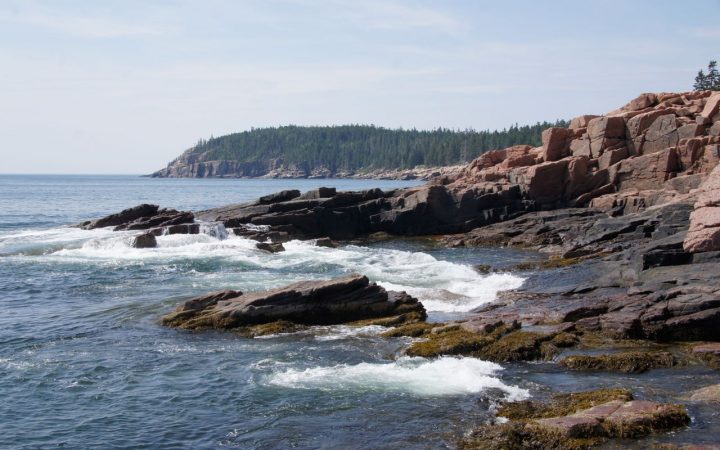 There are many such chasms along the shore of Acadia National Park, where, in many cases, the granite was molded by glaciers during the Ice Age. A drive along the shoreline will introduce you to these dazzling rock formations. Be safe: use National Park Service viewing areas to witness these natural wonders.
If you have time, drive through the remainder of the park. A sweeping view of the coastline can be seen from Cadillac Mountain — the highest elevation and most comprehensive viewpoint in Acadia National Park.
Stay at RV parks in the area.
From along the road,
Chris