Massey's Landing is a family camping destination in the heart of the Delaware Seashore. The beachfront cottages, RV sites, and campsites are perfect for couples, families, and groups want to relax, unwind and enjoy all nature has to offer.
Simply put, it's where you'll have everlasting memories.
Here are our top ten reasons why Massey's Landing is Delaware's best campground:
Onsite Eco-Adventures
Ready to connect with nature? Massey's Landing offers guests no-hassle rentals for many eco-adventures including fishing, kayaking, and biking.  You'll have access to so many beautiful paths and waterways; that an adventure could easily last all day!
Whether you like the idea of glamping or you'd rather pitch a tent, Massey's Landing has a site perfect for you. The campground offers spacious RV and tent sites as well as fully furnished cottages.  Plus, the campground has picnic tables and fire pits around the sites for some s'more fun! View accommodation details here.
Welcoming Staff
One of the best aspects of Massey's Landing is the attention they pay to their guests. The staff is always willing to lend a hand, offer some advice, and point guests in the right direction.
All the Comforts of Home
You won't feel like you're in the wilderness at this campground.
Massey's Landing has four dining options, three bathhouses (with full showers!),  a laundry service, a 'stock-up' market, and more.
ADA Access
Massey's Landing grounds invite all to enjoy the natural wonders of Delaware's Seashore! That's why they commit to being ADA Accessible.
Shuttle Service
If you want to venture out of the campground during your stay at Massey's Landing, that's no problem! The campground offers shuttle services to Rehoboth Beach and more.
Pup Friendly
Your four-legged friend should feel right at home here, too. That's why Massey's Landing offers dog walking services while you're busy, a unique beach for Fido to run free, and Massey's Mutt Dog Park, where pups can explore play structures and fountains.
Multiple Pools
Massey's Landing features a peaceful adults-only pool area and a refreshing pool bar for those over 21, plus a section where the kids can splash, jump and play Marco Polo from 10 am to 10 pm.
Onsite Activities Weekly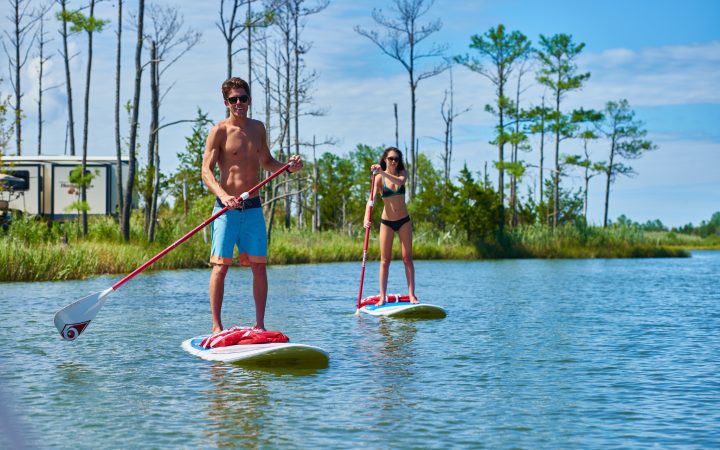 Throughout the season Massey's Landing hosts many activities for adults and kids alike! One of the most popular activities is the daily cruises! They offer an Eco Cruises, BYOB, Cruises and Evening Cruise.
The Water (and Sunsets, of course!)
Massey's Landing has plenty of sunbathing space, sans the crowds, on the sands of their private Beach on Rehoboth Bay. Relax, their friendly staff can also set up a rental umbrella and chairs for a small fee. Plus, there's fishing on Rehoboth Bay, canoeing along the 2-mile stretch of waterfront, and paddleboarding.
Oh, did we mention the sunsets? They might be the most gorgeous in Delaware!
One last thing, one of the best parts about Massey's Landing is that they have savings options ALL season long – take a look!