The Teardrop RV gets its name from its unique streamlined shape.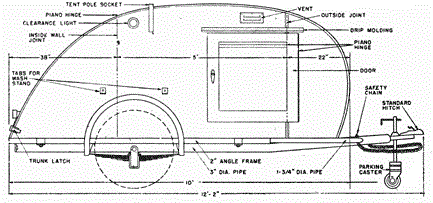 Conceived more than 75 years ago, the teardrop RV has stood the test of time. A common sight from the late 1930s through the '50s—many were home-built—and were popular because of their sleek, aerodynamic design, and lightweight materials.
Teardrop RVs are generally small, ranging from 4 feet to 6 feet in width and 8 feet to 10 feet in length. They are usually 4 feet to 5 feet in height. Wheels and tires are usually outside the body and are covered by fenders.
The March/April, 1939 issue of Popular Homecraft ran a story and plans for a teardrop trailer designed and built by Louis Rogers of Pasadena, California in the 1930s for his honeymoon coach. This teardrop slept two and had a raise-up deck lid for the rear kitchenette with ice box and stove. A curtain-enclosed dressing room outside the starboard entry door provided privacy while dressing.
The February, 1940 issue of Popular Mechanics ran a story and plans for an egg-shaped teardrop trailer. It was built on a 1924 Chevrolet Superior front axle with disk wheels from a 1930 Chevrolet.
Following World War II Kit Manufacturing produced "Kit Kamper" teardrop trailers. They soon learned that what the public wanted was not a kit, but a completed trailer. Kit Manufacturing made the decision to produce the teardrop trailers in completed form. The 4-foot x 8-foot Kit Kamper tear drop was destined to win the hearts of Americans—and a place in history.
A total of 4,500 Kit Kampers were produced in 1946 and 1947.
Their popularity faded as vehicles became larger, fuel was cheap, and recreational vehicles increased in size. In 1948 Kit went into production of a more conventional 8-foot x 14-foot "coach" with demand far exceeding production capability. The Kit Kamper teardrop assembly line was ended.
Teardrops have recently gained a resurgence in popularity. New fuel efficient cars, combined with today's modern teardrop trailers now allow you to once again enjoy the open road in modern comfort and retro style.
While a lot has changed since the introduction of teardrop trailers on the American highway, the reasons for owning a teardrop trailer are the same today as they were when your father or grandfather built his teardrop in the family garage.
Teardrop RVs are sleek, aerodynamic, and practical. Depending on the model, your teardrop trailer can sleep up to three adults or two adults and several children.
Teardrops can be pulled by any vehicle with a hitch—even the smallest of vehicles such as the Mini Cooper or the VW Beetle can easily tow a teardrop trailer.
Whether you're a weekend camper who enjoys spending time with the family, or an avid outdoorsman who hunts, fishes, or rides a four wheeler—there's a teardrop trailer that will suit your needs. There are even teardrops for towing by motorcycles.
A variety of unique teardrop trailers have gained in popularity including the Vistabule, Lil' Snoozy, Safari Condo, Tiny Trailer, Little Guy, Eggcamper, Geistwerks, and Moby 1.
Teardrop trailers have come a long way since those original teardrops, but still offer all the enjoyment and fun that the original teardrop owner came to expect.