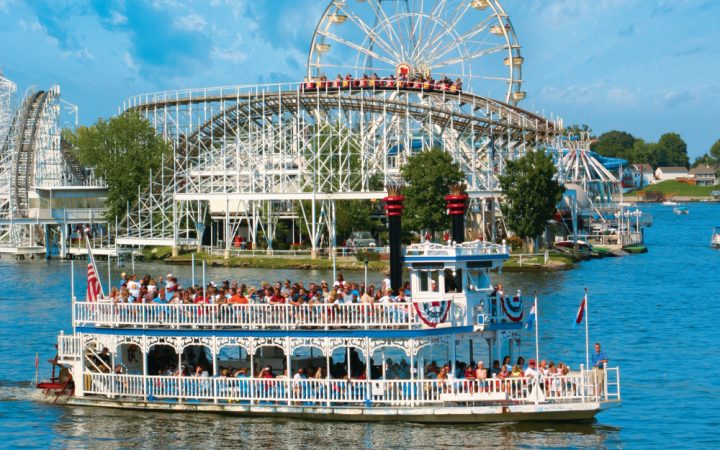 When the sun rises over Lake Shafer at 6:31 am on May 12, the rosy sky will mark the dawn of another amazing summer season at Indiana Beach Boardwalk Resort. Campers will awaken to the crisp air, take a stroll with a gorgeous view of the shimmering water and begin listening for the familiar rumble and roll of the Hoosier Hurricane, the Cornball Express and all the signature roller coasters that make camping here an experience like nowhere else.
One visit and it's immediately obvious why so many campers are devoted to this location. Where else can you set camp with a one-of-a-kind amusement park a free shuttle ride away? Any day you want, scream on the thrill rides, splash in the water attractions, play the arcade games and enjoy the food and the sites along the classic boardwalk.
Bundle Park Tickets with your stay and Save up to 35%!
Save big when you camp and play! Save up to 35% when you bundle your campsite with Indiana Beach Amusement and Water Park tickets!
See, Indiana Beach is beautiful not only to your eye but your budget as well.
Even without such super savings, there are easily ten reasons why you should book your stay right now.
Mother's Day Brunch on Sunday Opening weekend is May 13
The SkyRoom Restaurant and Rooftop Bar. Terrific lake view with live music
First Responders get in free Memorial Day weekend
Fireworks show free with admission on Sunday night during Memorial Day weekend
Rockin' The Beach Summer Concert Series. Party all summer long
Declaration Celebration. Here, July 4th lasts FIVE days with fireworks every night (Jun. 30- Jul. 4)
Rotary Triathlon/Duathlon on Sept. 7
Oktoberfest Weekends Sept. 8-23. Roll out the barrel, folks!
Halloween Horror Weekends Sept. 29-Oct. 28. It gets really dark out here!
FREE shuttle from the campground to the amusement park!
Indiana Beach is half way between Chicago and Indianapolis, both an easy drive away. So when you want a dose of the city, you can do it…and then return to life under the stars by the lake and the coasters.
For many campers, Indiana Beach has become a summer tradition. We recommend you book now, while the choicest sites are available.