This may be the most event-full year ever at Indiana Beach. Just one look at the calendar and it's clear that 2018 is going to be incredible!
In fact, the fun has been on a roll since Opening Day. Already, the park has been turned into a motorhead's dream world with the Classic Car Show. Collectors from across the U.S. displayed the finest chrome and body paint with autos you just don't see on the road anymore. And at the end of the month, the park exploded with excitement over Memorial Day weekend with fireworks and the launch of our new Red & Blue Churros. Stay at Indiana Beach Campground during your trip.
All that's just the warm up. Summer's heating up and so is the fun.
Look at what's ahead!
Rockin' The Beach Summer Concert Series.  Six arena-worthy shows. Six top-flight tribute bands. All free with admission. Select dates throughout the summer.
Live Music in the Roof Garden. This is where the adults go to play. Chill with cocktails overlooking the boardwalk. And get your laughs with special versions of board games just for grown-ups.
Boardwalk Beats, every other Saturday night starting June 16. The DJ spins dance crazy tunes and the light show makes the boardwalk pulse. This has got to be the best disco in Indiana.
Declaration Celebration, June 30 – July 4. Here, Independence Day is too big for just one day. We celebrate for five amazing days with flag raising ceremonies, great live music and spectacular fireworks every night.
National Waterpark Day, July 28. We're going to make a splash with plans for something special. Check back and watch for our announcement later. You won't want to miss this one!
United Way Duck Race, August 6. The most popular racing event of the summer and it's all for a good cause. Who knew rubber duckies could be so thrilling? Quack your duck to the finish line!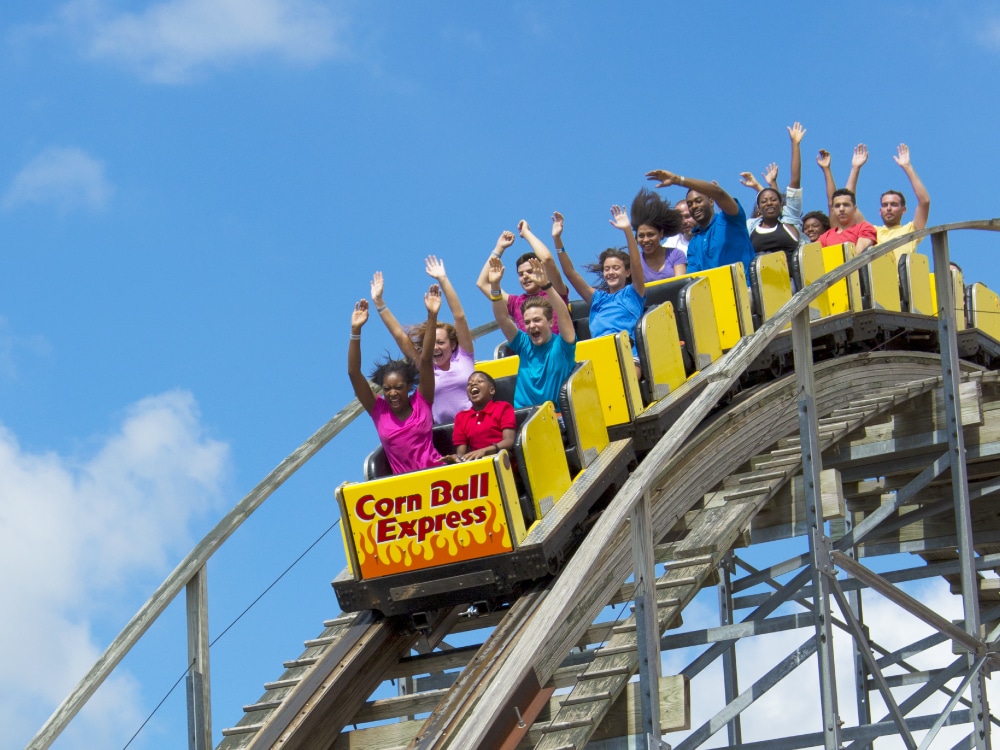 National Rollercoaster Day, August 16. Where else could you celebrate this? You know it's going to be a scream. Ride them all…and don't close your eyes!
Oktoberfest, every weekend in September after Labor Day. Lederhosen, the chicken dance, hot pretzels and cold beer. What a perfect send off for summer and festive welcome to autumn. Oompah!
Indiana Beach/Monticello Rotary Sprint Triathalon, September 8. Swim. Run. Bike. Not pick one, but do all three! Get in shape, give it your all and race to the finish line right on the boardwalk!
Halloween Horror, weekends September 29 thru October 28. Family-friendly goblin fun during the day…then serious fright at night.  Bring your little ghosties or your zombie best buds, you're in for a howling good time.
Wow! What a year full of fun. You'll have all winter to rest up before we do it all again in 2019!
Photos: Indiana Beach Campground