North Carolina offers a wide range of opportunities for relaxation, fun in the sun and adventure. It is also a state rich with culture and importance in American history. The Old North State enjoys a moderate climate in the summer, averaging 70 or so degrees, and in the wintertime it dips down into the mid-40s. No matter what time of year you visit there's plenty to do, whether it's hiking in the majestic Great Smoky Mountains in spring and summer or skiing and snowboarding in the winter. This One Tank RV Trip from Woodall's is sure to set you on a course for a wonderful coastal vacation.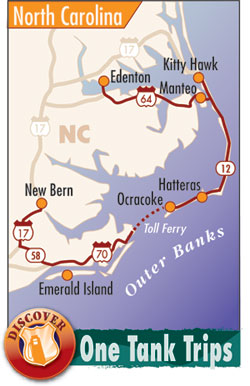 New Bern
Let's start off in New Bern, the second oldest city in North Carolina. There are many fun and interesting things to do in this city, from investigating her many historical sites to cruising down any of several rivers in a sailboat or canoe. At the top of the list of historical monuments is the Tryon Palace, which was the home of British Royal Governor William Tryon. The fully restored residence was built in 1770; the grounds feature four separate homes containing a collection of art and antiques that must be seen to be believed.
A fun site to visit while in New Bern is the "Birthplace of Pepsi." It's a pharmacy on Middle Street, where a local soda jerk created the beverage that would later be known as Pepsi-Cola. The store features all kinds of Pepsi-related merchandise, so be sure to grab a few souvenirs while you're there.
Emerald Isle
Getting out on the road, head south on US-17 for a little more than 20 miles, then take state highway 58 for another 26 miles until you reach Emerald Isle. The town is a beautiful part of the Crystal Coast, and draws as many as 50,000 tourists during summertime. It's a perfect place to break out the beach gear, grab a rod and reel to try your luck at the fishing pier, go jogging along the shoreline, or pedal along one of the many bike paths. One Friday a month in summer, Emerald Isle hosts Friday Free Flicks; the movies are always family-oriented in theme, and it's recommended you bring chairs and a blanket for your own comfort.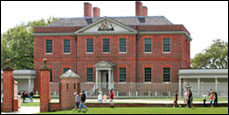 Cedar Island
A short 4-mile trip east on US-70 takes you to Cedar Island. While you're there, take advantage of the local horse stables, where you can rent horses for a ride along the beach. Also, the Cedar Island National Wildlife Refuge is a gorgeous place to take a boat out on the water and explore 15,000 acres of nature preserve. Bring the camera!
At Cedar Island, take the ferry over to Ocracoke. The ferry is able to accommodate even the largest RV, so no worries there. Once back on dry land, there are several fun things to do: check out exhibits devoted to notorious pirates, enjoy the view while parasailing, or rent a Jeep for a ride down the miles of sandy beaches.
Hatteras
It's a 20 mile trip eastbound to Hatteras, home of the Cape Hatteras Lighthouse, a popular visitor spot. While in Hatteras, you can rent jet skiis and waverunners for a bit of high-speed fun out on the crystal blue water. The lighthouses at Hatteras, Ocracoke, Bodie Island, Roanoke Marshes and Currituck Beach comprise a fascinating tour along the barrier islands of the Outer Banks that will entertain the whole family. The Outer Banks also boast some of the finest fishing on the Eastern Seaboard, so charter a boat and reel in as many mackerel, flounder, trout and stripers as possible!
Leaving Hatteras by way of Highway 12 north, you arrive at Roanoke Island roughly 60 miles later. Roanoke Island is the setting for one of the biggest unsolved mysteries in American history: how a colony of 117 men, women, and children vanished without a trace 400 years ago. Make sure to visit the Fort Raleigh Historic Site, where an outdoor drama depicts this baffling situation.
Kitty Hawk
Seventeen miles farther north on Highway 12 is the birthplace of aviation, Kitty Hawk. The Wright Brothers National Memorial stands as a proud monument to these pioneers of modern flight; exhibits tell the story of their tireless efforts to put man in the air, and full-size replicas of the glider and the flying machine are on display. Climb up Kill Devil Hill while you're there and stand on the very spot the Wright brothers performed their tests and experiments.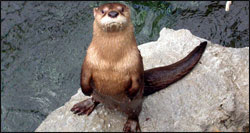 Manteo
Proceeding west on US-64 takes you on an 18-mile trip to Manteo, which is a prime place to pull over and enjoy antiquing in the town's shopping district. If you're feeling outdoorsy, Manteo has plenty of vendors offering chartered sailboats or bicycle tours of the surrounding environs. The North Carolina Aquarium gives you an up-close look at various types of fish, river otters, and sharks in an array of saltwater habitats. It's a great place to spend a big chunk of the day – especially watching the mischievous little otters!
Edenton
Sixty-six miles farther west on US-64 and a quick merge with US-17B, leads you into your final destination of Edenton. This is truly a beautiful city, established in the 17th century, and still features a good portion of its historical buildings. A guided walking tour of the historic district provides a fascinating look at a town that has been hailed as one of the most beautiful in the South. Its quiet charm and breathtaking views across Edenton Bay make it an ideal spot for a romantic getaway.
Where to Stay: Holiday Trav-L-Park Resort For Campers is a private RV resort in Emerald Isle with plenty of space for big rigs and full hookups. You can also stop over at the beginning or end of the route: The New Bern KOA features handicap accessible big rig sites with full hookups and freshwater fishing on the Neuse River, while the Rocky Hock Campground in Edenton has 70′ RV campsites and welcomes your pets.