Check out these hghlights of RV-related news, events and video from this past week.
1. Dreams of a Truly Efficient RV: Fulltimer and resident blogger Bob Difley describes what he's looking for in the RV of the future, touching on the pros and cons of towables vs. drivables. Is alternative fuel really capable of powering an entire RV?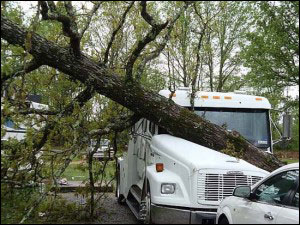 2. Stay Safe During Wild Weather: Sometimes bad weather is unavoidable while you're out on the open road. No matter how tame the forecast may seem, it's best to take precautions and get out of the elements. Blogger Nick Russell shares his first-hand tips for staying safe in your RV during bad weather.
3. Frugal Travel Without Leaving Home Behind: As you know, RV Travel is a fantastic way to see the sights without paying an arm or leg to get there or stay the night. Canadian couple Randy Sturrock and Marianne Edwards love their Class B so much, they travel for 5 months out of the year, bringing the comforts of home with them while they vacation. Read what they had to say about RVing in an interview with a New York Times blogger last week.
4. Connecticut Couple Quit Jobs, Travel in RV to Help Others: Amy and Dave Mueller will be venturing across the U.S. to help people in need over the course of the next year. The young couple quit their good jobs, sold their waterfront home in Clinton, CT, and packed up their 30-ft. RV to start their mission of service. They plan to help rebuild homes in New Orleans and West Virginia before heading to South Dakota to help out on a Lakota reservation there.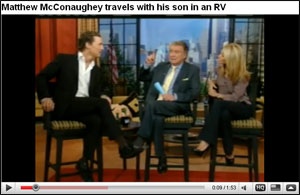 5. Matthew McConaughey Tells Regis & Kelly About his RV: Hollywood hunk Matthew McConaughey came to the "Live! with Regis and Kelly" show in New York City recently, where he discussed his foundness for road trips in his Airstream travel trailer with his girlfriend and their 9-month old son. Watch the video clip on YouTube!