Check out these highlights of RV-related news, events and video from this past week.
1. Newmar Extends Service to all RV Owners : RV maufacturer Newmar Corp. announced it will now service all makes of recreational vehicles, regardless of the brand or type of coach. If the manufacturer of your RV went out of business or no longer offers factory service support, you now have the option of having repairs done at Newmar's Nappanee, Indiana, full-service facility. Learn more about the factory services offered.
2. Pomona RV Show Partners with Summer Fest: Originally scheduled for this weekend, April 23-26, the Pomona RV & Travel Show will now be held June 19-21 at the Fairplex in Pomona, California. Show attendees can register to win one of four Keystone RVs in the "Live Your Dreams Sweepstakes." Tickets are $10 for adults, children 12 and under get in free. See a list of the show's scheduled events and vendors.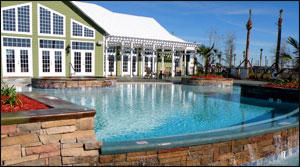 3. Five-Day Grand-Opening Celebration at Bella Terra Luxury RV Resort: Bella Terra Resort is planning a Grand Opening celebration to take place May 6-10, marking the official launch of the resort, which had a soft opening last November. Five days of festivities are planned at the Class A RV resort in Gulf Shores, Alabama, including a wine-and-cheese kickoff reception, a traditional Gulf Coast Crawfish Boil (to be held poolside with live entertainment) and a catered continental brunch in the resort's Grand Cubhouse.
4. Maine Parks Making Major Upgrades in 2009: The National Association of RV Parks and Campgrounds surveyed private RV park and campground owners, finding that many of them in Maine and across the country will be upgrading their facilities in anticipation of a busy summer camping season. See a list of Maine campgrounds making improvements.

5. National Park Service Gets $750 Million in Recovery Act Funding : The National Park Service announced on Wednesday, April 22 that $750 million from the American Recovery and Reinvestment Act of 2009 will be used to fund 750 restoration and protection projects across the country, according to Environment News Service. These projects will repair weak infrastructure and protect wildlife areas, among other things. See a complete list of projects under the Recovery Act.
6. Keystone RV Giveaway – 1st Winner Announced: The first of 4 Keystone RV Giveaway winners was announced at The Rally last week: congratulations to Mackie Daniels of Fitzgerald, Georgia, who won a Keystone Springdale Travel Trailer! There are still 3 rigs left to be won, so enter the sweepstakes by visiting the Keystone Live Your Dreams RV Giveaway site today.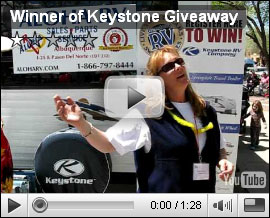 7. The Rally Wrap-Up: The 10th Annual Rally was a great success this year in Albuquerque, New Mexico. More than 3,000 rigs came out for this fun-filled weekend dedicated to the RV lifestyle. About 400 suppliers manned indoor booths and 30 manufacturers and dealers brought about 500 display units to The Rally for attendees to peruse. Next year's Rally will be held July 22-25 at the Kentucky Exposition Center in Louisville, Ky., the same location where the Recreation Vehicle Industry Association (RVIA) holds its annual national RV trade show.
8. Monaco Signs Non-Binding Letter of Intent With Navistar: RV manufacturer Monaco Coach Corporation announced it has signed a non-binding letter of intent with Navistar, Inc. in regard to a proposed transaction in which Navistar would acquire certain assets and assume certain liabilities primarily associated with the Company's recreational vehicle manufacturing business. Navistar is a leading global manufacturer of commercial vehicles, military vehicles, diesel engines and related parts and services. The letter of intent suggests that Monaco and Navistar will work to sign a definitive asset purchase agreement during early April. Monaco continues to work with other interested parties about acquiring its Motorhome Resorts segment and other assets held for sale.
9. Judge Gives Fleetwood More Time for Sale : RV manufacturer Fleetwood Enterprises Inc. has been granted more time to finalize an agreement with potential buyers. Company officials said an agreement wasn't imminent and would not say who the potential buyers were, except that the company continues to have discussions with several parties, according to the Press-Enterprise of Riverside, California. The Riverside-based company, which filed for Chapter 11 bankruptcy protection March 10, sought more time in court documents filed Friday, April 17.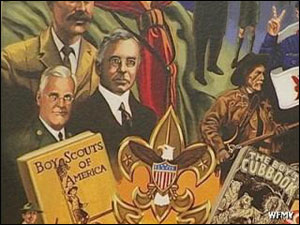 10. Boy Scouts RV Stops In Triad To Preview 100th Celebration: The Boy Scouts of America has deployed several teams to tour the country by RV in advance of their centennial celebration next year. The teams plan to visit each Scout Council in the nation by February 2010, journeying a total of over 45,000 miles. One team stopped in the Triad region of North Carolina this week, presenting city leaders with a mural depicting important people and events in scouting history. Learn more about the Century of Values Tour.