RV to Colorado ghost towns.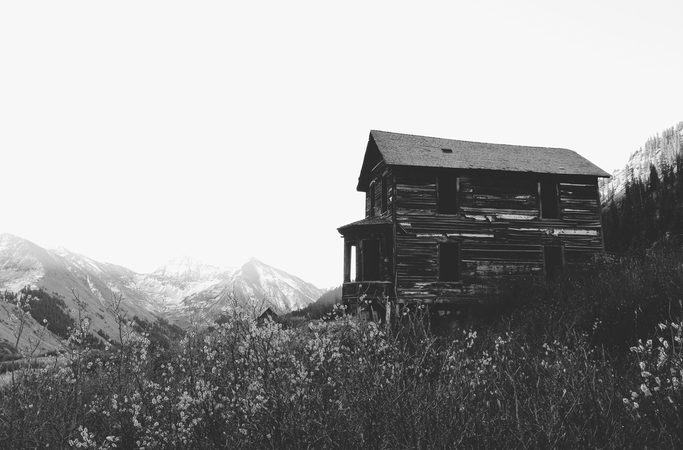 Colorado claims to have over 1,500 ghost towns, though you will actually find only about 640. The rest have been reclaimed by nature, covered by mining tailings or flooded over from nearby reservoirs. Many are accessible with four-wheel-drive vehicles by long, rough dirt roads. However, many ghost towns are within reach of paved roads, making them perfect for exploration from the comfort of your RV or towed vehicle. 
The residents of these once-bustling towns from the 19th and early 20th centuries abandoned them for various reasons, mostly because the populations couldn't subsist when nearby silver or gold mines closed. However, in the towns that remain standing, you can find abandoned houses, eerily quiet saloons, once-grand hotels and ghostly cemeteries that have withstood (some barely) the ravages of weather and time. 
About 120 miles southwest of Denver, you'll find a cluster of ghost towns nestled in the Rocky Mountains. Here are some of the highlights:
ATV Around St. Elmo & Tin Cup
A great starting point for you ghost town adventures is the town of Buena Vista, nestled at the foot of the continental divide on U.S. Highway 24. About 20 miles southwest of Buena Vista, St. Elmo is one of Colorado's best-preserved ghost towns, though you won't see scruffy miners hanging out outside the wooden storefronts on its dusty main street. You can get to St. Elmo in a regular car, but after you explore a bit, rent ATVs at the general store and ride the trails for the nearby infamous town of Tin Cup. In October 1859, prospector Jim Taylor panned some gold from Willow Creek and carried it back to camp in a tin cup, giving the town its name. By the 1880 census, the rowdy town had a population of 1,495, but lawmen didn't last long here. Town Marshal Harry Rivers died in a gunfight in 1882, and Marshal Andy Jameson was shot to death in 1883. Visitors claim to have seen their ghosts loitering at the cemetery just south of town.
RV to Colorado ghost towns Vicksburg & Winfield
About 20 miles north of Buena Vista, you'll find the tree-lined streets of Vicksburg, a former mining camp founded in 1867 in Clear Creek Canyon. It was here that miners, chasing their strayed burros, found gold in the creek bed. The site is listed on the National Register of Historic Places, and a part of the town is maintained as a museum. Four miles beyond Vicksburg, you'll find another old mining camp, Winfield. Its population of 1,500 vanished as the local economy cratered.
Take a Tour of Ashcroft
About 12 miles south of Aspen lies Ashcroft, one of the more prosperous towns of the mining era. This was once home to two newspapers, 20 saloons, a school, sawmill and several private homes. However, Ashcroft began to decline at the end of the 1800s. The prospect of a rail line to nearby Crested Butte never materialized, and investors and workers moved on to Aspen to follow the latest gold strike (today, Aspen stakes its claim to fame on skiing and celebrity sightings). You can take a guided tour of a dozen or so buildings preserved by the Aspen Historical Society, including the jail, livery stable and a couple saloons.
RV to Colorado ghost towns to discover a forgotten past that still speaks to today's traveler. Discover Good Sam Parks in Colorado for a trip into the past.
You can find a list of Colorado ghost towns any Colorado Welcome Center. 
You can find Bob Difley's RVing ebooks on Amazon Kindle. Follow on BoondockBobblog.