RV parks in Fort Myers welcome you for the ultimate Florida escape.
Bracketing more than 50 miles of sublime, white sandy coastline and exuding all the carefree attitude of an "it's-always-summer-here" destination town, Fort Myers is the place to rest, relax and roll in the surf. The mighty Caloosahatchee River cuts through this buzzing county seat, emptying into the Gulf of Mexico by way of Cape Coral and the buffet of islands that dot the Fort Myers coastline.
Water defines the entire region, and so it's no surprise that at the top of the list of things to do here you'll find some of the best scuba diving, fishing, kayaking, swimming and dolphin watching in Southern Florida.
Roughly two hours from both Tampa to the north and Miami to the southeast, Fort Myers represents a happy medium between a charming seaside town and the big city. Visitors will find a relaxed summer resort pace coupled with a massive selection of amazing seafood restaurants, top-flight museums and all the amenities of a large metropolitan area. In short, there's always something to do—no matter what your interests are.
For outdoor enthusiasts, Fort Myers is bursting with activity and recreational hotspots. With more than 50 miles of pristine Gulf coastline and white sandy beaches, it's akin to paradise for those looking to boat, swim, fish, kayak, scuba dive and dolphin watch.
Fort Myers Beach in particular is a treat to stroll and explore, while day trips to the nearby islands of Sanibel and Captiva unlock idyllic tropical treasure troves full of pelicans, seashells and sandcastles.
And if you're looking really to escape into the quintessential Florida wetland, the Six Mile Cypress Slough Preserve is just a few miles outside of the downtown core and offers guests a chance to see alligators, turtles and migrating birds from the vantage point of an elevated boardwalk that snakes through the cypress hammock and canopy.
Fort Myers Museums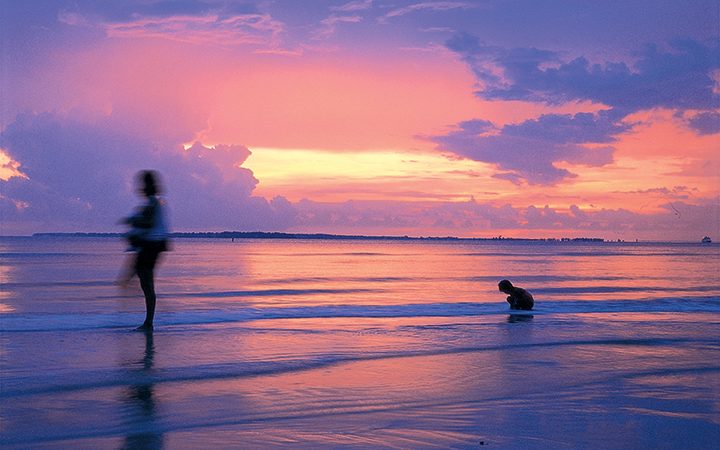 When you're done with the sun, need a break from the water or are simply craving a change of pace, Fort Myers is home to a fantastic one-two punch for museum explorers: The Southwest Florida Museum of History and the winter estates of Henry Ford and Thomas Edison will enthrall history buffs and delight even the most reluctant of museum visitors.
The Southwest Florida Museum of History, centrally located near the southern banks of the Caloosahatchee River, is full of everything from wooly mammoths and World War II fighter jets to iron lungs and even a model of the original Fort Myers, built in 1850. Those with small children will also want to check out the Imaginarium Science Center—right next door to the Museum of History and a natural extension that's geared specifically for kids 10 and under. It specializes in stimulating hands-on educational activities, and always has a good selection of world-class travelling exhibits on display.
The Ford and Edison winter estates, for their part, might be one of the most popular attractions for tourists in all of Fort Myers. Just a few blocks down the street from the Museum of History, perched directly on the shores of the Caloosahatchee River and spread across a grand collection of painstakingly restored buildings and gardens, they house and display a massive collection of inventions, artifacts and galleries from the lives of both pioneering American icons. Even the giant ficus tree—planted nearly 100 years ago by Ford, Edison and Harvey Firestone in an attempt to find a cheaper alternative to rubber production—still stands tall here.
Seeing the Light
Finally, there's the Edison Festival of Light, a treat for anyone who happens to be passing through Fort Myers near the beginning of February. Running for nearly two weeks (to celebrate Edison's birthday) the Festival includes antique car shows, live music, an abundance of parades and what's likely the most riveting and spectacular science fair on the planet.
Nowadays, it's hard to believe that Fort Myers began life as a small military settlement in the early 19th century, only growing into the bustling coastal township that it is today because a handful of families took over its abandoned barracks in 1876.
Far from showing signs of age or the remoteness of a once-abandoned military outpost, visitors to Fort Myers today will find an embarrassment of riches serving a variety of interests. From family-friendly beachfront restaurants and charming hole-in-the-wall eateries, to eco-tourism airboat tours and guided wetland walks, the town has something for everybody.
Whether you're looking for a spot to relax and escape, hunt and fish, or hit the fairways, Fort Myers will surprise and reward visitors of all ages and interests.
For More Information, visit the Florida Department of Tourism.