An RV entrepreneur shares insights into making it work on the road.
Self-employment means walking the line between total freedom and the nagging thought of financial insecurity. Toss in the insatiable urge to live and work in your RV, and you'll spend your days exhilarated, exhausted or both — but I guarantee that your life as a nomadic entrepreneur will never be boring. If living on the edge without falling off is as much a priority for you as it is for us, here's what your nomadic experience might look like.
The Daily Life of a Nomadic Entrepreneur
"You work more than you ever did before," my mom often tells me during our Sunday phone conversations. Mom will be happy to know that once again, she's mostly right. It's a safe bet to say that nomadic entrepreneurs like my husband and I tend to log more work hours than W2-employees. It's par for the course in this cutthroat world of side gig hustlers and overseas cut-rate competitors.
On the surface, it looks like we practice self-imposed slavery, but look deeper and the payoffs are worth the effort. For starters, nomadic entrepreneurs get to enjoy gorgeous, ever-changing scenery and the excitement of exploring new and favorite places whenever we wish. Untethered to workamping jobs or seasonal employment, we roll where the wind blows us then carry on with our workflow.
Before my husband and I hit the road, we sat in our offices each day and looked out at the same scenery, again and again. The adventure we wanted was elusive, expensive and a hassle to plan, so we rarely went looking for it. But as full-time RVers since 2007, those excursions into wild places are as close as our front steps. Sure, we often work long days in between those treks, but putting in a few extra hours on our laptops pays off. Between sunup and sundown, the routines of our daily life as nomadic entrepreneurs typically shape up into one of two kinds of days: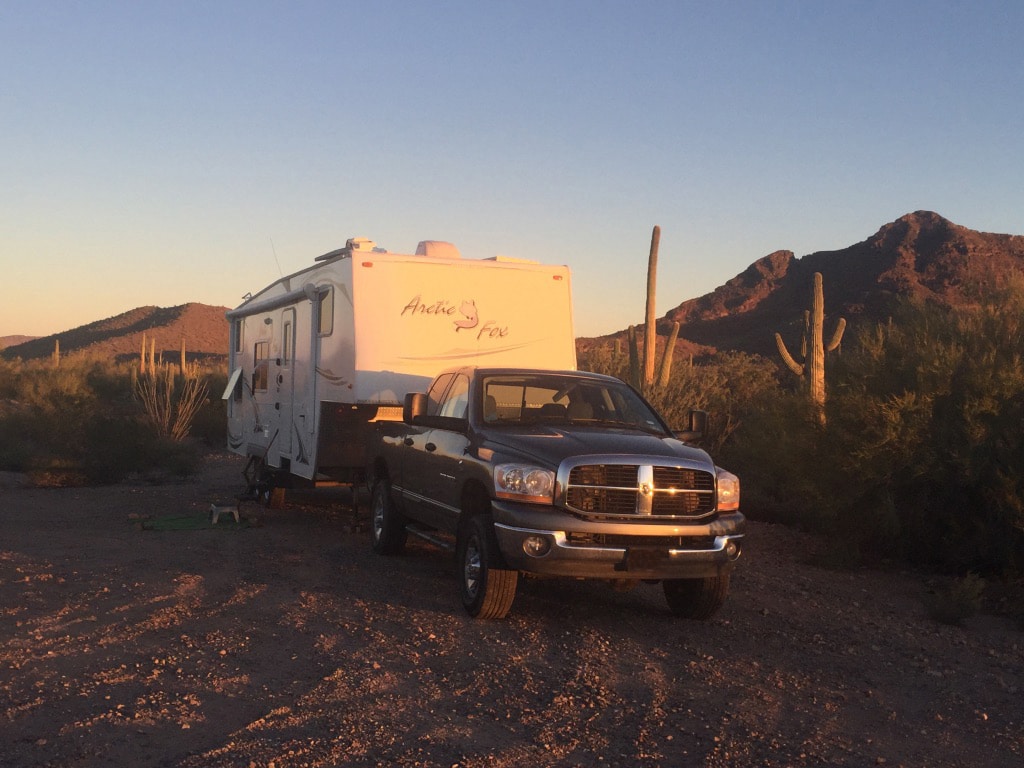 Work Day Scenario A: Driving Day Work-Arounds
Changing locations always disrupts our workflow, so we need to prepare for it. Years ago we came to terms with knowing that when we have a lot of miles between Point A and Point B, we won't get a whole lot of "real" work done. In a perfect world, when we stop the engine at the end of the day, we can get online with our mobile hotspot or satellite Internet system. Once parked, we often work long into the night to catch up on processing orders or meeting deadlines.
But on those rare occasions when Internet access eludes us, like in some parts of Alaska, where the horizon is too low for satellite Internet connectivity, we just put work aside and repeat one of our favorite mantras: "The Situation is the Boss." Simply put, we embrace the disruption and do something else. Boring chores like grocery shopping and laundry get tackled, and we'll play the tourist to explore our new geographical region. Business needs might whisper in our ears, but by day's end, we can rest easy knowing that we made the most of our lifestyle. We know that tomorrow always brings another opportunity to accomplish the deep work that needs doing.
Work Day Scenario B: Balancing Life and Work
Real productive workflow happens when we are parked somewhere for more than 24 hours. Even just two solid days of staying put helps us meet business goals. From managing our Tripawds.com animal amputee support community to web-based marketing support for clients to banging out custom metal jewelry from the back of our fifth-wheel trailer, we patiently tackle our agenda. That's when it's time to put in long hours to make up for all that fun.
Following a routine comes naturally when we settle in. Whether it's Sunday or Wednesday or any day, we wake up at 5:30 am, go on a run and work out, exercise and feed our dog, make breakfast then meditate to clear our minds before diving into work. We hum along, he at his desk, me at mine, and daily life takes on a sense of normalcy as we smoothly transition between tasks that encourage prosperity, put fuel in our tank and food on the table.
When our wheels aren't turning, we're like any other self-employed person who works from home. Yet as nomads, we face an additional challenge: all that gorgeous scenery outside our office window, beckoning us to go play. Nature's beauty is the most tempting distraction of all. But we try to remember that temporarily putting aside leisure time is critical. The fear of starvation and poverty are powerful motivators in the quest to maintain our oddball lifestyle.

Three Tips to Master the Art of Nomadic Entrepreneurship
I can't give you one secret to master this way of life. Truthfully, it's different for everyone. Some of us are better at setting priorities and goals than others, but I believe we all share three things in common that allow us to do it:
Managing our time. Traveling from place to place and exploring new locations takes time away from your workday. To keep the money coming in, do your best to plan your excursions around your work commitments, goals and dreams of financial security.
Incorporating work into our surroundings. When you work on the road, don't miss an opportunity to sit outside at a picnic table, in a camp chair or even in your new town's coworking center. You'll breathe new life into your daily work routines, possibly make new friends and watch nature unfold in ways you never could while stuck inside your rig.
Embracing the distractions. Unpredictability is one of the best and worst things about the full-time RVing lifestyle. On driving days, you never know what will happen. Hopefully, it's always good, but when it's not, you need to go with the flow. In fact, just yesterday Jim and I planned to move just 20 miles to a new location when an airbag on our Dodge truck failed. The incident blew up our workday, but we used it as a chance to enjoy our new spot and meet our neighbors.
Living on the road as a nomadic entrepreneur presents daily opportunities to master the art of the elusive work/life balance everyone wants. I've found that the longer you roam around, the more chances you have to achieve what many so many of our peers dream about: finding that sweet spot between working to put food on the table and living every day to the fullest, on your terms.
All photos by Rene Agredano