General Info: Guilford Courthouse National Military Park in Greensboro, NC,
marks the site of the hotly-contested Revolutionary War battle between British soldiers and patriot forces on March 15, 1781. This battle was the largest of the Southern Campaign skirmishes. The park features 28 monuments that honor Revolutionary soldiers, statesmen, heroes, and heroines. William Hooper and John Penn, two of North Carolina's three signers of the Declaration of Independence, were re-buried under the Signers' Monument in the late 1800s. An impressive equestrian statue of General Nathanael Greene sits atop the monument honoring soldiers of the Southern Army.

Download the battlefield walking tour PDF brochure to help plan your visit.
Hours and Fees: The park visitor center is open daily from 8:30 a.m. to 5 p.m. (except New Year's Day, Thanksgiving Day, Christmas Eve and Christmas Day). For more information call the visitor center at (336) 288-1776. Entrance is free and there are no parking fees at the park.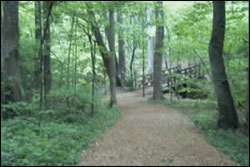 Activities: Start your trip in the visitor center near the park's entrance on New Garden Road. The center features information about the battle and the park, and the park staff is available to answer any questions you may have. Watch the 32-minute live-action theater film, "Another Such Victory" (shown on the hour) and the 10-minute animated Battle Map Program explaining the tactics of the battle (shown on the quarter hour). The visitor center also houses colorful museum exhibits of original artifacts and weaponry of the time. The bookstore in the visitor center sells books, Revolutionary War-theme souvenirs, and a narrated automobile tour CD of the battlefield to enhance your experience.
You can tour the battlefield by car, bicycle or on foot. There is a battlefield tour road (one-way) with eight tour stops and wayside exhibits. Vehicle parking is available at each stop. Tour stop 6 features a comfort station. If touring the grounds via bicycle, remember to always wear a helmet and ride in the proper direction of traffic. Use the bicycle lane and always yield to pedestrians. If you'd prefer to stretch your legs there are 2.5 miles of hiking trails through the park. Should you encounter any wildlife keep your distance and report any unusual animal behavior to park staff.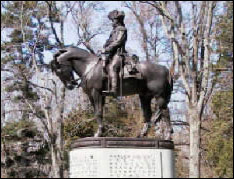 Guilford Courthouse NMP also offers a Junior Ranger program for youngsters, and is a participant in the Boy Scouts of America Historic Trail Award program. Learn more about kids activities in Guilford Courthouse NMP.
Weather: Expect hot, humid weather in summer with an occasional thunderstorm. Drink plenty of water and wear comfortable shoes if you plan to walk along the historic trails. You'll enjoy more temperate conditions in spring and fall, with mild winters.
Camping Info: The Greensboro Campground is a private, pet-friendly RV park with 55 gravel RV campsites. Each site has full hookups (30/50 amp) and measures 20×55' for a pull-thru. Nightly rates are $30-$35 depending on type of site.
If you're from North Carolina or have visited Guilford Courthouse National Military Park in the past, please chime in with your stories and tips! Your insights can help others have a fantastic trip.