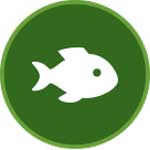 For September, Good Sam's 12 Months of RVing Calendar reels in recommended RV Parks for Fishing.
Bass, salmon, catfish and more are jumping near these select RV parks, which are located on fast-moving rivers, near ocean coasts, on tranquil lakes and ponds across North America. Whether guests are fly fisherman, deep-sea explorers of casual dock anglers, they'll find the park that's right for them.
Parks in Focus: Visitors can tell the ultimate "big fish" story after staying at Eagle's Rest RV Park & Cabins in Alaska, where staff help guests arrange for fishing charters on nearby Prince William Sound, home to hefty halibut, salmon and rockfish. Guests at Georgia's Allatoona Landing Marine Resort & Campground can go fishing for bass and crappy from a boat on the 12,000-acre lake just 28 miles north of Atlanta.
---
RV Fishing Tips: If you're visiting an unfamiliar place, a local fishing guide can be essential in directing you to the spots where the big ones are biting. For information about fishing licenses in the U.S. and Canada, consult the 2016 Good Sam RV Travel & Savings Guide.
---
Good Sam's Recommended RV Parks for Fishing (by state and city):
Alabama
Deer Run RV Park, Troy
Alaska
Eagle's Rest RV Park & Cabins, Valdez
Arizona
Verde River RV Resort & Cottages, Camp Verde
California
The Lakes RV & Golf Resort, Chowchilla
Rio Bend RV & Golf Resort, El Centro
Pomo RV Park & Campground, Fort Bragg
Pioneer RV Park, Quincy
Ocean Mesa At El Capitan, Santa Barbara
Santa Nella RV Park, Santa Nella
Santee Lakes Recreation Preserve, Santee
Colorado
Bayfield Riverside RV Park, Durango
Spruce Lake RV Park, Estes Park
Pagosa Riverside Campground, Pagosa Springs
Connecticut
Stateline Campresort & Cabins, East Killingly
Florida
Arbor Terrace RV Resort, Bradenton
Belle Parc RV Resort, Brooksville
Chokoloskee Island Park, Chokoloskee
Grand Lake RV & Golf Resort, Citra
San Carlos RV Park and Islands, Fort Myers Beach
Groves RV Resort, Fort Myers
Roadrunner Travel Resort, Fort Pierce
Rainbow RV Resort, Frostproof
Gulf Coast RV Resort, Inglis
The Glades RV Resort, La Belle
Avalon Landing RV Park, Milton
North Lake Estates RV Resort, Moore Haven
Club Naples RV Resort, Naples
Brighton RV Resort, Okeechobee
Silver Palms RV Resort, Okeechobee
Vero Beach Kamp, Inc., Sebastian
Buttonwood Bay RV Resort & Manufactured Home Community, Sebring
Georgia
Allatoona Landing Marine Resort & Campground, Cartersville
Idaho
McCall RV Resort, McCall
Illinois
Rock Island/Quad Cities KOA, Rock Island
Louisiana
Natalbany Creek Campground & RV Park, Amite
Poche's RV Park, Breaux Bridge
A+ Motel & RV Park, Lake Charles
Lakeside RV Park, Livingston
Maryland
Bar Harbor RV Park & Marina, Abingdon
Mississippi
Indian Point RV Resort, Gautier
Yogi on the Lake, Pelahatchie
Missouri
Cooper Creek Campground & Resort, Branson
Montana
Ennis RV Village, Ennis
Nevada
Lakeside Casino & RV Resort, Pahrump
Cottonwood Cove Nevada RV Park & Marina, Searchlight
New Hampshire
Mi-Te-Jo Campground, Milton
New Mexico
Isleta Lakes & RV Park, Albuquerque
New York
Camp Chautauqua Camping Resort, Chautauqua
Chautauqua Lake KOA, Dewittville
North Carolina
Ft. Tatham RV Resort and Campground , Sylva
Ohio
Indian Springs Campground, LLC, Cincinnati
Oklahoma
Little Turtle RV & Storage, Eufaula
Marval Resort, Gore
Oregon
Bandon RV Park, Bandon
Four Seasons RV Resort, Gold Beach
South Dakota
Oasis Campground, Chamberlain
Texas
Bluebonnet Ridge RV Park & Cottages, Terrell
Vermont
Apple Island Resort, South Hero
Virginia
Gwynn's Island RV Resort & Campground, Gwynn
New Point RV Resort, New Point
Washington
Granite Lake Premier RV Resort, Clarkston