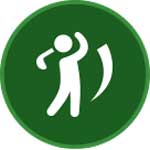 For August, Good Sam's 12 Months of RVing Calendar tees it up with a list of recommended Golfing RV Parks.
Lush fairways, challenging hazards and beautiful scenery greet RV golfers at these popular destinations. Some of the recommended RV parks on this list feature golf courses and driving ranges on their property; others are located in regions with several nearby golf courses. In all cases, these parks are up to par when it comes to attracting travelers who are always ready to tee off.
Parks in Focus: In the resort community of Mesquite, Nevada, Desert Skies RV Resort conveniently abuts the Palms Golf Club course, which features a back nine built among stunning arroyos and canyons. Guests at the Shadow Hills RV Resort in Indio, California, on the other hand, are literally surrounded by fairways; when guests tire of teeing up at the Shadow Hills Golf and Country Club, located next door, they can take their clubs to the many courses throughout the area.
Other RV campgrounds in Myrtle Beach close to golfing.
---
Golf Tip: Take a few swings at the driving range before hitting the fairway. For more tips on sporty RV traveling, get the 2016 Good Sam RV Travel & Savings Guide.
---
Good Sam's Recommended RV Parks for Golfing (by state and city):
Alabama
Auburn RV Park At Leisure Time Campground, Auburn
Quail Creek RV Resort, Hartselle
Arizona
Westwind RV & Golf Resort, Yuma
California
The Californian RV Resort, Acton
Bakersfield River Run RV Park, Bakersfield
Outdoor Resort Palm Springs, Cathedral City
The RV Park At Rolling Hills, Corning
Caliente Springs Resort, Desert Hot Springs
Rio Bend RV & Golf Resort, El Centro
Golden Village Palms RV Resort – Sunland, Hemet
Casa de Fruta RV Park, Hollister
Indian Waters RV Resort & Cottages, Indio
Shadow Hills RV Resort, Indio
Boulder Creek RV Resort, Lone Pine
Emerald Desert RV Resort – Sunland, Palm Desert
Wine Country RV Resort, Paso Robles
Coyote Valley RV Resort, San Jose
Pechanga RV Resort, Temecula
Colorado
Loveland RV Resort, Loveland
Florida
Arbor Terrace RV Resort, Bradenton
The Glades RV Resort, La Belle
Ocala Sun RV Resort, Ocala
Shady Brook Golf & RV Resort, Sumterville
The Great Outdoors RV, Nature & Golf Resort, Titusville
Idaho
Hagerman RV Village, Hagerman
Suntree RV Park, Post Falls
Louisiana
Coushatta Luxury RV Resort at Red Shoes Park, Kinder
Michigan
Soaring Eagle Hideaway RV Park, Mount Pleasant
Petoskey Motorcoach Resort, Petoskey
Nevada
Hitchin' Post RV Park, Las Vegas
Desert Skies RV Resort, Mesquite
New Mexico
Angel Fire Resort, Angel Fire
New York
Ledgeview Village RV Park, Lake George
The Villages At Turning Stone, Verona
North Carolina
Frisco Woods Campground, Frisco
Oklahoma
Winstar RV Park, Thackerville
Oregon
Wildhorse RV Resort, Pendleton
South Carolina
Ocean Lakes Family Campground, Myrtle Beach
South Dakota
Elkhorn Ridge RV Resort & Golf Club, Spearfish
Tennessee
Spring Lake RV Resort, Crossville
Two Rivers Campground, Nashville
Pine Mountain RV Park, Pigeon Forge
Ripplin' Waters Campground & Cabin Rental, Sevierville
Texas
La Hacienda Sun RV Resort, Austin
Shallow Creek RV Resort, Gladewater
Virginia
Bull Run Regional Park, Centreville
Washington
Horn Rapids RV Resort, Richland
Canada
Alberta
Glowing Embers RV Park & Travel Centre, Edmonton