You don't have to drive an RV to enjoy Good Sam Parks. Several parks across America's Southwest offer unusual but comfortable lodgings that give guests memorable vacation experiences. So hit the road and enjoy out-of-the-ordinary and often quirky camping that redefines the outdoors.
Glamping at Grand Canyon Gateway RV Park, Williams, Arizona
Add an element of glamping to your next trip to Grand Canyon National Park. At Canyon Gateway RV Park in Williams, guests can stay in one of the Grand Canyon Luxury Suites, which are trailers that are fitted with all the amenities you can ask for. Bult with two bedrooms and able to accommodate up to eight guests, these trailers serve as restful accommodations between jaunts to the canyon, which is only an hour away.
For RV travelers, the park offers a rec hall, game room and nature trails for folks who want to warm up for the big canyon hike. Forty RV sites are available, 20 of which are pull-through. Sites are powered by 30- and 50-amp power.
Tiny Houses in the Springs at Borrego, California
Located in the Anza Borrego Desert, this RV park has embraced the tiny house movement in a big way. The resort's "tiny house" park models pamper guests with fully equipped kitchens, a dining area, two bedrooms and sleeping loft for four more people (this is where the kids can go). A patio with picnic table and gas grill lets guests enjoy cooking in the great outdoors under clear desert skies.
The park models overlook the resort's golf course and are close to several amenities, including the rec hall, heated pool and tennis courts. Relax in the saltwater pool and spa or go stargazing at the full-scale astronomy park.
---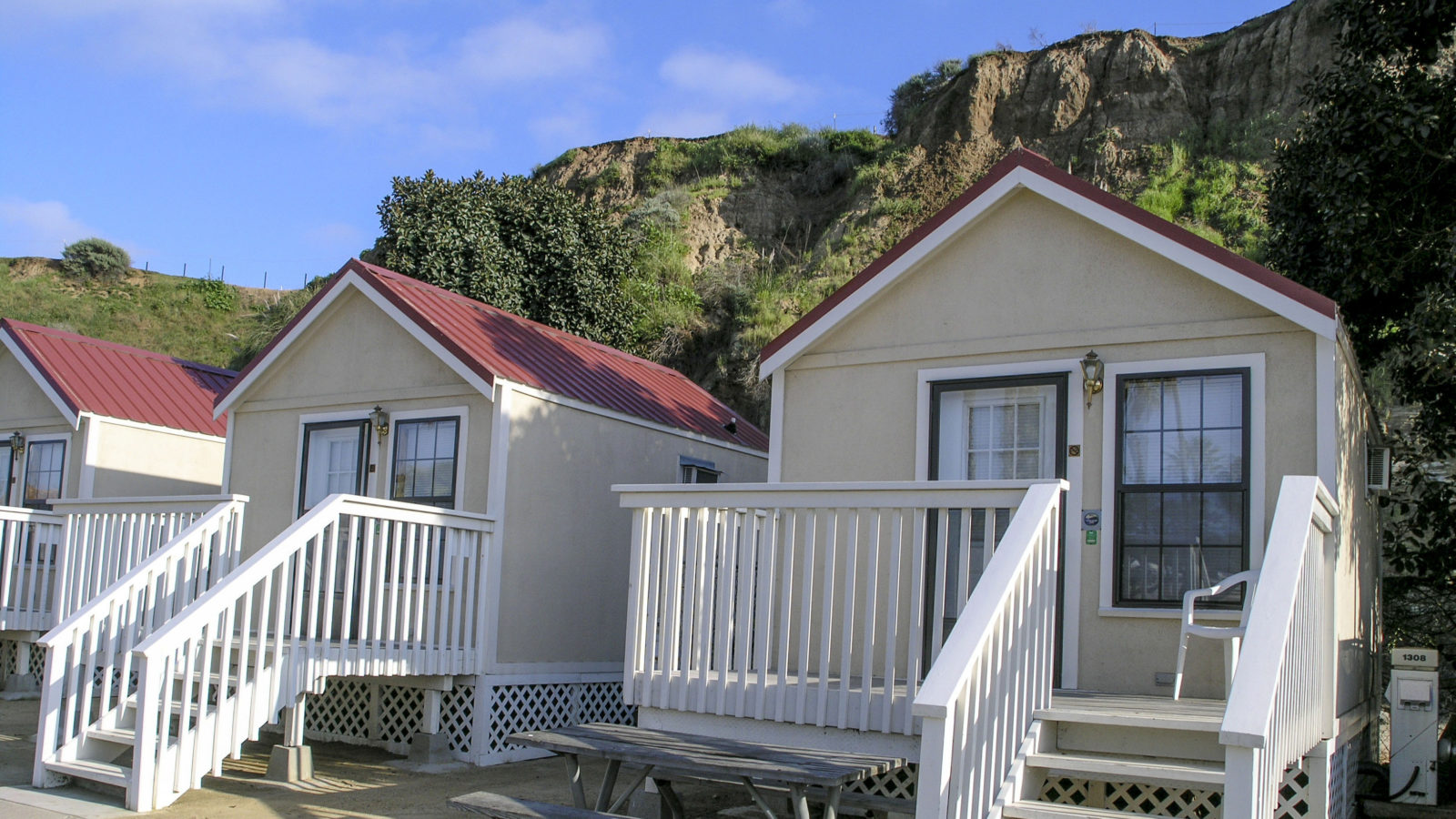 Beach cottages overlooking Newport Bay. Photo: Newport Dunes Waterfront Resort & Marina.
Beach Cottages at Newport Dunes Waterfront Resort & Marina, California
Overlooking Newport Bay, this camping destination gives guests the chance to stay in their own beach dwelling. Each beachfront cottage, accommodating a maximum of six, comes with a queen-size bed and spacious backyard. From the front door, occupants can enjoy bayfront views just steps from the beach. In the distance, the skyline of Fashion Island and snow-capped mountains of Big Bear complete the scene.
Chill out to a smart TV or cook up treats at the full kitchen with refrigerator and dining area. Rent a boat for an exploration of the connecting waterways of Newport Bay or take a nighttime exploration on standup paddleboards with LED lights on the bottom for a "radiant ride." 
---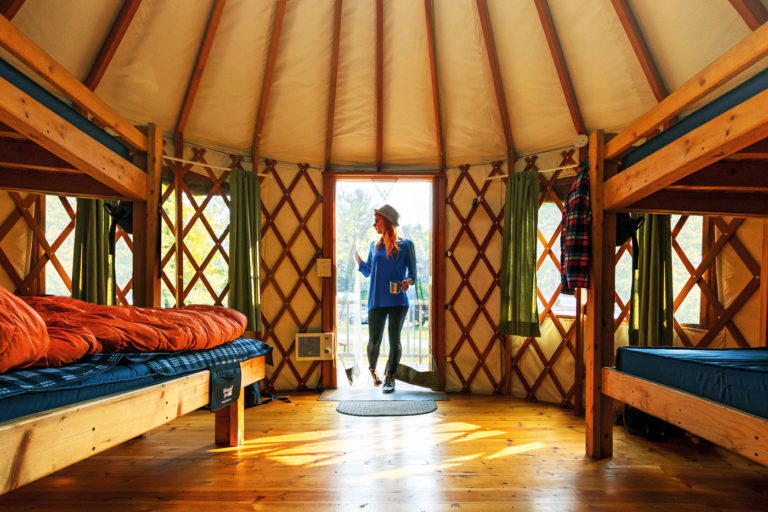 A camper enters a yurt. Photo: Encore Thousand Trails
Yurts at Yosemite Lakes RV Resort, Groveland, California
Portable and wind-resistant, yurts served as a lodging for nomadic Mongolian tribes for 5,000 years. The appeal isn't lost on today's campers, who enjoy the novelty and coziness of the canvas-covered, cylindrical structures. Find your yurt heaven in Yosemite Lakes RV Resort, which offers several yurts with beautiful views. 
The Yosemite Lakes RV Resort yurts are nothing like the ones that sheltered Gengis Khan in the 1100s. The modern version sleeps four with a bed, private bathroom and shower. Each Yurt is situated so that occupants can enjoy spectacular views of the countryside as they start their day. 
---

Conestoga wagons. Photo: Yosemite Pines Resort
Wagons at Yosemite Pines Resort, California
Guests at Yosemite Pines RV Resort can experience the life of westward settlers of the 1800s. The park's Conestoga wagons sleep between four to six guests with the comfort of modern-day lodging. The wagons are furnished with a king-size bed and twin-size bunk beds and they include an under-counter refrigerator and microwave, coffee pot, bed linens and are convenient to the restroom and showers. Guests are advised to bring towels. Also available at the resort are classic "Airstream-style" and Retro Trailers, as well as fully furnished yurts. 
Just 20 miles to the east, Yosemite National Park wows visitors with some of the most spectacular mountains and cliffs in the NPS system. Go touring or fishing in the park or take a Half Dome day hike. 
---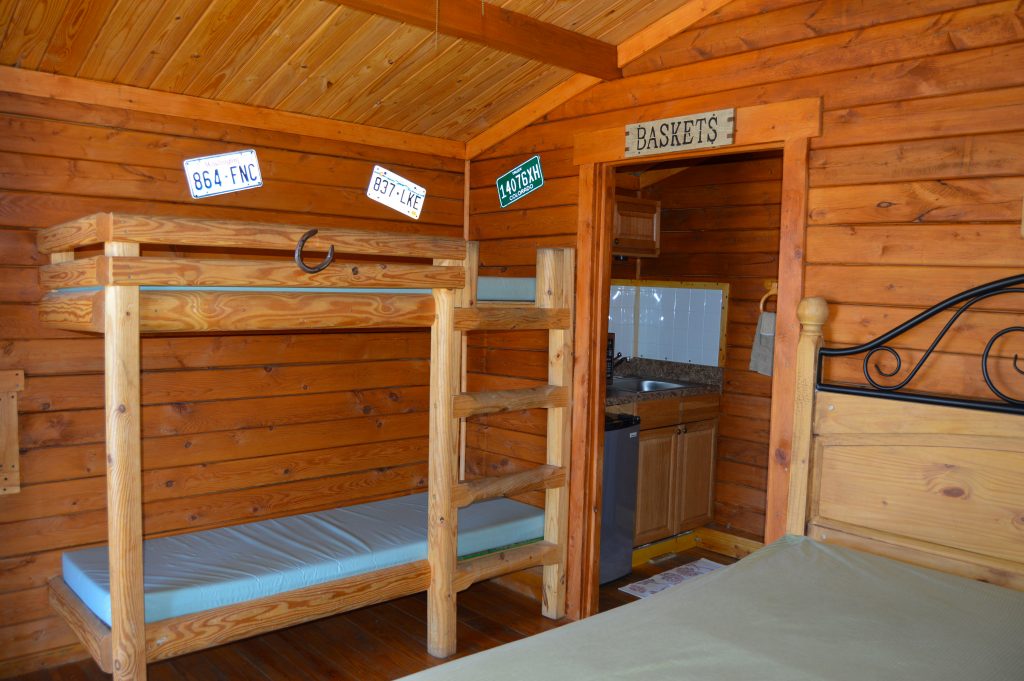 Homey interior at Arrowhead Point Campground and Cabins.
Cabins at Arrowhead Point Campground and Cabins, Buena Vista, Colorado
Guests at this Rocky Mountains getaway can get the full rustic experience by staying in one of the resort's beautiful lodgings. Accommodations range from loft cabins, with a second level for sleepers, to a 35-foot long Cozy Cougar with a slideout. Cabins offer amenities to ensure guest comforts, like microwaves, refrigerators and grills. Also available are yurts. 
---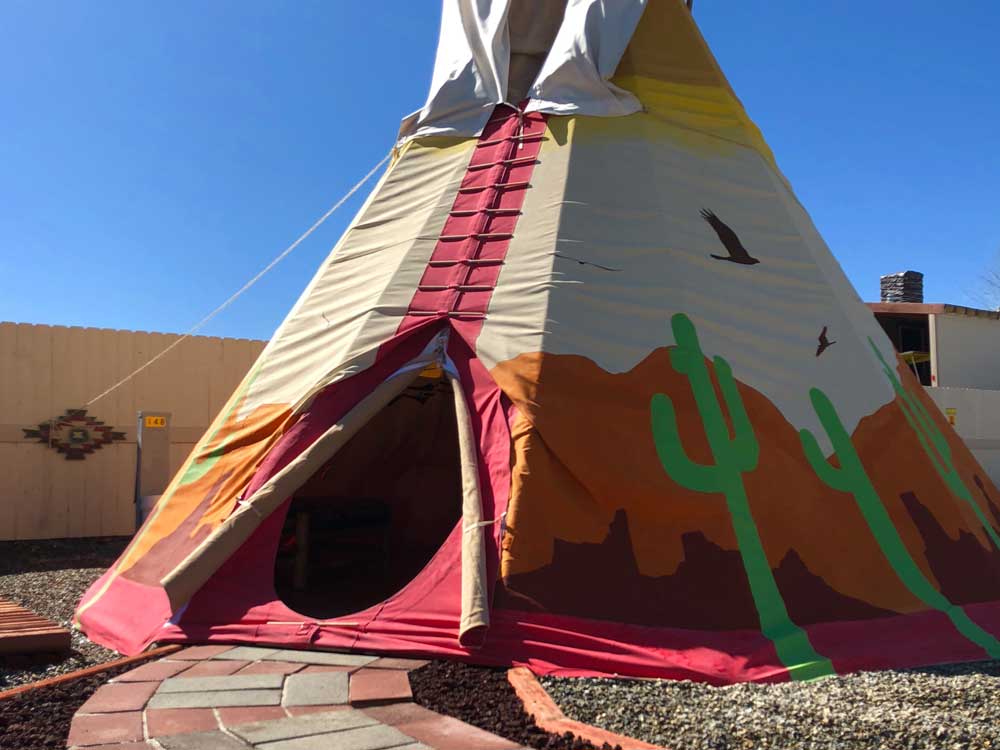 A tepee provides alternative lodging. Photo: Silver State RV Park
Tepees and Safari Tents at Silver State RV Park, Winnemucca, Nevada
Convince the kids that you're on a wild adventure. At Silver State RV Park in Winnemucca, guests can enjoy lodgings that transport them to another time and place. The park's colorful tepees make the kids feel like they have their own private fort while providing all the necessary comforts. The colorful tepee comfortably sleeps four adults and two children. 
Indulge in comfort at the safari tent, with a ¾ bath, shower and a waterfall, hand wand and six back massagers. A partial kitchen, furnished deck, patio table and barbecue expand your camping possibilities. The Safari Tent sleeps four. 
For RV travelers, the park's 151 spaces include 82 pull-through sites and 30- and 50-amp power. There's plenty of room for slideouts.
---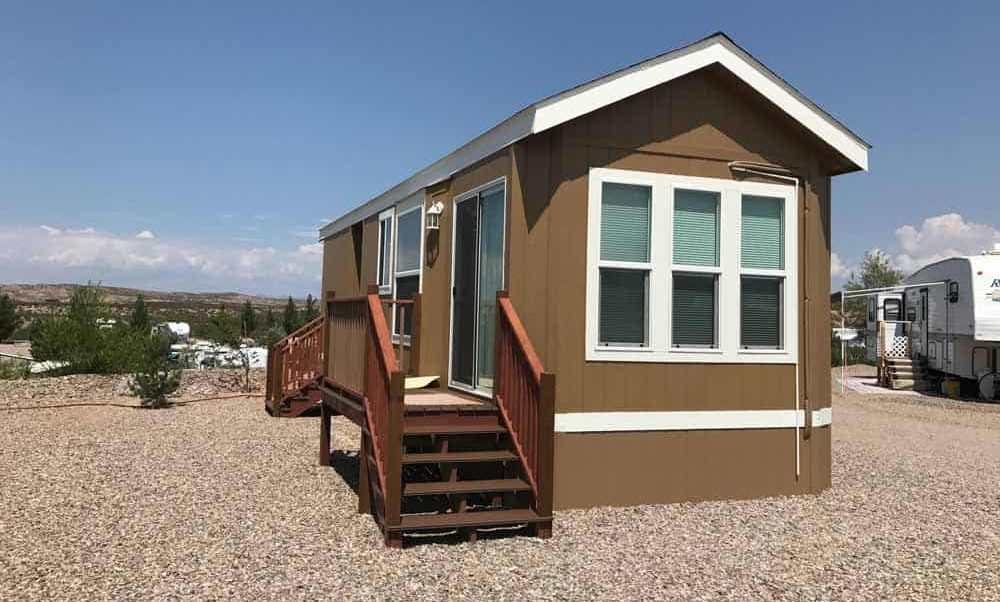 A park model trailer. Photo: Cedar Cove RV Park
Roomy Park Models at Cedar Cove RV Park in Elephant Butte, New Mexico
Elephant Butte is the Land of Enchantment's favorite watery playground, and Cedar Cove RV Park puts travelers right in the heart of the boating action.
The park's one-bedroom Baby Blue Park models come equipped with flatware, towels, flat-screen DirecTV, bed linens and Wi-Fi. The park models come with large lofts to accommodate lots of sleepers along with fully furnished living rooms. All beds are queen size, and pets are allowed in the lodgings. Also available are two-bedroom Tan Park Models and cabins.
---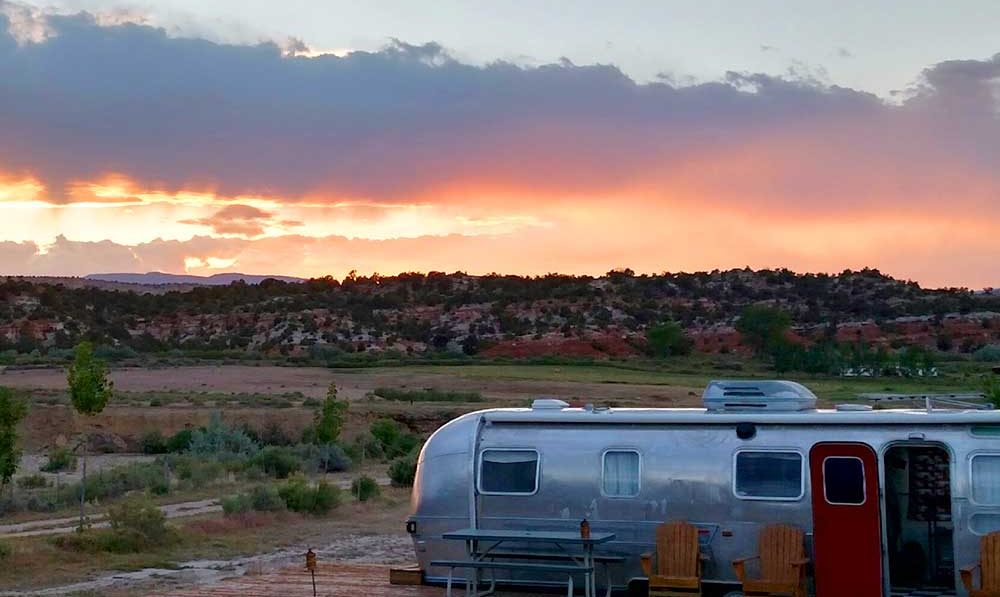 An Airstream trailer at sunset. Photo: Yonder Escalante
Silver Bullets in Yonder Escalante, Utah
Stay in a silver bullet. Although it's currently closed, Yonder Escalante, in southern Utah's rugged country, will soon return to giving guests the chance stay in vintage Airstream trailers to relive the freewheeling camping era of the 40s, 50s and 60s. Furnished with stylish and comfortable interiors, the trailers evoke the spirit of America's Golden Age, with names that include Bogie's Boathouse, the Duke and Cary's Cabin (an ode to the great Cary Grant) as well as Holly's Hideaway (named after the iconic rocker who wrote "Peggy Sue.")
When you're not kicking back in the trailer, you can enjoy classic movies that are shown in the evening Tuesday, Thursday and Saturday nights. Guests can munch popcorn while sitting 1960s convertibles.
When not binging on flicks, you can discover several nearby attractions, including hiking in Escalante National Monument, just a short distance away. Beautiful cabins also are part of the Yonder Escalante experience.