Ahhhh! …..
That is sound you make in the mornings here at Pigeon River Campground, located in the beautiful Smoky Mountains not far from places that will keep your family coming back for more.
From attractions and shows such as Dollywood and the Titanic Museum to white water rafting, this area will keep your family entertained. Who hasn't longed to shoot their body across a mountaintop high zipline? Yes, that would be me, and as exciting as it was, it made this grandmother's heart beat way too fast. The staff at Climbworks did allow me time to catch my breath, while encouraging me to hold on for more. For all you thrill seekers, this should top your bucket list!
Did I Mention White Water Rafting?
Being a camp host, I am very biased to recommend our white water rafting company, Smoky Mountain Outdoors rafting, or SMO as we call it. Book a trip on the upper Pigeon River (class 3 & 4 level) or take a leisurely float with your young children on the lower river. Speaking as a passionate photographer, I can honestly say that our rafting photos highlight more smiling than I've ever seen from a group of people, as you can see on my Grandsons faces coming down from the upper trip.
Pigeon River Campground
I have been a camp host at Pigeon River Campground since May of this year.  I can honestly say it is one of the most relaxing times of my life. Our campground is only a year old, and we are getting comments from everyone that stays with us that it is one of the best campgrounds they've been to. Many extend their vacation days with us, because it is so peaceful. I classify it as a "Boutique Campground" with only 12 RV spots, 6 cabins and 20 tent camping spots. You get the feel of being out in the wilderness while enjoying the scenery of the Pigeon River right out your door. Fishing? Yep, grab your pole and walk 30 yards from your camp and be fishing for bass, catfish and more. Just don't forget a fishing license from the State of Tennessee.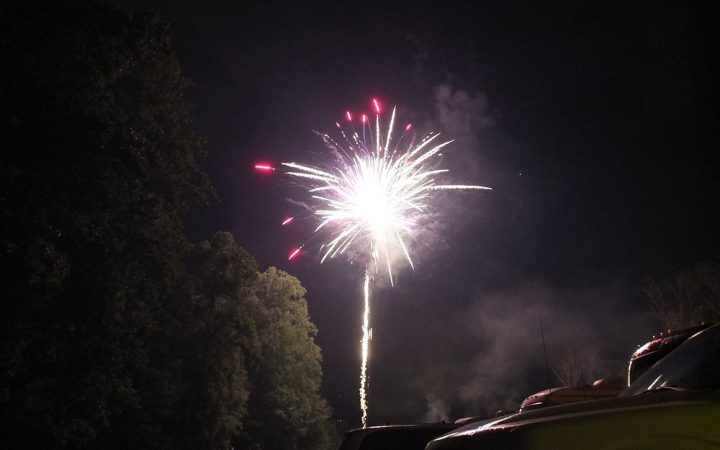 We do have some exciting times around here. Our afternoon thunder and lightning storms can get the old blood pumping. We are still amazed at the fireworks display that our owner surprised us with on the 4th of July. It was a private show that puts most others to shame. Our campers talked about that for weeks!
My life will be taking me to another part of the country after I leave here in October. There is so much beauty around us every day and I'm blessed to be part of this newly semi-retired lifestyle. Come stay at Pigeon River Campground. You'll love this quiet place of heaven, and we welcome all Good Sam's members too! Loving life from the road!