Located three miles off I-95 and just north of Daytona Beach, Palm Coast and the Flagler Beaches captures the hearts of those looking to get away from it all. The charming seaside village of Flagler Beach is free of the typical influx of chains and high-rises. Take in the scenery with a nineteen mile drive along A1A and capture views of the ocean while riding through town.
Uncrowded Beaches
Cinnamon colored beaches paint a peach-hued coastline dotted with surfer-quality waves. The vibe is low-key and laid-back. You are more likely to see dolphins and loggerhead turtles then rowdy spring breakers.
Pet Friendly Beaches
Bring "man's best friend" along on your trip and enjoy pet-friendly areas of beaches, with lots of trails, outdoor spaces for walking and running. After a day at the beach, take your four-legged friend to High Tides at Snack Jack.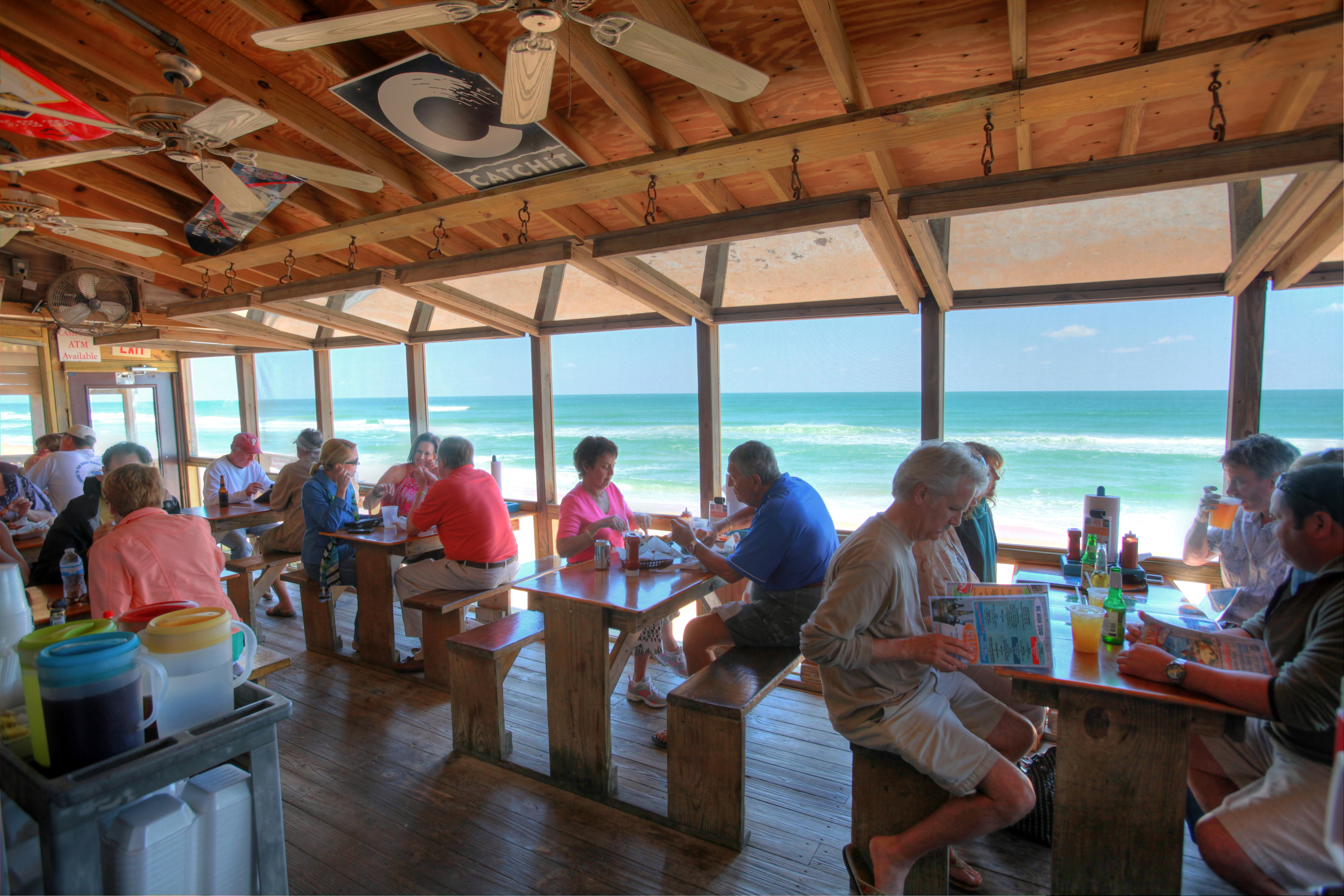 Must Eats
Fuel up at locally-owned eateries including the award-winning Captains BBQ –named by TripAdvisor in 2014 as one of the Top 10 BBQ spots in the nation and number one in Florida.
Voted as one of "Florida's Best Beach Bars", The Golden Lion Cafe, features fresh fish tacos with their signature key lime tarter sauce, a raw oyster bar and spectacular mixed drinks keep locals and tourist coming back for more.
125 Miles of Biking and Hiking Trails
Affordable and free options for entertainment have lured visitors to Flagler Beach for decades. The peaceful, eco-friendly Old Florida charm of the area is vastly undisturbed. With over 125 miles of connecting trails to choose from, customize the length and intensity of your route. Pathways are lined with historic oaks, towering pines and indigenous vegetation. Be sure to request a copy of the latest Trails & Park Guide for a complete listing by calling 866-401-7372.
Must See's
Take time to explore the Flagler Pier, home to the state's third largest surfing waves and the ideal spot to catch a sunrise that's sure to be picture perfect! The onsite bait and tackle shop offers any gear or supplies you may have left behind.
Marineland Dolphin Adventure opened in 1938 and for years was Florida's biggest attraction.  Today it's a small educational facility and its primary goals lie in science and research. General admission gets you unlimited time watching these fascinating animals at play for only $16.95 for adults and $11.95 for kids. They also offer a variety of swim-with-the-dolphin experiences.
Take an Eco-Explorer Boat Tour with Ripple Effect Eco Tours through one of the most productive eco-systems on the planet. Kayak tours are guided by a certified Florida Master Naturalist and offer a variety of tours throughout the year.
Hidden Gems
From the Stone Age to the Space Age, the Flagler Beach Historical Museum showcases history. Begin with prehistoric bones and fast-forward to dehydrated astronaut food and a flag that accompanied the Shuttle Endeavour into space. Be sure to ask about the self-guided walking tour of historic downtown Flagler Beach.
Nestled between the Atlantic Ocean and the Intracoastal Waterway, Gamble Rogers Memorial State Recreation Area is a full-facility campground, situated on the dune above the Atlantic Ocean.  Enjoy swimming, sunbathing, beachcombing, fishing or watch shore birds feeding in tidal pools. Kayak, canoe and bicycle rentals are available.
Free beaches and parking, low-priced admission to attractions, inexpensive dining and accommodations make a moderately priced family vacation a reality. www.visitflagler.com