This is the 15th in a continuing series about our trip to Alaska
 NOTE:  For whatever reason, Part XV didn't get posted, and since the Top of the World Highway is one of the real adventures of the trip, I want to make sure it is available.  By way of a weak excuse, we've had long days of travel and touring.  My energy level is eroded by the need to be alert for hours on the road, and these days with only three hours of daylight are confusing.  I think the problem was probably my fatigue.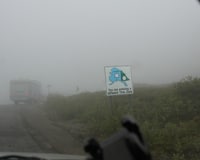 Did you even know there is Alaska Daylight Time?  Wednesday we set our clocks back an hour as we waited to cross the border from Canada back into the United States.  We entered Alaska.
Getting through the border checkpoint at Poker Creek was the easy part.  Getting to this remote outpost at the border and from there to the next town, Chicken, Alaska, was the part that all travelers dread.  The ride took us four-and-a-quarter hours from Dawson City to Chicken, a distance of 108 miles.  Some of you who have already made that trip are probably wondering how we made it so fast.  Well, road conditions were good, except for slow-going through the clouds.
This fabled Top of the World Highway is torturous to vehicles — not more difficult than some other roads we have traveled, just a lot more of it.   Because of careful preparation, we and apparently all other 20 rigs in the caravan made it with no major damage.  When we weren't socked in, we could see for at least a hundred miles.  What we saw were trees and more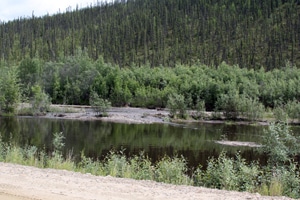 trees, creeks and rivers, and beyond it all were the mountains dressed in blue, grey, purple and emerald.  We were told that you can see Denali (a.k.a. Mount McKinley) from the road, but we didn't take the time to stop at the overlooks except to get snacks from our trailer.
One other thing that helped speed us along was that Monique and I left Dawson Tuesday afternoon, catching the Yukon River ferry after only a three-minute wait, and driving six miles of washboard to the Top of the World Golf Course.  This 9-hole course carved out of the forest is rustic, particularly the greens.  I suspect that the same guy who made the roads around here also did the greens. 
Having played in Key West, Florida, at the Southernmost Golf Course in America just six months ago, I had to play at the Top of the World in the Yukon.  Two other members of our group and their wives had a very enjoyable time, particularly since we didn't keep score.  The tradition is to play at midnight, but since that's a bit past our bedtimes, I proposed that we tee off at 8:30 and just tell our friends we played in the bright daylight of midnight.  Please don't tell anyone we cheated.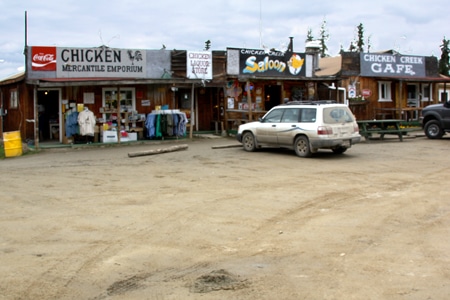 The bustling city of Chicken is a hoot.  In addition to the no-hook-ups RV park with a restaurant, office/gift shop, gold-panning opportunity and the Pedro Dredge, there is the town.  It consists of one building about 100 feet long separated into another gift shop, a liquor store with reasonable prices, and a saloon.  We passed another RV park nearby.  After the drive up here, it is an oasis.
The reward for reaching Chicken was a chicken dinner prepared by the caravan staff.  Afterward we sauntered over to the restaurant for homemade dessert and to hear owner Mike's talk about Chicken's history and ability to survive despite minus-80-degree weather.  There are only four year-round residents; the rest (146) begin to disperse for less harsh conditions in the fall.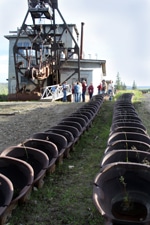 Two days before arriving in Chicken, I didn't know what a gold-mining dredge is.   Now I've toured two of them, one in Dawson, the other in Chicken, which is probably my lifetime quota. 
This morning I joined an expedition to find a mama moose that Larry had photographed standing in a pond just up the road from the camp.  By the time we made another excursion, she was gone, but the scenery made the hike a complete success.  So now it's on to Tok, another rustic spot, before reaching Fairbanks for a five-day recovery stretch and rehabilitation of our RVs.
From the "Never-Bored RVers," We'll see you on down the road.