General Info: Prince Albert National Park, in central Saskatchewan, preserves 388,000 hectares of a transition zone between the coniferous boreal forest and aspen parkland. The park also includes about 1,500 lakes and streams. This naturally diverse habitat houses a multitude of wildlife, including a herd of free-range plains bison and Canada's only fully-protected nesting colony for white pelicans. The park also contains important cultural features such as the lakeside cabin of conservationist Grey Owl and the rich 8000-year history of native peoples.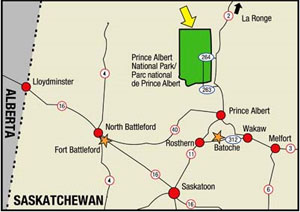 Hours and Fees: The park is open year-round. The Information Centre is open daily from 8 a.m. to 8 p.m., mid-May to early September, and on Saturdays during the peak cross-country ski season. Main campgrounds are open from mid-May to early September, and winter camping areas are also available.
Daily entrance costs (in Canadian dollars) $7.80 for adults ages 17-64, $6.80 for seniors age 65+, $3.90 for youth ages 6-16 (children 5 and under get in free). Annual passes are also available.
Activities: Although Prince Albert National Park includes 150 km of hiking trails, you probably won't need hiking boots to traverse them. Most of the trails feature good walking surfaces along gently rolling, forested hills without much change in elevation.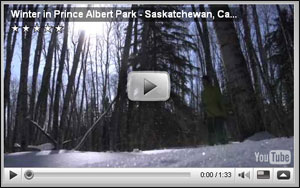 There are several scenic driving routes to see the park's wonders. Wildlife can often be seen rather close to the roads, so please drive slowly near animals (but don't stop because some animals, like elk, have been known to attack vehicles) and stay in your vehicle.
Anglers can cast a line for lake trout, northern pike and walleye. Fishing permits are required and can be purchased at visitor kiosks; daily permits are $9.80 and annual permits are $34.30.
Recreational opportunities also include canoeing, cycling, cross-country skiing, an 18-hole golf course, lawn bowling, swimming and tennis.
The Town of Waskesiu, just 5 km inside the park's east gate, offers a range of services and amenities (post office, groceries, fuel, laundry, etc.) for your convenience.
Wildlife: Please remember that animals in the park are wild and unpredictable. Keep your distance and never feed wildlife, no matter how small or docile they may seem. Always keep your pets on a leash and under your control while in the park.
Weather: You'll notice dramatic changes in day and night temperatures, in accordance with the cool continental climate of the region. Winters are long and cold while summers are warm. July and August are typically the warmest months, but you'll find pleasant conditions from mid-May to mid-September.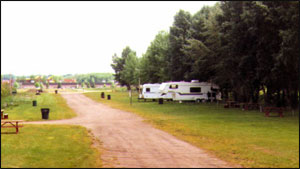 Camping Info: Campgrounds in Waskesiu are open from mid-May to the end of September/early October, weather permitting. The fully-serviced Waskesiu Trailer Park (152 sites) offers electrical hook-ups, water, sewer, washrooms and showers. Beaver Glen Campground (213 sites) has 108 RV campsites with electrical hook-ups, washrooms, showers, hibachi grills, kitchen shelters and centralized water taps, firewood and sewer disposal. See the Waskesiu camping page for a full list of campgrounds in Prince Albert National Park.
You can also camp outside the park in the town of Prince Albert, about an hour's drive south of Waskesui on Highway 2. The Prince Albert Exhibition RV Campground is a Good Sam Park that features 75 full hookup RV campsites and restrooms with showers.
If you're from Saskatchewan or have visited Prince Albert National Park in the past, please chime in with your stories and tips! Your insights can help others have a fantastic trip.