Mill Creek Ranch Resort is one of the best places to have your wedding in East Texas.
Now is the perfect time to start planning your wedding in East Texas. Venues can fill up quickly, especially for more desirable dates and times. Making that decision soon is crucial because it's the foundation piece for most of the other wedding decisions you'll need to make. But how do you choose the perfect spot for your dream wedding in East Texas?
Mill Creek Ranch Resort's natural beauty and charm are the perfect backdrop and venue when you're looking for the best places to get married in East Texas!
Mill Creek Ranch Resort is an upscale resort only 60 minutes from Dallas. They offer accommodations for rentals of cottages and RV sites. First class amenities, gracious hospitality and a belief in the preservation of natural resources make for the perfect vacation getaway. Their cottages are beautiful, fully equipped units with a modern feel and rustic charm.
Why East Texas?
Texas has a style like no other place, and venues in East Texas can easily lend themselves to using a sophisticated Texas look. These simple ideas can help you maintain a "sense of place" that stays true to the area and enhances your own style. A natural color palette with "pops" of wildflower hues like bluebonnet, Indian paintbrush, or even buttercup pink. Texas wildflowers are famous for a reason!
Using popular landscape grasses and their plumes as part of your decor and in the arrangements can be both cost-effective and mood-effective. The big, showy plants are a natural to add foliage and texture, and would be stunning as part of the bridal bouquet, too.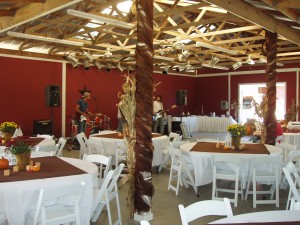 Turquoise stones have long been a big part of Texas style. Perhaps a silver bolo with a turquoise in it rather than a bow tie, or a chunky turquoise necklace? Vases with turquoise accents or even giant, unrefined pieces of turquoise can up the Texas glam factor. If turquoise isn't the right hue, perhaps you have access to granite? Large-scale pieces would add a big "Wow!" factor to your tablescapes.
Cowboy boots! Boots can be just the right touch to add both whimsy and style to your wedding. Bonus: your bridal party will be so much more comfortable dancing the night away at the reception!
Texas Wedding Flair
An East Texas wedding venue wouldn't be complete without a sense of community and coming together. Your wedding could have the perfect Texas touches, but without your close family and friends near you'll still be missing an essential ingredient.
Mill Creek Ranch Resort is the perfect venue to add that crucial element to your beautiful East Texas wedding.
Out of town guests and the entire bridal party will enjoy time spent before, during, and after the wedding when they stay at the resort. With cabins available for each family or group, you and your guests have easy access to all the wedding events. During down times, your guests can get away to rest in their own cabin or relax while taking advantage of The Resort's many activities like disc golf or horseshoes.
The Resort's RV Park continues to win awards and accolades with so many amenities and services; and strives to be the best RV Park you will visit. Mill Creek Ranch Resort also offers cottage ownership and a vacation getaway with income opportunity. Discover the vacation lifestyle at Mill Creek Ranch Resort in Canton Texas. With several beautiful venues designed to accommodate all styles of weddings, corporate retreats, family reunions, and small meetings Mill Creek Ranch Resort has it all.
Content for this post first appeared on the Mill Creek Ranch RV Resort website.