Navigate crazy mazes near Sun RV Resorts. 
During the fall months, a good corn maze is just as popular as apple picking and scenic drives. To help you find the most amazing corn mazes to visit this fall, we've put together our top five picks from across the country!
Top 5 Corn Mazes
1. Treinen Farm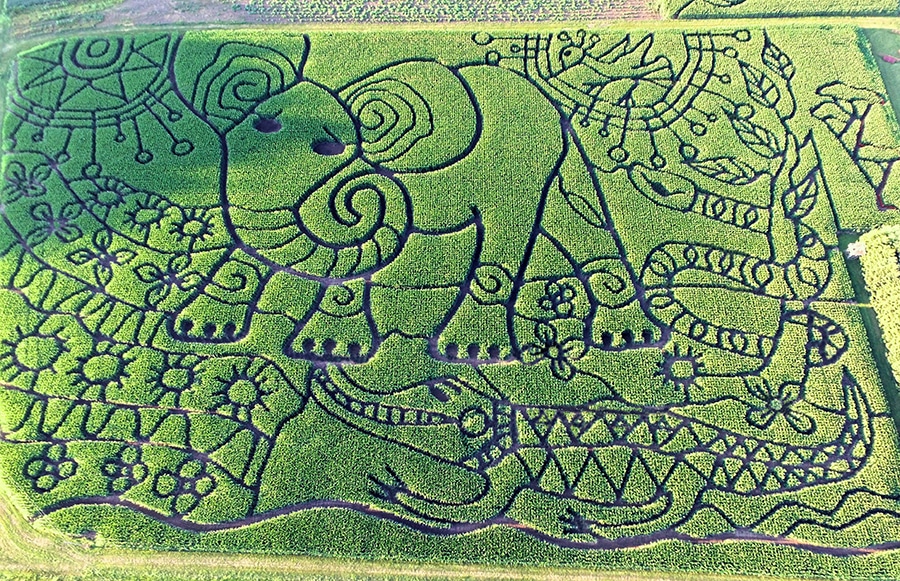 Rated as "One of the Ten Best Fall Corn Mazes" by USA Today, Treinen Farm doesn't disappoint. For 2018, the farm created The Elephant's Child, a maze based on the namesake children's book by Rudyard Kipling.
Featuring the shapes of an elephant, crocodile, snake, flowers, trees and more, this corn maze is one for the memory books.
Nearby Resorts
• Westward Ho RV Resort
2. Happy Day Farm
Located in the New Jersey countryside, Happy Day Farm features an Apple Festival, Pumpkin Festival, and sunflower picking in addition to the corn maze. This year's theme is Maize-O-Poly, featuring 10 acres of corn shaped in the spirit of America's favorite board game.
Nearby Resorts
• Cape May KOA
• Big Timber Lake RV Camping Resort
• Seashore Campsites & RV Resort
• Driftwood RV Resort & Campground
• Shady Pines MH & RV Resort
3. Connors Farm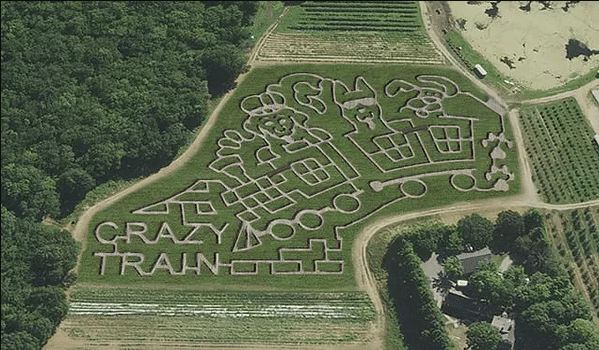 Connors Farm in northern Massachusetts has been serving up family fun since 1904. The farm features a wide variety of fall activities on weekdays and weekends, as well as several food vendors.
This fall, families can hop aboard the crazy train as they navigate their way through this railroad-inspired corn maze.
Nearby Resorts
• Wild Acres RV Resort and Campground
• Saco/Old Orchard Beach KOA
• Wagon Wheel RV Resort & Campground
• Peters Pond RV Resort
4. Cherry Crest Adventure Farm
Another recipient of USA Today's Readers' Choice awards, Cherry Crest Adventure Farm in Pennsylvania Dutch Country is featuring The Amazing Maize Maze, which draws upon traditional corn maze designs. In addition, you'll find wagon rides, barnyard animals, apple cider donuts, and more!
Nearby Resorts
• Lake in Wood RV Resort
5. Long and Scott Farms
Just north of metropolitan Orlando, Long and Scott Farms resides in rural Florida. The Scott's Maze Adventures feature 7 acres of twists, turns, and plenty of quirks. A small 1-acre maze is perfect for young children, while the larger 6-acre maze is better for groups. You can also pick up some fresh produce while you're at the farm!
Nearby Resorts
• Central Park MH & RV Resort
• Orange City RV Resort
• Lakeland RV Resort
• Country Squire MH & RV Resort
• Mill Creek RV Resort
• Blueberry Hill RV Resort
• Red Oaks RV Resort
This fall, you can create the perfect fall day, complete with a corn maze and all. Book your stay at one of our fantastic RV resorts in the U.S. and Canada by visiting our website at www.sunrvresorts.com!