Hi Mark My Words readers. I have some interesting RV questions and answers for you this month, covering topics like fifth-wheel tires and trailer parking. I hope you're out there enjoying some great spring RVing! Remember to send your RVing questions to [email protected].
Hi Mark,
Is there such a thing as a temperature-controlled container in which one can store medications and prescriptions so they won't be damaged?
Lou
Hi Lou,
Wow, what a great question, and one that caught me completely without an answer! I did some research, and it appears that the majority of medicines require "controlled room temperature" storage, which is generally considered to be 68 to 77 degrees Fahrenheit, with "occasional" excursions between 59 to 86 degrees. Some medications require very specific storage temperatures, like insulin, but most do fine within the limits mentioned above. In all cases, if in doubt, ask your doctor or pharmacist.
I was unable to find anything resembling a temperature-controlled medicine storage box that would maintain those temperatures. The best suggestion I can think of would be to use a very small, insulated picnic cooler to contain your medicines and keep it in an inside cabinet or on a shelf inside the RV where it will be subjected to the least temperature variation. That should minimize the temperature changes. Most folks would want to keep the inside of their motorhome within their own comfort zone, whether parked or traveling, and that's going to fall into the suggested range (I hope). For towable RVs, you would probably want to carry the medicines with you in the tow vehicle in hot or cold weather, since the trailer won't be climate-controlled while traveling. I think this is a great wake-up call for all RVers as something folks need to pay attention to!
Mark,
We have a Coachmen Class C 30-footer. We have installed additional 120-volt accessories: larger TVs, surround sound, DirecTV receiver, convection microwave, electric water heater and a portable electric heater (1500 watt). We keep tripping the 30-amp breaker in the M/H circuit breaker panel and the 30-amp breaker at the power cord connection panel, sometimes both at the same time. My question: Can we replace the 30-amp cord with a 50-amp cord and replace the 30-amp (MAIN) circuit breaker in the M/H panel with a 50-amp (MAIN) circuit breaker?
I have found that the 50-amp circuit breaker panel and the 30-amp breaker panel are very similar, and the circuit breakers are identical! I can purchase a 50-amp circuit breaker panel for $250 plus another $100 for the cost of the 50-amp circuit breaker and 50-amp cord from an RV dealer! Total cost: $350. Or I can replace the 30- amp breaker with a 50-amp breaker and a 50-amp power cord for less than $100!
Retired and trying to save some $.
Thank you,
Larry and Gretchen
Hi Larry and Gretchen,
Under no circumstances should you consider replacing that 30-amp breaker with a 50- amp breaker! Circuit breakers are a safety device and are intended to protect the wiring in the coach should an over-current condition exist. On top of that, an RV 50-amp service has two "hot" legs and cannot simply be wired to your existing single circuit breaker panel. That being said, let's go back to the beginning: The problem is, you have added more electrical loads than your RV's system can support, and that's why you are popping the breaker. If you are careful, you can time-share the various appliances and accessories to prevent overloading the system. Don't try to run everything at the same time, and you will probably be able to get by alright. That is the least expensive way to work the problem. However, if you need and want more available capacity, the only safe and sane way to accomplish that is to convert the RV over to 50-amp service.
A proper conversion would probably require a new AC distribution panel and a new 50- amp umbilical power cord. Also, if you have a generator and a transfer switch, it will have to be rewired for the new service. You can purchase 50-amp RV distribution boxes from a number of RV parts sources and also the 50-amp power cords and connectors for the shore power hookup. Once the new panel is installed, the rig's original AC circuits would have to be connected to the correct-sized breakers in the new distribution panel.
I think it goes without saying that this is not a modification that should be done by the average RV owner! A qualified electrician or RV technician should do the conversion. There may be significant costs involved as well. I would expect a conversion like this to cost between $400 and $1,000, depending on how much you have to pay for labor. One place to ask about conversion opportunities and costs would be the factory where your RV was built. Working on and modifying AC power systems without having the appropriate skills and training can kill you and/or your friends and loved ones. Don't even think about doing it unless you are sure you know how to do it safely.
Hi Mark,
I just purchased a 24-ft travel trailer (27 feet from hitch to bumper) that has a tongue weight of 800 pounds. My driveway has a slight slope to it, such that the tongue would be facing downhill. I would need to have the tongue jack pretty much all the way extended to level the trailer from front to back. My overly active brain has visions of bending the jack tube because of the angular relationship of the forces. What is the best way to level a trailer on a sloping surface? Would using thick wood blocks help to reduce the loading? Is it even something to worry about?
Dave
Hi Dave,
Anytime you need to park on a slope, you need to securely chock the trailer wheels to prevent it from rolling. On significant slopes, it's best to chock both sides, fore and aft. You can use wood blocks to chock the tires, but purpose-designed wheel chocks would be more secure. Here's an example of what I'm referring to. These are available at most auto parts stores and RV dealers and are inexpensive and long-lasting. Once the trailer is chocked, it can't roll, so it can't put any real fore/aft load on your tongue jack. It doesn't hurt to put a wood block under the jack to keep it from sinking into the pavement or road surface and to reduce the leverage on the jack components if the trailer will be in use while parked. (People moving around inside can cause a lot of motion, even if it is chocked.) In most cases, those jacks are pretty strong and don't require much "worry."
Good Afternoon Mark,
I read recently that when using a surge protector (let's say 30amp), you can no longer utilize a 30- to 50-amp adapter if you find yourself in a site that only offers 50-amp service. Is this correct and, assuming so, why?
Thanks,
Cuomofam
Hi Cuomofam,
If you have a 30-amp RV and are using either a 30-amp built-in surge suppressor or one that goes on the end of your umbilical cord and plugs into the pedestal receptacle, it should work just fine with a 50-amp (male) to 30-amp (female) adapter. The circuit will look "normal" to the surge suppressor. However, if you have a 50-amp RV and are using a 50-amp surge suppressor, some will not work well with a 30-amp adapter because the single 30-amp circuit is tied to both legs of the 50-amp receptacle on the adapter, and some surge suppressors identify that as a wiring fault. So it's true for 50- amp rigs sometimes and almost never true for 30-amp rigs. It all depends on the make and model of the surge suppressor in use.
Hi Mark,
I am looking at replacing the tires on our 31-foot fifth-wheel. The present tires are 235/85R16, and their load capacity is way over the axle and trailer load capacity. Can I safely move to a smaller size that more closely matches the axle and trailer capacities? Possibly 215/85R16?
Thanks,
John
Hi John,
You can safely go to a smaller tire size as long as the tire is within the rim's tire width design limits and the tire has adequate load-carrying capacity for the application. The first is fairly easy. The difference in width for those two tires is minimal, so I would not expect you to have any rim width issues, but a competent tire shop could advise you if needed. The second is a bit more involved: Before you change to a different tire with a lower load capacity, you have to know what load the tire is actually carrying. The only way to know that with any certainty is to have the fully loaded trailer weighed at a weighing facility that can provide individual wheel weights. One possibility is Escapees SmartWeigh. Once you know what load the tires are actually carrying, you'll be able to choose a replacement tire with an adequate weight capacity.
Mark,
I have a Mor-Ryde wet bolt suspension on my 2012 Montana fifth-wheel. Most of the wet bolts refuse to accept grease. Do you have any suggestions on how to correct the problem? I am concerned that without grease, they may fail. Your help is greatly appreciated!
Patrick
Hi Patrick,
First of all, are you sure they're not taking any grease at all? When the grease-retaining area inside that shackle is full of grease, it's very difficult to force any more in with a grease gun. Steady pressure should eventually result in some grease being forced out of the shackle assembly. If it's really cold outside, the grease may have thickened enough that it won't flow, and that might also keep you from forcing additional grease in.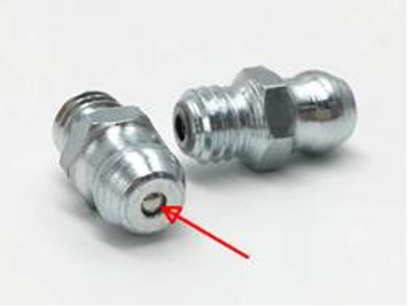 If they aren't taking any grease at all, try cleaning the end of each grease fitting and use a small screwdriver or sharp awl to push on the little ball in the fitting.
Sometimes those balls get hung up. If you can get the balls to move, try the grease gun again. If it's still no-go, I'd remove the grease fitting and clean it, and also have a look inside the hole where the fitting was. If the grease inside is dried out and hardened, the only way to get them back in shape would be to pull each bolt out of the spring shackle one at a time and clean them. Not an easy job, as the trailer must be jacked up by the frame to take the weight off the suspension before any bolts can be pulled.