Little Turtle RV & Storage is a high-end RV escape with 121 NEW sites right off Highway 69 on the northern edge of Eufaula Lake. The park is only a short drive to lake marinas and boat ramps. All of our 80 ft. pull through sites offer full 30/50 amp electric, water, and sewer.  Other amenities include free WiFi and cable television. Relax at our unique tropical swimming pool, picnic pavilions, playground, and catch and release fishing for the kids on Duck Island Pond. Entertainment includes basketball, volleyball, pickle ball, a putting green and horseshoes!  We even have an exclusive pet retreat, Waggin Tales Dog Park!
Visit our new Horse Resort and Riding Trails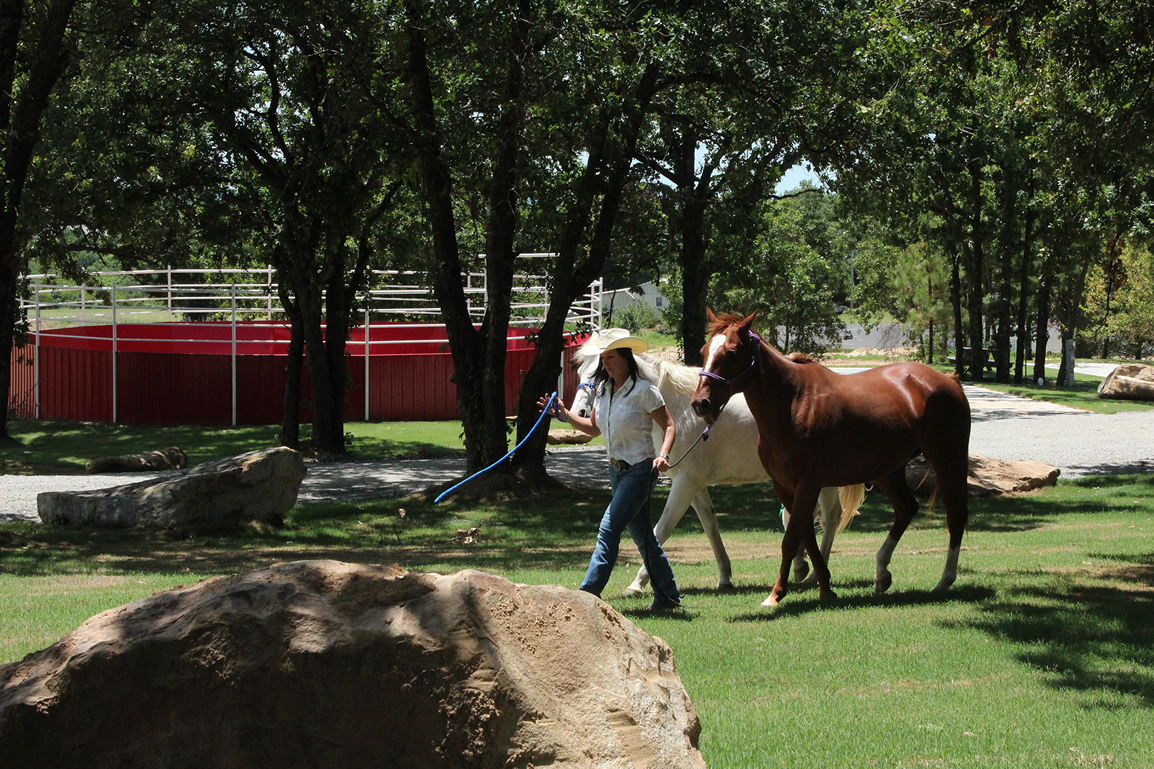 Discover an extraordinary equestrian experience in our new 35 site Horse Resort section with all exclusive camping and equestrian boarding along with full service park amenities. Our beautifully manicured separate Equestrian section is located at one of the most serene spots anywhere. Built around the rolling hills of Lake Eufaula our park features 25 acres of wilderness trails with multiple ponds and a spectacular view of the lake. Enjoy group activities with our park banquet hall, full service baths, showers, laundry and picnic pavilion. Horses enjoy their own fully enclosed stall and round pen.
Lake Eufaula, Oklahoma's largest lake, is located in southeastern Oklahoma near the city of Eufaula.  Covering 105,500 surface acres with 600 miles of shoreline, Lake Eufaula is a precious Oklahoma resource.  Visitors to will be amazed of activities that can be enjoyed on the water and on the shore.
For fun on the water, Lake Eufaula has multiple marinas and rentals are available at some for houseboats, pontoon boats, ski boats and paddle boats.  The marinas on the lake provide boating accessories and groceries to ensure visitors are prepared on their outing.  For visitors who bring their own boat, there are many boat ramps available for easy access.  Enjoy the action of water sports including skiing, wakeboarding and tubing. Or speed across the lake, and relax on a slowly-moving pontoon boat. Canoe and paddleboat rentals are also available at Lake Eufaula.
There are also many things to see and do on Lake Eufaula's shores
Fishing is a favorite pastime at Lake Eufaula.  Tournaments are held every year and fishermen come from all around to compete for bragging rights.  Fishing at Lake Eufaula is a year-round sport. Some marinas feature enclosed, heated docks for fishing.  Bait and fishing supplies are available at the marinas.  Lake Eufaula has white bass, catfish, crappie and striper, among others.
Many different species of wildlife call the area their home.  They can often be seen in their natural habitat. The nature center in Eufaula State Park is a great place to learn about these animals. In the 31,800 acres of public hunting areas near the lake, deer, quail, geese and ducks can be found.
Miles of hiking, biking, equestrian and ATV riding trails can be explored around Lake Eufaula.
Lake Eufaula State Park and the Arrowhead Area at Lake Eufaula State Park both offer beautiful 18-hole golf courses.  Visitors can enjoy playgrounds and swimming beaches along the shores of Lake Eufaula.
Photos: Little Turtle RV & Storage