By Barry Zander, Edited by Monique Zander, the Never-Bored RVers
We're on the first stop of our Grand Circle Tour, after three days in Las Vegas.  Four of us living comfortably in a 28-foot travel trailer!
We – Monique, her brother Philippe and his wife Solveig and I — are in Zion National Park, Utah, one of America's most popular national treasures.  We hiked to the highest of the three Emerald Pools Thursday morning, returning to the Visitors Center and our truck just as the rains came.
Lots to tell you, but let's start in the Watchman Campground, where we are fortunate to have electric hook-ups, but no water or sewer at the site.  A teardrop trailer was next to us, but moved over two spots this morning to make way for a pop-up.  There's a Casita from Louisiana across from us, two mini-tents next to them and a canvas tent on a utility trailer behind us.
So if you're thinking we're crowded in our RV, I want to let you know we feel fortunate to have room to move around while the rains and chilly temperatures pretty much confine campers to their quarters.  Incidentally, we'll be moving a lot over the next five weeks, so we didn't take our satellite dish with us.
"Hiyadoin'?" Philippe, who speaks English very well  [and continues to work to improve his vocabulary and pronunciation — all part of the fun of the trip] was returning from a trash run Thursday morning when confronted by a fellow RVers who asked him that.  "Huh?"  The friendly neighbor asked him where he's from, and then both went on their merry ways.  Philippe later told me that, as mentioned in the preview blog, people don't get into casual conversations with strangers in Europe like they do here.  He explained that there is still a class order on the Continent, where people are reluctant to talk with others of a lower class, so they don't bother chatting with strangers.  He appreciates American friendliness.
There was lots of casual conversation along the vertical trail this morning, where we encountered hikers from France, Germany, Texas, Iran, Scandinavia, Minnesota, and even some local Utahans.  While veteran hikers Monique and I relish the opportunity to get out in the wilds alone where we meet no one or few, we also enjoy the fun of watching our guests interact with others on the trail.
It's my opinion that most freedom-loving Americans feel fenced in by over-regulation and excessive "Don't" rules by park management.  Why do they do that?  Because there is so much abuse of natural wonders.  We hate it, but it's the way it is.
One rule that many folks abhor is being told they can't drive into a park's most beautiful areas.  In Zion, you can only access the trails along the Virgin River canyon by walking miles or taking the shuttle bus.  The bus works.  At this time of year, one passes each of the trailheads and facilities every seven minutes.  You can get on and off at will, all without an additional fee (other than what's required at the park entrance).  The round trip takes about 80 minutes, but in between are numerous sightseeing opportunities for all levels of ability, from Angel Landing to the paved trails accessible by the handicapped and in good use today before the rains came.  At the end is the Narrows, where adventurers are reminded to be aware of flash floods carrying logs and boulders down the river.  On Day 2 in Zion, we hiked to the Narrows, getting soaked by unpredicted rain showers twice along the way.
What Europeans (and many Americans) can't envision, according to Philippe, is the vastness of our parks … and the lobby of the MGM Grand in Las Vegas (where they stayed for one night while we were in the Nevada city that never sleeps).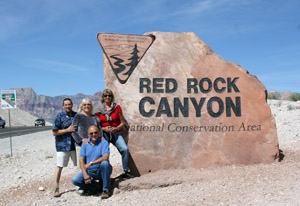 Their visit to "the States" began with a tour of magnificent Red Rock Canyon outside of Las Vegas, followed by a tiring daylong walk on The Strip.  They appreciated all the glitz and glamour; the immensity of the casinos and hotels; the brightness of the night; the dancing fountains, battling pirate ships and volcanoes – but, now it's "been-there, done that" and not a place they expect to see again.
Next stop:  Arrived Bryce Canyon this Saturday.
BLOGGERS NOTE:  Intermittent phone service but no internet on my computer in Zion.  We're now about to enter Bryce Canyon for four days (with internet doubtful).
From the "Never-Bored RVers," We'll see you on down the road.
© All photos by Barry Zander.   All rights reserved