Franklin is not one of the 40 or so towns around America named for Benjamin Franklin. Its namesake was Jesse Franklin, an 18th-century political leader who helped establish the settlement as a trade center for southwestern North Carolina. Tucked into the Great Smoky Mountains and fed by the Little Tennessee River, Franklin does less commerce today and more greeting of visitors. Major cities in four states—Asheville, Greenville, Atlanta and Knoxville—are all less than two miles and hundreds of curves in the winding roads away.
---
Planning a visit? Stay at Franklin RV Park & Campground.
---
Franklin is a gateway to the half-million acres of the Nantahala National Forest. The Appalachian Trail rolls past town about 10 miles due west. To add a dash of history to your explorations in Franklin, try the Cherokee Heritage Trail along Main Street, which visits the Nikwasi Mound, a Native American sacred site that still stands near its original height. Also in the area are the Scottish Tartans Museum, the Macon County Historical Museum and the Macon County Courthouse, which was the site for one of the last Confederate troop surrenders of the Civil War.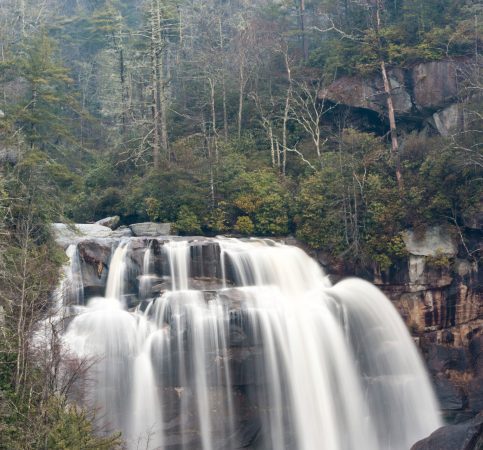 This part of the North Carolina is known for the number and splendor of its waterfalls. Heading east out of town on U.S. 64, travelers will find several famous hydro-spectaculars including Bridal Veil Falls, which you can drive a vehicle under, and Dry Falls, which you can walk behind. If you hear someone say this is where the Last of the Mohicans was filmed, don't believe them; the scene with Daniel Day-Lewis leaping through a waterfall was computer-generated. Quarry Falls is not nearly so spectacular, but in warm weather it's a perfect place for sliding down rocks and swimming in the plunge pool. For a brisker pace down the water, the nearby Nantahala River offers an exhilarating blend of Class II and Class III rapids for whitewater rafting.
Before there was motor touring, Franklin was famous for its gemstones; corundum, with a hardness second only to that of diamonds, was unearthed in 1870. Among the local finds are garnets, sapphires and rubies. The Franklin Gem and Mineral Museum serves as a primer for potential rock hounds. Before you start digging in the dirt, area mines can also offer assistance in the pursuit of precious stones. Even if you leave the mines empty-handed, you will want to attend the Macon County Gemboree, which is staged twice every year.