Michigan is one of those states that's truly capable of taking your breath away. With over 10,000 miles of crystal clear streams, thousands of rivers and lakes, and more freshwater shoreline than any other state in the country, Michigan has virtually cornered the market on water-based recreation. Up in the northern part of the state, you'll find some of the best fishing to be had in the entire Great Lakes region. Every stop on this One Tank RV Trip route from Woodall's has somewhere for you to park the rig, take a deep breath, and let the stresses of day-to-day life melt away.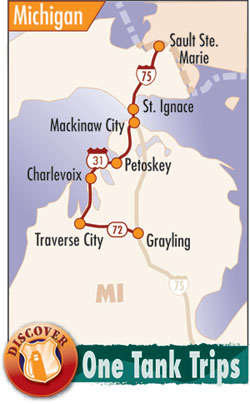 Grayling
Starting at Grayling, one place you won't want to miss is the Hartwick Pines State Park. Spanning nearly 10,000 acres, the park provides more than 100 campsites, several trails for strolling or hiking, and great fishing on four small lakes. It's also been designated a watchable wildlife area, so be on the lookout for birds and small mammals in their habitat. The Hartwick Pines Logging Museum is on the park's grounds, and is a popular visitor's destination that showcases the 19th century logging trade with buildings, a logging camp, and several restored rooms from the period. A visitor's center features artifacts and exhibits that tell the story of the loggers who pioneered Michigan's logging history.
Traverse City
The next stop, Traverse City, lies 50 miles eastward on MI-72. If you plan your trip for the springtime, you'll be treated to the sight of more than 2.5 million cherry trees as they go into full bloom. During the rest of the year you can enjoy 180 miles of sandy beaches and 149 lakes, none of which is smaller than 10 acres in size. Finding a secluded piece of beach is absolutely no problem in Traverse City, so this area is perfect for those of you seeking peace and total solitude. A great potential stopover, you'll find many Traverse City RV campgrounds with a variety of amenities and services. [Note: The next 95 miles or so of the journey along US-31 takes you on the scenic Cherry Orchard Drive, where you'll be treated to bursting cherry blossoms or stunning fall foliage, depending on the season. It's also the historic route used by Native Americans, fur traders and Jesuit missionaries].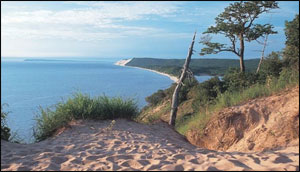 Charlevoix
A 50-mile drive on the northbound US-31 takes you into the resort town of Charlevoix, where you can enjoy any of the boutiques, art galleries and eateries, all of which help give the town its unique and unusual character. Lake Charlevoix is on hand for boating, swimming and fishing, as is Round Harbor, which connects Lake Charlevoix and Lake Michigan. The 50-acre Sleepy Hollow Nature Preserve is a great place to stroll through nature and enjoy the surrounding spring-fed creek and hardwood forest.
Petoskey
Fifteen miles farther north on US-31 brings you to Petoskey, which is a great destination spot no matter what time of year you visit. There's skiing in the winter, boating and fishing on Crooked Lake in spring, summer and fall, and loads of fine dining and unique shopping experiences year-round. If wineries and their products intrigue you, there are several in and around the Petoskey area, offering fine vintages and tours to keep you happy.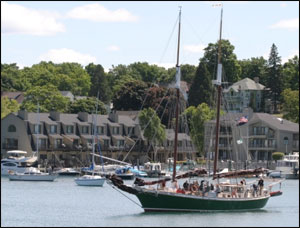 Mackinaw City
Head up US-31 for 32 miles, then take the exit for the northbound I-75 and cruise for a little over 4 miles into Mackinaw City, which makes a terrific staging point for a full slate of activities nearby. There are several historic sites in the area, including the Old Mackinac Point Lighthouse, Fort Mackinac, and Colonial Michilimackinac, which was the original stockade village for fur traders who settled the region. For the movie fans among you, Mackinac Island was the setting and filming location for the classic romantic film Somewhere in Time, starring Christopher Reeve and Jane Seymour. The Grand Hotel, which was heavily used in the film, still stands, and is a beautifully restored Victorian-style hotel, originally constructed in the late 19th century. Even if you haven't seen the film, it's well worth the trip to see this aptly named facility. "Grand" doesn't even begin to cover it.
St. Ignace
The town of St. Ignace is only 7 miles north; 5 miles on I-75, at which point you take I-75-BL the remaining 2 miles into the city limits at the northern end of the Mackinaw Bridge. St. Ignace attracts visitors from all over with its laid back charm, and one of the main lures is the downtown shopping district on the shores of Lake Huron. Take a stroll along the mile-long marina boardwalk and enjoy the fresh air, along with several exhibits that tell the story of St. Ignace's development.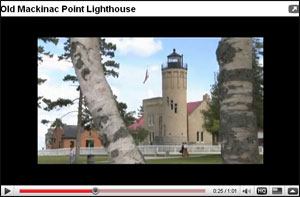 Sault Ste. Marie
The final stop of Sault Ste. Marie awaits you a little more than 50 miles to the north, accessed via I-75-N. Visitors are drawn to the incredible natural beauty to be found here, prime examples of which are found at Tahquamenon Falls and the St. Mary's River, (which is also an excellent place to drop a line in the water on a quest for some of the best salmon you'll ever taste). Sault Ste. Marie really comes to life in winter, providing several excellent skiing slopes and winter festivals that attract thousands of visitors from near and far.
Year after year, the Great Lakes State continues to be one of the most popular tourist destinations in the entire region, and when you've had a few days to get a look at all there is to offer, there's no doubt you'll count yourselves among those who return again and again. While you're in the Northern Peninsula, take the Whitefish Bay Scenic Byway to continue your exploration of the Great Lakes State along the shoreline of Lake Superior.
Where to Stay: There are several RV campgrounds along the route (and near Michigan's bigger cities) where you can stay for a night's rest during your adventure. With so many interesting sights and acitivities, you may well take a whole day to explore each destination!