By Bob Difley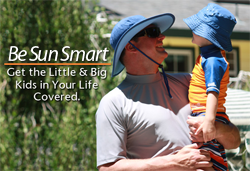 You might think that this isn't the right time of the year to write about protecting our fragile epidermal layers from the scourges of skin cancer, what with Hurricane Sandy in New York, blizzards and sub-zero weather in the upper mid-west, and rain pelting down whenever we step outside.
However, my wife, Lynn, constantly fights the skin cancer battle (from too many sunburns and excessive exposure to Mr. Sun as a surfer growing up in the surfing capital of Santa Cruz, California) and has had numerous non-malignant cancers (and one malignant) blasted off or cut out. She reminds me that it doesn't have to be hot–just sunny–to absorb the skin-damaging UVB rays from the sun. You can burn just as easily skiing as you can surfing.
Lynn now teaches water exercise year round in outdoor (as well as indoor) pools and is adamant about covering up her exposed skin–even when the outside temps are hot–in the 80s and above–whenever she is in the direct sun. That includes a wide-brimmed sun hat, sun block, and a rash guard.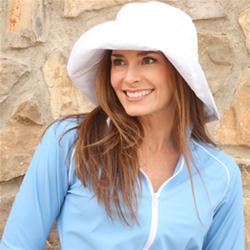 But these items are not just for water exercise instructors. Anyone who spends time in the sun–and what RVers don't–must take precautions to prevent the UVB rays from damaging their skin. And this is an important fact. Even one sunburn that blisters any time from your earliest childhood years to your retirement fun-in-the-sun years will increase your risk of skin cancer by 50%. That's right, 50%!
It's not hard to prevent–or at least safeguard yourself–from future risk by covering up. In recent years a new style of sun protection has evolved with swim shirts and clothing manufactured with built in UV protection, which regular T-shirts do not provide. Earliest versions weren't as stylish or with as much variety as some of the products now on the market, but some companies have brought complete sun-protection clothing lines to market and their designs are growing increasingly popular.
One such company is UV Skinz (www.uvskinz.com). Lynn uses one of their swim shirts for teaching. But their line includes sun-protection wear for everyone who plays in the sun–in or out of the water. The Skinz line of swim wear, for instance, has a UV protection of UPF50+ (the highest possible rating, and will prevent 98% of UV rays from reaching the skin) woven into the fabric, is chlorine resistant to last longer, have flat-lock stitching to avoid irritating seams, come in different designs from slip overs to full zipper fronts, and are in line with today's styles. They also produce swim bottoms and shorts as well.
Many of you RVers are snowbirds who head for the deserts in winter. Remember this, Arizona is called the skin cancer capital of the world. And for good reason–the sun shines a lot. Even if it isn't hot, you are still exposing yourself to skin cancer if you don't cover up. Do it, or you may regret it later.
For more RVing articles and tips take a look at my Healthy RV Lifestyle website, where you will also find my ebooks: BOONDOCKING: Finding the Perfect Campsite on America's Public Lands (PDF or Kindle), 111 Ways to Get the Biggest Bang for your RV Lifestyle Buck (PDF or Kindle), and Snowbird Guide to Boondocking in the Southwestern Deserts (PDF or Kindle), and my newest, The RV Lifestyle: Reflections of Life on the Road (PDF or Kindle reader version). NOTE: Use the Kindle version to read on iPad and iPhone or any device that has the free Kindle reader app.