Cottonwood Cove Resort & Marina
Cottonwood Cove Resort & Marina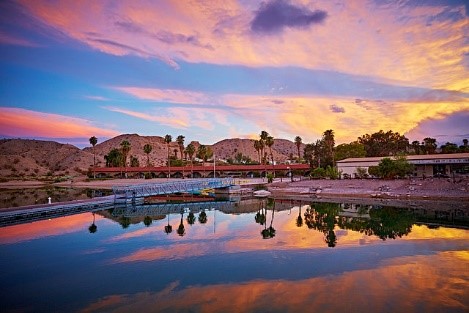 is located in the middle of 67-mile-long Lake Mohave, making it a central hub for leisure and relaxation in the desert. Just 45 minutes north of Laughlin and one hour south of Las Vegas, Cottonwood Cove has both the convenience of location and amenities for family vacations, getaways with friends, or large group functions such as private parties or corporate events. Located on the Colorado River and just a short drive from Laughlin, Nevada, the resort and marina have lakeside accommodations, a full-service RV park, nearby campground facilities and a variety of boat rentals in the full-service marina.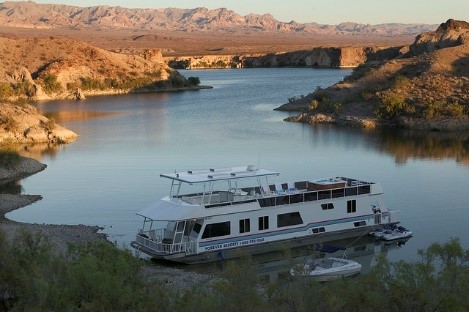 The pristine desert lake has a 237-mile shoreline and is 67 miles long. Backed by Davis Dam on the Colorado River the lake provides guests the best in boating, fishing and hiking. The new marina offers long-term and overnight boat slip rentals or option to rent a houseboat, power boat, canoe or kayak. Known for its crystal-clear water and excellent fishing, Lake Mohave boasts year-round high water levels.  There are hundreds of secluded beaches accessible only by boat or houseboat. Don't forget the waterfront Snack Bar which is open for breakfast, lunch and dinner with great food and amazing views.
Full-Service Marina
The marina itself is historic as the first and only floating building project in the world to receive GOLD LEED® certification.  The floating eco-friendly structure features sustainable modular construction and state-of-the-art energy-efficient and environmentally responsible materials and fixtures.  Decking is made of a composite of rice hulls and recycled plastic. The exterior stucco is made of recycled tires.  The marina is full service offering everything from houseboat, powerboat and jet ski  rentals to life jackets repair and other supplies.
Start your reservation by booking online with us today or calling our reservations team at (800)-255-5561 or visiting CottonwoodCoveResort.com.
Photos: Cottonwood Cove Resort RV Park & Marina