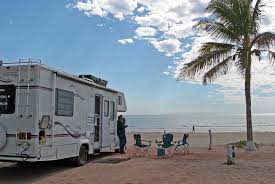 Camping at the Beach is my number one choice for camping, period. For one thing, you have the refreshingly cool breeze that blows off the ocean. Then you have the view, particularly the gorgeous sunsets (on the west coast). Then consider all of the exciting activities you can do while at the beach: surfing, kayaking, scuba diving, snorkeling, strolling, etc. The list is endless. If you have kids, sand castle building and swimming are probably at the top of the list of things to do while at the beach. While there are countless fun things to do while camping at the beach, first things first. You want to make sure you protect your skin from the harmful rays of the sun.
Sun Protection
The first thing I throw in my beach bag is sunblock. I usually have a spray kind for my body as well as a cream one for my face.The next item you want to have at the beach is a wide-brim hat. Once you are out enjoying the beach, you won't want to have to stop and put sunblock on, so try to do it just before leaving or upon arrival, before even heading down to the sand. Use a long-sleeve cover up and sunglasses if you are planning on spending an extended amount of time sunbathing.
Things to Do
While I mentioned a few fun things to do at the beach above, I just wanted to take a minute to reflect on going to the beach in my youth. We had tons of fun with boogie boards, inflatable rafts, and surf boards. Nowadays, they have paddle boards, kite boards, and so much more! If you are more of a hang-out-on-the-beach type of person, you can fly a kite, people watch, observe marine wildlife, and take a leisurely stroll down the beach, enjoying the feel of the sand in your toes and listening to the waves lapping the shore.
How to select a great Beach RV Park
The first things I consider when deciding on which Beach RV Park to choose, are whether there are ocean views from the windows of the RV, easy accessibility of the nearest beach, and whether I can hear the surf while I sleep. While these may seem like silly standards, in my opinion, its just not beach camping unless you have at least 2/3 things above.
Camping at the beach is definitely worth all the sand that ends up in the RV and having to make sure you are protected from the sun daily. The endless list of things to do while at a great beach RV park coupled with the gorgeous beach views are what keep me coming back for more Camping at the Beach year after year!