Burnaby is picturesquely bounded by Burrard Inlet to the north and the mighty Fraser River to the south. Less than 25 minutes from downtown Vancouver, Burnaby invites visitors to enjoy some of the province's largest shopping malls, ramble through lush parks, play a round of golf, and explore diverse artistic, cultural and heritage sites.
---
Planning a visit? Stay at Burnaby Cariboo RV Park & Campground.
---
Avid shoppers head for Metropolis at Metrotown, British Columbia's largest shopping mall with more than 450 shops, 10 movie screens and the biggest food court in Canada. Divided into four town centers, Burnaby also has major shopping malls at Brentwood Town Centre and Lougheed Town Centre.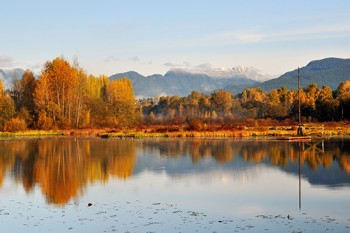 Relax at Deer Lake Park with boat rentals or pop, blues and classical concerts, go bird watching at Burnaby Lake Regional Nature Park or enjoy mountain biking at the Burnaby Mountain Conservation Area.
Learn more about the early history of Burnaby at the open-air Burnaby Village Museum, which features more than 30 original and replica buildings and 1920s-style costumed guides. For a magnificent view of the city, visit the Simon Fraser University (SFU) campus atop Burnaby Mountain, designed by world-renowned architect Arthur Erickson in the 1960s.
For museum-goers, the National Nikkei Cultural Centre commemorates the contributions of the Japanese-Canadian community, while the SFU Museum of Archeology and Ethnology emphasizes Pacific Northwest aboriginal art.