Bella Terra of Gulf Shores in Foley, AL is a perfect spot, whether you are a Guest or an Owner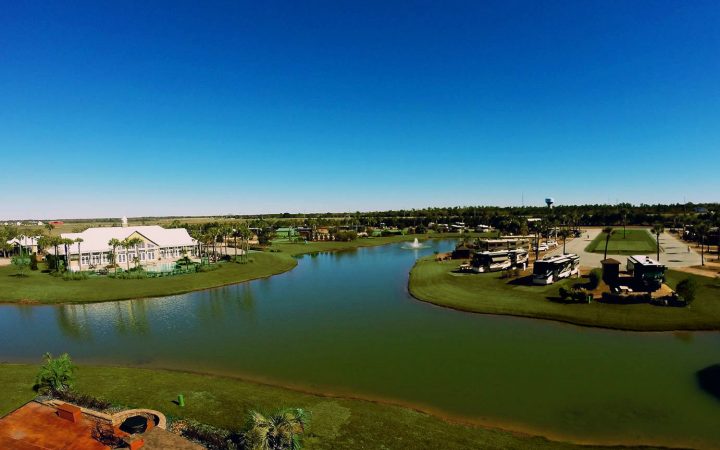 Bella Terra of Gulf Shores is your destination for great times and luxurious living! Our fantastic weather year-round, best in class amenities, and five star service with true Southern charm means we have some of the best owners and guests in the country.
Located just minutes from the sugar white sands of the beautiful Alabama Gulf Coast, Bella Terra of Gulf Shores is an upscale Class A only RV resort community designed with the discriminating RVer in mind. Bella Terra's owners and guests enjoy our 6000 sq ft clubhouse, infinity pool, exercise facilities as well as gorgeously designed oversized lots with views of our stocked lake and lush foliage.
Our full-service Class A RV resort offers luxury on-site amenities in addition to programmed events and activities at the resort and throughout the Gulf Shores area to ensure that your stay at Bella Terra is the most enjoyable that it can be.
We'll Have You Hooked…
Just a few minutes to the south of Bella Terra is the Intracoastal Waterway. With over 10 marinas in the Gulf Shores area. Our Activities Director will even arrange discounts on charter fishing boats. If fishing is not on your agenda, head 20 minutes southeast and get on board the Southern Rose cruise ship for daily dolphin watching and dining.
Enjoy Golfing? We are "On Par With Excellence…"
Our Activities Director will gladly arrange discounts and tee-times for any of the nine championship-caliber golf courses in the Gulf Shores area. Creatively designed and strategically placed by some of the greatest names in the industry – Arnold Palmer, Larry Nelson, Bruce Devlin, Jerry Pate, Earl Stone and Robert Von Hagge – you'll be privy to nearly 300 holes.
Try Your Luck…
Just a short trip from Bella Terra is Biloxi, Mississippi – home to some of the biggest casinos in the south. Just sit back and enjoy a cool drink while riding the coast in a complimentary luxury bus with your fellow Bella Terra friends.
Is Shopping your thing?
Two of Alabama's most popular shopping destinations, The Wharf and Tanger Outlet, are only 10 minutes from the Bella Terra resort.
Wine & Dine in Lower Alabama
Where you'll enjoy fresh daily seafood catches, locally-grown produce and regional events like the Gulf Shores Shrimp Festival.
Fun For All Ages…
Alabama's Gulf Coast certainly isn't short on entertainment options. Thrillseekers can ride the Screamin' Demon body slide or test their surfing skills on a simulated surfing attraction at Waterville USA Water & Amusement Park. If you'd prefer to keep your feet on the ground, join fellow Bella Terra neighbors to explore local art and culture, from theatre to arts & crafts. Nature enthusiasts can join our tour to Bon Secour National Wildlife Refuge, a 7000-acre conservatory for endangered fish, plants and wildlife.
There's No Place Like Bella Terra
From croquet tournaments and live music gatherings to potluck supper trivia nights at the grand clubhouse, Bella Terra of Gulf Shores will deliver a neighborhood community you'll be thrilled to return home to – again and again.
We invite you to discover for yourself what makes Bella Terra of Gulf Shores so special.  Call us at (866) 417-2416 to book your stay today! bellaterrarvresort.com