When European settlers first discovered the area now known as New Brunswick, they were greeted by aboriginal tribes whose friendly nature helped them survive the harsh winter and ultimately colonize the area. This friendly spirit persists to this day, as the diverse citizenry of New Brunswick embraces visitors from all over the world. The land has a soul and spirit all its own, the likes of which are seen nowhere else. This route from Woodall's will only use one tank of fuel, but you may find yourself lingering longer than a few days to fully enjoy all the sights!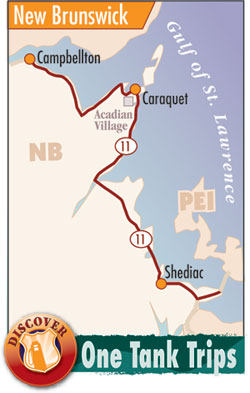 Campbellton
The township of Campbellton rests on the banks of the Restigouche River and is the starting point for this journey through Acadian Country. Prepare your eyes for a treat, as the land explodes with deep, vibrant colors; the sunsets are daily masterworks of Mother Nature's majesty. Whether you're hiking through the forests or fishing for some of the best salmon to be had, Campbellton is an outdoorsperson's dream come to life. The waterfront has several souvenir shops and restaurants with a spectacular view of the water, and makes an excellent spot to end your stay in Campbellton before getting out on the road.
Caraquet
Provincial Route 11 is the only road for this trip, and as you proceed south you make your way through 109 miles of wild land until you reach Caraquet. This thriving fishing community sits on the shore of Chaleur Bay and draws thousands to its Acadian Village and the annual Acadian Festival in early fall. The festival is a celebration of the eclectic array of Native, French, Scottish, and Irish immigrants and the culture they combined to create. It's a combination of music, artwork, and food that is truly a one of a kind experience. You should know that French is the primary language of the area, although finding a translator won't be terribly difficult, especially during tourist season.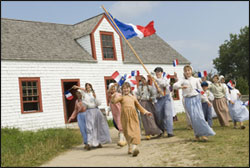 Shediac
Continuing south on PR-11 for another 157 miles takes you to into Shediac, the Lobster Capital of the World. More lobster is caught and processed here than anywhere else. Don't miss the Giant Lobster sculpture in Rotary Park! This enormous homage to the industry is 35 ft. long, 15 ft. wide and 16 ft. tall! Shediac's beaches are a popular destination, with the warmest waters you'll find in eastern Canada. After a day of hiking in the nearby backwoods, treat yourself to an exquisite dinner at any of the local restaurants. While seafood is the staple, you'll also be able to enjoy a thick, juicy steak or a tasty vegetarian dish, whatever suits your fancy. As with the rest of New Brunswick, Shediac is very proud of its Acadian history and maintains several local resources to promote and showcase this rich, diverse culture.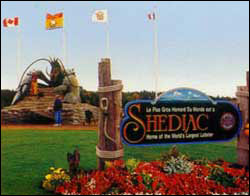 It's easy to understand why New Brunswick is a favorite destination all year round, with its majestic rivers, awe-inspiring views, fascinating cultural attractions and miles of unspoiled beaches. When you come to New Brunswick, you can be guaranteed of an entirely unique vacation getaway experience. Just be prepared to spend a few extra days than you'd planned on, because more than one first-time visitor to Acadian Country has been hypnotized by this masterpiece of natural wonder.
Where to Stay
There are several private RV campgrounds in the Caraquet area that are open from May to October. Or you may choose to stay at one of several privately-owned, pet-friendly RV parks in the Shediac area at the end of the route.
If you're from the Acadian coast of New Brunswick or have visited in the past, please comment below with your stories and travel tips!