There are many national parks in the United States, but as Dimitri and Madolyn discovered and mentioned in their Trip Journal, 2008 Keys 2 Canada, Acadia National Park is considered to be one of the most beautiful of all the parks.  On the east coast in Maine, conveniently located off Highway 1, Acadia, or Mount Desert Island as it was first known, is complete with mountains, islands, forests and coastlines; a visual feast for the eyes.  Here is their wonderful posting.
Acadia National Park itself is actually mostly island. Long ago, explorer Samuel Champlain saw the bald peaks of the mountains on the island, and was struck by the similarity of them to mountain deserts. Using this simile, he named the mountains l'Isle de Monts Deserts, which became over time Mount Desert Island. The lofty mountain Champlain was viewing and named the island after is Cadillac Mountain, which was named by yet another explorer named Cadillac, who also founded Detroit, Michigan.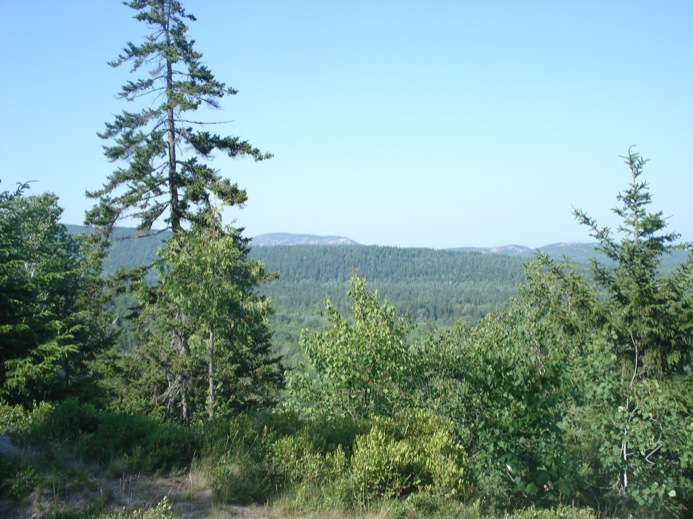 A few interesting facts about the island Park is that it was the first of any eastern national parks to be implemented east of the Mississippi River, and that Cadillac Mountain is the highest point on the entire Eastern seaboard north of Rio de Janeiro.
While Acadia National Park has no single "pull" factor such as Old Faithful or the Grand Canyon, it does have a great deal charm, beauty and solitude that invites visitors to partake. It is merely an incredibly lovely and serene place to contemplate life's wonders, and where crashing waves, mountain trails and natural formations offer all the enjoyment needed. One rock formation that is man-made is called Rockefeller's Teeth, partly for the well-to-do Rockefeller family and partly because of their striking resemblance to a set of human teeth. These "teeth" are actually blocks of granite that border the roadside; along which many peekaboo sites have been carefully planned to delight travelers with glimpses of the ocean, the shoreline and Cadillac Mountain.
This area in Maine has much to offer visitors besides the awe inspiring coastal views. The large park is serviced via shuttle busses which run to various locations, including the nearby town of Bar Harbor. Many wealthy families, including the Rockefellers, at one time used this city as their stomping grounds, resulting in the inevitable naming of several attractions in the area in their honor. The shuttle bus service also makes stops at Sand Beach, the Cadillac Mountain Trailhead, Wildwood Stables and Thunder Hole. Years ago, John D. Rockefeller designed and built carriage roads throughout Acadia National Park, upon which no motor vehicles are allowed. Carriages pulled by immense Belgian draft horses are available for visitors to rent in another method of viewing the lovely surroundings.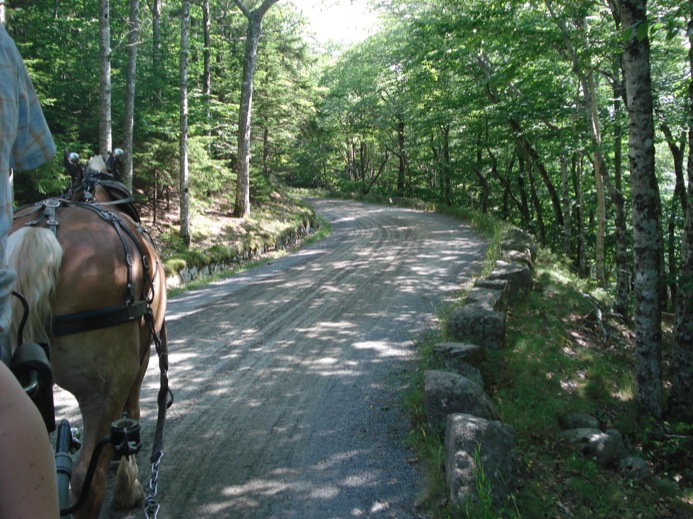 The State of Maine has many things to boast about; incredible seascapes, mountains, delicious lobster dinners and more. One feature of the state that will bring many visitors back time and time again is Acadia National Park, one of the most beautiful of all of the national parks in the United States.
Dan Parlow
Personal Travel Websites by RV.Net ; Online Travel Journals by MyTripJournal.com ; Explore Good Sam Club Trip Journals ;Woodalls Trip Journals ; Travel Journals by Trailer Life Directory ; Traveling USA Travel Blogs