By the Never-Bored RVers
There are many truisms about RVing for extended amounts of time, but probably none so ubiquitous as "I don't have enough room for everything I need."
I call this "A Beginner's Guide" because it was my solution to being able to fit in everything we needed when we began our full-timing life on the road.  In other words, if you're already past that point, this probably won't do you much good.  It also applies mostly to you guys/gals considering pulling a travel trailer as we do.
We turned over the keys to the new owners of our three-bedroom home four years ago after going through the torment of selling everything that we couldn't give away or store in a 10×10 unit (which we painfully cleared out earlier this year).  That meant being able to take only essentials in our 22-foot "starter" travel trailer. 
Luckily, we had eight months from the moment the flash hit us that this was what we wanted to do for a year or two or ten, etc., to plan our escape from our typical bricks & mortar existence.
Monique & I have our separation of responsibilities for most tasks; this was no exception.  We both agreed that a tow-behind trailer was the way we wanted to go, literally, because it would allow us to get into smaller campgrounds and wind along "pigtail" roads.  We still are committed to this choice, although a year after embarking on our journey, we moved up to a 28-foot all-season model with a slide (wish we had another in the bedroom).
Two of my main roles in the transition were to choose the tow vehicle and decide the best way to pack it and the trailer bays.  I don't need to tell you what goes into our bays or in the trailer, since that has lots to do with lifestyle choices, including how many times you will move (we stopped at a very tiring 330 places in our first four years). 
After dozens of conversations with people pulling trailers, pick-up truck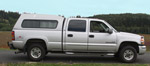 drivers, repairmen, and dealers, I chose a ¾-ton diesel truck with a crew cab, which means having access to the back seats through doors.  On my son's advice, I added a high shell for the bed. 
And finally, I get to the focus of this article:
I tried several different systems for utilizing the back seat finally settling on folding down the seats to take advantage of the platform.  This area is used as an auxiliary closet-file cabinet-pantry.  It features two plastic 3-drawer sets, each facing the door openings (sounds obvious but it isn't).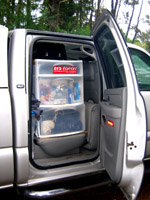 In the drawers and behind them, we store some heavy clothes and bulky hats; maps from all over North America; drinks, food, paper products and boxed foods for later use; hiking gear; bungees and ropes, and most important, manuals, instructions and warranties for the truck, trailer and equipment on board.
 Also in the back seat are a box for our records/files; reusable supermarket bags; photography and phone accessories; and blankets to grab when we get cold or to hide contents while we're out of the truck.
Why don't we take out the back seats?   Answer:  it would be difficult and we would have to store them somewhere, but more important, on several necessary occasions we have had to use the seats for passengers. 
And now to the truck bed:  Again, I use plastic drawer sets, which are not only light-weight but versatile and waterproof for when water sneaks in.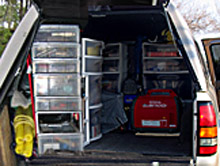 I've changed the configuration many times depending on where we are but always have the drawers with tools easily accessible in the back (of the truckbed).  Other drawers hold extra parts, bigger tools, and what we may need infrequently but eventually.
 The rest of the space is taken up with plastic containers for treasured books; repair materials including paints; a small one for tapes (duct, two-sided, electrical, etc.), and another small one for glues, graphite, Goo-Gone, etc.).  The generator and air compressor are the most inconvenient, necessary features.  Our propane heater and bright LED light for inside the trailer when camping without hook-ups for several or many days.  Then, I have gas cans with unleaded for the generator and diesel for emergencies with the truck (I've needed it twice).
And stuffed on the sides are long-handled cleaning tools like a broom, extra wood for projects, a rod & reel, a folding stool and our hiking sticks.  I also have installed two tubes hanging from the ceiling for other long items like wooden and metal yardsticks.   On occasion, I stuff in firewood when I have extra pieces.
Once everything else is neatly stowed*, I squeeze in our outdoor recliners, a table and our 5-foot step ladder.  If I looked around longer, I could probably find more, but it's tiring me out just thinking about all that stuff.  And to tell the truth, the photo of the back was taken on a cleaning day, so there are more items on the campsite table waiting to be returned to the truck bed. 
*Monique looked at these photos and said "It's never looked that good!"
There are obviously many other storage plans that will work, which, I'm sure, many readers would find interesting, so I welcome comments about alternatives.
 From the "Never-Bored RVers," We'll see you on down the road.