Originally envisioned to function as a movie set, South Dakota's "1880 Town" recreates life in a turn-of-the-century community. The town is comprised of  an accumulation of authentic artifacts and buildings that were abandoned when the production of the intended film folded.
After entrepreneur Richard Hullinger received the abandoned movie set in 1969, he began gathering additional original buildings from the local area to start the creation of what has become today's attraction.  Since this project was started, thousands of additional, unique items reflecting the time period from 1880 to 1920 have been collected—filling this town's buildings with authentic relics.
1880 Town by Buggy
Transportation modes of the time are on display here (including horses, wagons, a buggy and a stagecoach).  With the completion of the Northern Transcontinental Railway in 1883, trains traveling across the plains became another major method of transportation, and railroad relics are on display in the town.
In one of the barns, double wagons used by Kevin Costner in the movie "Dances With Wolves" still stand. For some years, "Cisco," a gelding horse that Costner rode in the same movie, also lived here. He died a few years ago.
Life on the South Dakota Prairie
Homesteaders soon learned South Dakota's strong winds could reliably propel windmills to produce power for drawing up precious water; many of those energy generators still stand in 1880 Town. Resembling the on-site, one-room schoolhouse, homes consisted of one room, or at most two. Imagine living, eating, sleeping and cooking all in one room! Take a short walk, or ride in a horse-drawn buggy, up the hill from Main Street to reach one of the two churches in the town, with a homestead situated beyond it. Seeing "the way we were" makes one appreciate just how much work it took to maintain a household in 1880.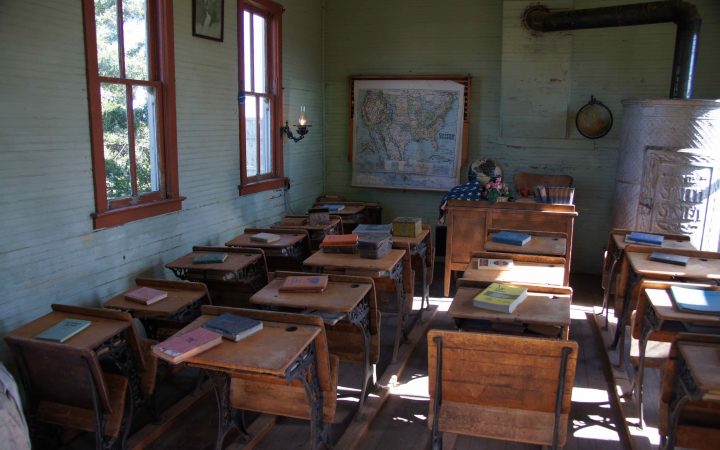 The attraction, located 22 miles west of Murdo, South Dakota, on Interstate 90 at exit 170, has RV parking. Or you could spend the night one half mile away at the Belvidere East/Exit 170 KOA. No matter which you choose, this attraction is well worth the time and admission fee.
From along the road,
Chris