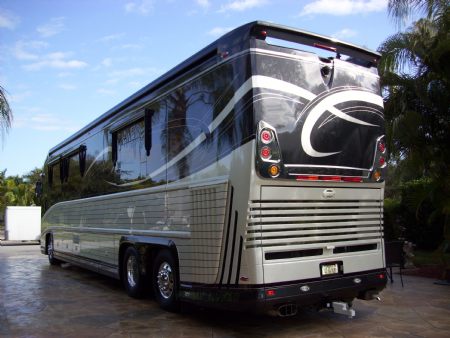 I have heard from a number of fellow campers over the years that they find many owners of luxury class "A" coaches and conversion buses unfriendly. So what exactly draws them to this conclusion?   Do these high-end RV travelers act as though they are better than anyone else?  Do they intentionally ignore other campers? Or are they just plain outright rude?
Well, of course there are always a few coach owners that may in fact fit one or more of those descriptions. However, this type of person can be found in any size, year or type of RV.
So that being the case, why do the higher-tier RV owners get categorized in this negative manner?
It's my opinion that this misunderstanding may well stem from the less-flashy average outdoor camper folk, like you or me. Perhaps unintentionally, we fail to engage them in any normal friendly greeting.
But why would we act in this manner? Although maybe some of us have only a tingle of envy, we have no malice. I believe we might sometime avoid any verbal or visual engagement with one of these people as we do not want to be rejected. Kind of like the best looking girl or that high school quarterback that any guy or girl would love to go to the prom with. They are the last ever to get a date in many cases, again due to the fact that humans do not want to face any possible personal rejection.
Well, we are all campers, enjoying and sharing many common interests while free to each pursue our own personal goals.
So, next time a shiny Prevost conversion pulls into a campground and onto the site beside you, go over and say hello. You might just make a new friend.