By Bob Difley
In last week's post I wrote about camping on public lands other than the two big entities, the BLM and National Forest Service. This is a continuation, since I ran out of space last week. But it does indicate just how much area in this country is available for boondocking–if you know where to look.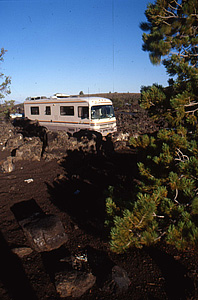 NATIONAL MONUMENTS
In National Parks you can camp only in a designated campground. National Monuments are less restricted, have fewer facilities, and may allow boondocking in certain areas. Check at the visitor center or online whether the park allows dispersed camping before making camp. Many monuments also have primitive campgrounds (photo – Craters of the Moon, near Arco, ID).
NATIONAL RECREATION AREA (NRA)
Eighteen NRAs are managed by the NPS, with the FS managing several more and the BLM managing one. It depends on the NRA itself whether dispersed camping is allowed. Most have designated campgrounds, some with partial hook-ups, some without, but with amenities like dump stations and drinking water. NRAs are often found within National Forests and on large reservoirs with lots of recreation possibilities.
One of my favorites, the Sawtooth NRA in central Idaho, has lots of dispersed campsites on the edge of the forests bordering the Salmon River that flows through the valley. East of the town of Stanley, the hub of the NRA, dispersed sites also lie along the Salmon River, several with hot springs bubbling and steaming into the cool river.
HARBOR DISTRICTS
Don't bypass local harbor districts before checking for camping possibilities. The Port San Luis Harbor District in San Luis Obispo County in central California allows primitive camping along the shoreline of San Luis Bay (photo). Beach swimming, fishing, restaurants, boating (commercial launch ramp), and a fishing pier with fresh fish outlets offering the catch of the day from the resident fishing fleet compliment the sunsets and bay and ocean views.
PUBLIC UTILITIES, REGIONAL, COUNTY, LOCAL, AND COMMUNITY PARKS
These type camping facilities are not always easy to find and local knowledge here can be helpful. When passing through small towns in the mid-west, south, and east especially, ask about local campgrounds or dispersed camping areas. The police and fire departments are good sources of such information, as would be the chamber of commerce or visitor center if they have one. Several times while traveling I found small town parks that allowed overnight stays for travelers passing through and camping areas outside of town that the locals used but didn't appear in any campground guides.
OTHER CAMPING/BOONDOCKING POSSIBILITIES
Following are some other alternatives to staying in pricey full hook-up campgrounds. Most of us have to watch our outgo since our income may be fixed or we got hammered by the nation's economic problems of the last few years, so any creative ways that we can reduce our camping fees will be welcome. In addition to the many camping opportunities mentioned above, here are some additional possibilities.
HIKING AND BIKING TRAIL HEADS, NATIONAL RECREATION TRAILS, RAILS TO TRAILS
Some of these trail heads, especially on FS and BLM lands, have parking lots large enough to accommodate your rig without denying others a parking space. Usually such a parking lot will be good for two to three nights of boondocking, especially when you plan on using the trail. It isn't quite like being off in the woods by yourself as trail hikers will be coming and going, but weekdays should be less busy than weekends and the nights should be quiet after the hikers leave.
Bottom line–there are many boondocking opportunities if you keep your boondocking antenna up and look at all possibilities.
Check out my website for more RVing tips and destinations and my ebooks, BOONDOCKING: Finding the Perfect Campsite on America's Public Lands, Snowbird Guide to Boondocking in the Southwestern Deserts, and 111 Ways to Get the Biggest Bang out of your RV Lifestyle Dollar.