By Bob Difley
Last week in Part IV we looked at ways to conserve electricity by limiting our actual usage. Today, we will flip in the other direction and look at ways to increase the available electricity and add alternative sources of power.
Lower wattage and Energy Star appliances will take less energy to run, pull fewer amps from your batteries, and run more efficiently–in other words, they're greener than your older appliances.
However, it is not practical or economical to tear out your old installed appliances and replace with Energy Star (until they need replacement), but you can check before you buy a new RV whether the appliances already installed are in compliance.
You can also vastly improve your electrical system–actually more than doubling your storage capacity–by installing additional or different batteries. Here you have choices. Buy an additional deep cycle flooded lead acid RV battery like the one your rig came with, only don't add a new battery into a system with older batteries or the older battery will draw energy from the new one. A newer type battery option is the absorbed gas mat (AGM) type, which has no liquid in the cells that must be monitored or refilled. Or you could install two or four 6-volt golf cart batteries. To help you decide as well as learn more than you probably ever wanted to know about batteries go to this text of a presentation by Greg Holder, owner of AMSolar.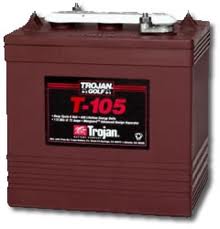 I use four Trojan T-105 6-volt golf cart batteries, about which Greg says, "Best bang for the buck is the Trojan T-105 golf cart batteries — if you have space for them. They are considerably taller, and won't fit in some compartments. 2 6s in series is better than 2 12V batteries. Longer life, more forgiving, will last twice as long. Cost in range of $65-$85." NOTE: This was the price when Greg gave his seminar. My most recent price check showed a $115 to $160 range per battery.
Just installing more battery capacity will about double your boondocking electrical capability, but by also using alternative, renewable energy sources you can pump amps into those batteries even while you are out in the booniest of boonies. There are four ways to do this: (1) idle your main engine, (2) run your generator, (3) install solar panels,or (4) install a wind turbine.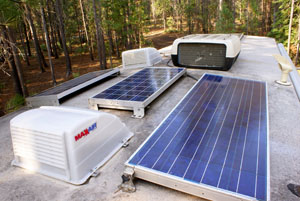 The problems with (1) and (2) are that they are noisy, smelly, cause wear and tear on the equipment, require maintenance, use increasingly expensive gasoline, and are inefficient requiring hours of running to plump up a depleted battery.
My personal choice, solar, is totally silent, has no moving parts (no wear and tear), requires no maintenance (except a wash off or wipe down occasionally), produces free electricity, and works from dawn's early light until the sun is over the yardarm without complaint.
The downside with solar is the upfront cost of panels and installation. If you install it yourself you can save some expense. But after that–free energy. If you intend to keep your rig for a while, the cost amortizes out. And it's so satisfying to look at the control panel and see those amps streaming into your batteries and not have to worry whether you have enough juice left to watch Night of the Living Dead or play Halo 3 after dark.
To figure out what size system you need you have to figure out how much electricity you use on average in a day. You can do this on AMSolar's system sizing page. Then add a bit for when it is cloudy or rainy or if you estimated a bit low–it's a good idea to have a margin of error. But, if you are consistently low or your electricity usage grows, you can just add another panel into the system.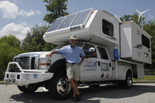 If you typically travel where there is no sunshine (Oregon and Washington in the winter come to mind), prefer to camp under the canopy of a deep forest in summer, or like camping on windy unprotected hilltops than you might want to consider a wind turbine. The newer models are less noisy and have less vibration than older models, and when you hoist them up on a long pole above your rig, it takes just a breeze to get it spinning amps into your system. But if there is no wind, no juice. If you don't mind spending the bucks and like all this tech stuff, you can install both, like Brian Brawdy did on his camper (see turbine blades in upper right corner of photo).
Next Saturday I will dive into the water system (pun intended).
Check out my website for more RVing tips and destinations and for my ebooks, BOONDOCKING: Finding the Perfect Campsite on America's Public Lands, Snowbird Guide to Boondocking in the Southwestern Deserts, and 111 Ways to Get the Biggest Bang out of your RV Lifestyle Dollar.