Nearing retirement, my husband and I chose our first RV…a Gulfstream Conquest 22ft Class C motor home. Our main stipulation before purchase–MUST have a bed for two on the "ground floor." (We used the "upstairs bedroom" for storage!) The bed was laughingly called a double, but with the bottom corner chopped off to make entry into the bathroom possible, my 6'2″ husband had to sleep diagonally, leaving me the corner next to the wall/picture window. Now that the stage is set, here is my vivid memory:
On our way to Alaska in June, 1999, we decided to tour some areas of North and South Dakota that we had not seen. We arrived in Williston, ND, on a late sunny afternoon at the same time that severe weather patterns were developing over Montana. When we inquired about storm shelters at the RV park, the owner dismissed us with, "Oh, tornadoes NEVER hit us here in Williston." The red flags immediately went up in my head…nothing terrifies me much more than the thought of a tornado and/or the word "never." And when they're both in the same sentence?!!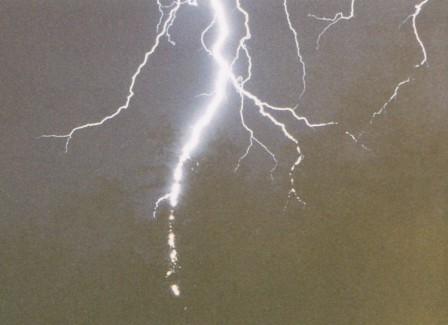 Around supper time, the sky began to get cloudy and the breeze became a little stronger. By nightfall, rumbles of thunder could be heard off to the west with occasional flashes of light over the western horizon, and trees were beginning to wave a little more vigorously. We had clear reception of The Weather Channel on our little TV, and could watch the Doppler radar images of three huge storm cells (loaded with the vivid reds and burgundies the weather guys and gals love to call "strong rotational systems") and the accompanying red tornado WARNING box heading directly toward Williston (where tornadoes never hit!). By this time, we are in bed, my head under my pillow, my husband watching TV with one eye and the jagged streaks of lightning outside the window with the other. When the power went off, my head went deeper under the cover and pillow, and he concentrated both eyes on the lightning which by now was almost constant. The wind was shaking our little RV like the paint mixer at Home Depot. At some point, I realized something was pressing down on my left hip. I lifted the pillow just enough to peer around, and saw my husband using me as the tripod for the video and still cameras as he tried to capture THE perfect storm shot!
Next morning, under bright sun and blue sky, it was easier to look around and think maybe the RV park owner really did know what he was talking about.
Submitted by Page Worthington of Ayden, NC as a part of the RV Centennial Celebration "Share Your Favorite RV Memory" contest.
Do you have a favorite RVing or camping memory you'd like to share? Submit your favorite memory here!