By Barry Zander, Edited by Monique Zander, the Never-Bored RVers
Friday we arrived in Huntsville, Alabama, "the Rocket City," climbed the mountain to Monte Sano State Park, unhitched and set out for NASA's U.S. Space & Rocket Center, where in the 1950s, a team of scientists, led by Dr. Wernher von Braun, designed and tested the rockets that put men on the Moon.
Monique acceded to my whim to visit the center, mildly interested at best.  When we walked in, I was blown away by the exhibits.  I think Monique was even more impressed.  (Last blog I mentioned that the World War II Museum in New Orleans is a "must see." This certainly is another "must see.")
In hall after hall, what we saw and experienced was grand.  When we walked into the space center, we were overwhelmed with the grandeur, the spectacles, the active exhibits – and how the designers put into perspective the importance of the space program to our everyday lives.
Our trip to Huntsville was our fourth or fifth deviation from the planned route.  When wanderlust calls, we enjoy the spontaneity of our trip, the ability to stay a day longer or leave a day early, the freedom to veer off the yellow-highlighted routes on the maps Monique worked on so diligently.
If you're wondering about all this freedom, it comes first with being retired (except for writing and photography).  It also means willingness to leave the comfort of our mountain cabin, where we have made quite a few friends and where the summer months are filled with fun and cultural events (often, the same).  And it means setting the priority of traveling high enough to allow for us to budget six months on the road.
The key word, at least for us, is "priorities."  We love the opportunity to journey through North America.  Not an easy decision, but we want to do it while we can.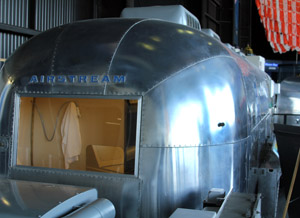 An RV in the Rocket Center — this Airstream was used to quarantine astronauts after flights.
COMMENTS
And in response to the blog about free overnight parking and our Canadian Maritimes destination came this comment from John Otto of Pennsylvania.
"Have a great trip to the Maritimes. We were told that Wal-Mart dry camping was not allowed in Canada.  We found several Wal-Marts in Nova Scotia and Prince Edward Island that allowed it. We just called ahead and asked for permission.
"In Digby there is a nice little RV Park within walking distance of downtown. When we were there in Aug 2010 we found a restaurant downtown that had a buffet on Tuesday nights. They had scallops in all forms. The Wal-Mart in Digby does allow overnight parking.
"There was a City Park in, I believe, Fredericton, New Brunswick (NB), that had an RV (?) Park. It was very disappointing.
"If you are in downtown Moncton, NB, there is a railroad overpass on, I believe PR106 that is low clearance.  Thanks to a guardian angel we did not lose our RV roof.  As I recall there were two Wal-Marts in Moncton. As I recall we were going to stay at the one at Champlain, Prince Edwards Island, but it was a very noisy parking lot so we moved to the one at 25 Plaza Blvd.
"We also stayed at a Wal-Mart near Halifax.  I recall there was one in a shopping plaza that did not allow parking but there was one to the west of Halifax that was very nice.  I believe we also used a Wal-Mart in Sidney, Nova Scotia.
"In Charlottetown, PEI, the Wal-Mart did not allow parking on the lot, but there was a grassy area just off of the parking lot with lots of RVs."
Good information, Otto; however, we're covered for the Maritimes parking, since we are signed up for a caravan, where all those arrangements are made for us – including the ferry crossings.
From the "Never-Bored RVers," We'll see you on down the road.
Because of the numerous Spam comments on this site, the comments section has been deactivated.  Please email us at [email protected] and I will pass along your comments.
© All photos by Barry Zander.   All rights reserved