Dave and Joan Hitchens, together with Dave's sister, Linda, and her husband, Ed Smookler, have been caravanning from their homes in Delaware to the SUNnier climate of Florida for the last nine years. Like so many folks, they leave after Christmas (got to spend the holiday with the grandchildren), arrive in Florida for New Years, and live the snowbird life until the end of April.
How much do they love being on the road? The Hitchens are on their fifth motorhome and the Smooklers on their second. Over the years, they've become experts in the art of RVing, so we turned to them for some tips to help other snowbirds planning a trip this season.
Tip #1 – Stay in the SUN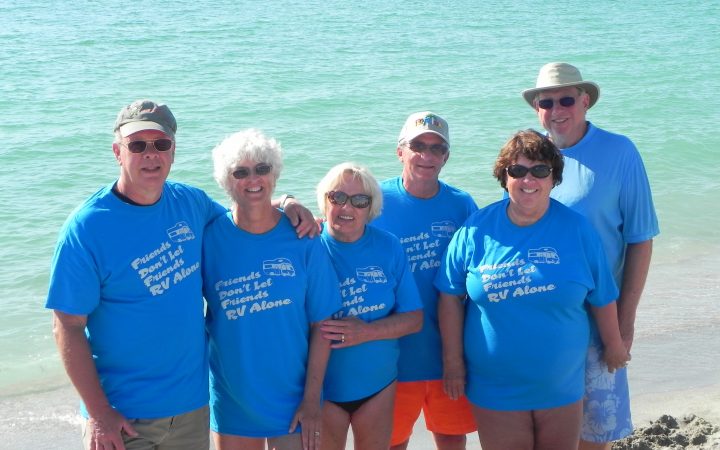 In Florida, the group has been to Sun RV Resorts in Kissimmee, Jensen Beach, Punta Gorda and Sarasota. The Hitchens, retired bankers, often strike out on their own. They've stayed at Sun RV Resorts, in Cape Cod, which they describe as incredibly beautiful, Smokey Mountains, where they visited the Biltmore Mansion and grounds, and San Antonio, where they've enjoyed the River Walk and a trip to the Alamo.
Ed, a retired history and government teacher, is the go-to guy when it comes to doing research on places to visit. According to Linda, it's Ed's history background that's led the Smooklers to visit Presidential homes all along the East Coast as well as "just about Civil War battlefield," Linda says. And good experiences that have led them to stay at many Carefree, now Sun, communities.
Tip #2 – Have an Understanding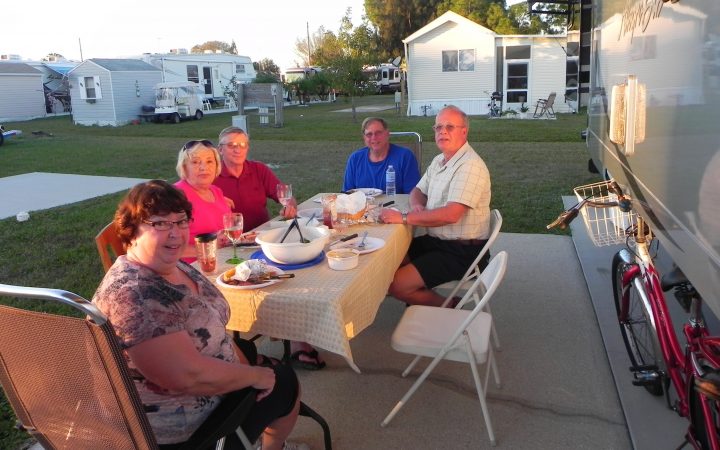 "Often it's not just a straight Delaware to Florida trip. We're not joined at the hip, and everyone has the freedom to stop and make a side trip without everyone freaking out," Joan explains. "We don't all feel compelled to do the same thing. 'Whatever' is OK with everyone."
Tip #3 – The Spreadsheet
"I used to have lists everywhere," Joan, who everyone describes as extraordinarily organized, says. "So I created a spreadsheet inventory of what was in every room from food and spices to paper products, dishes, linens and clothes. It's made preparing and packing much easier."
Janet and Jim adopted it, and Linda has created her own. She says that a spreadsheet helps in a really small space like an RV. "I have a list of always in the RV things as well as a destination informed list. It means less packing and makes life more comfortable." And she adds, "traveling light is best."
Tip #4 – Know Where You've Been and Where You're Going
Ed is a master researcher, so Linda leaves it to him to make plans about where to go next and what various campgrounds offer. Joan is the expert on keeping journal and photo records of all the places they've been, the people they've met and things they've done. On a recent trip to Alaska, she took 7,000 photos. One of her travel tips—"always have a camera to capture memories."
"And always bring a map, a GPS, another map and another GPS," she wisely advises.
Tip #5 – Attend Rallies and RV Shows
Dave thinks attending rallies and RV shows is essential, and both couples have manned booths for Sun Communities.
"The shows are an opportunity to see new products and to learn about new parks and what the lifestyle is like at them," Linda says.
Dave adds, "There are seminars from 8 a.m. to 5 p.m., with the latest information on everything from RV maintenance and new products to services and driving classes."
With 1,000 motor homes often in attendance, rallies are also a place where RVers exchange ideas and form friendships.
"You never meet a stranger on the road," Dave says in explaining some of the RV world's mystic. "We've made friends we stay in touch with by phone and email. And occasionally see when we're traveling."
Tip #6 – Join Associations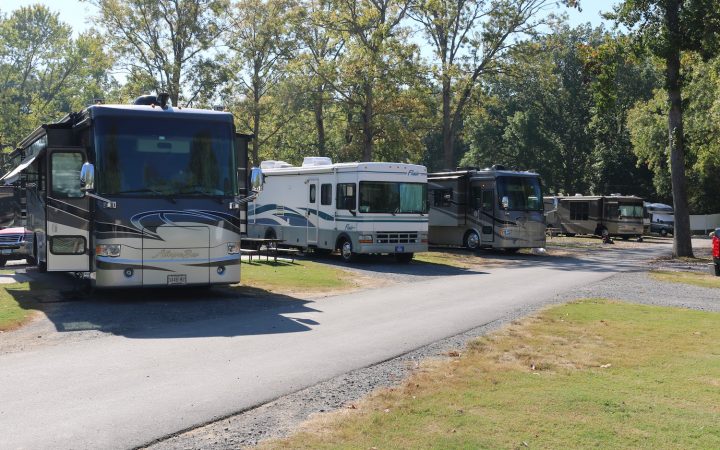 Dave strongly suggests joining associations like the Good Sam Club, which in addition to offering RVers discounts at Camping World, the place to go for accessories, also offers special-price roadside assistance, an action line for RV dispute resolution, discounted stays and free online trip planning.
Tip #7 – Follow the Sun
There's nothing like being on the open road. So choose a destination, get your spreadsheet organized do your research, check in with friends and head out to discover a bit of America. Just follow the Sun. We'll be there to welcome you on your travels.