Space Coast is the final RVing frontier. 
Famous for its space-age connection to NASA, the Kennedy Space Center and even for its role as the fictional home of Major Nelson on the hit TV show I Dream of Jeannie, Florida's Space Coast is far more than simply a gateway to great beyond — though that's certainly the main attraction.
A large region comprised of 9 distinct cities and towns, stretched along more than 70 miles of gorgeous Atlantic coastline, the Space Coast is also packed with pristine beaches and nationally protected parkland, making it perfect for more low-tech, down-to-earth pursuits.
Starting at the northern end and working your way south you'll find Titusville, Cocoa, Rockledge, Cape Canaveral, Merritt Island, Cocoa Beach, Melbourne, Indialantic and Palm Bay all vying for your attention and your time.
In fact, the Space Coast is a rather fitting name for this region—far beyond its far-and-away reach to the moon and beyond. Stunning and undeveloped natural space is, in fact, all you'll find in parts of this sprawling slice of Florida's Atlantic coast, space that's ideal for hiking, bicycling, kayaking and bird watching.
But, of course, if you're talking about visiting the Space Coast you're talking chiefly about that magical and romantic pursuit skyward—that historic push to space and beyond. That means happily concentrating your efforts in and around Cape Canaveral and Merritt Island. It's here you'll find the Kennedy Space Center Visitor Complex, the U.S. Astronaut Hall of Fame and the Cape Canaveral Air Force Station, where you can still see regular rocket launches to this day.
Hit Space Coast the Launchpad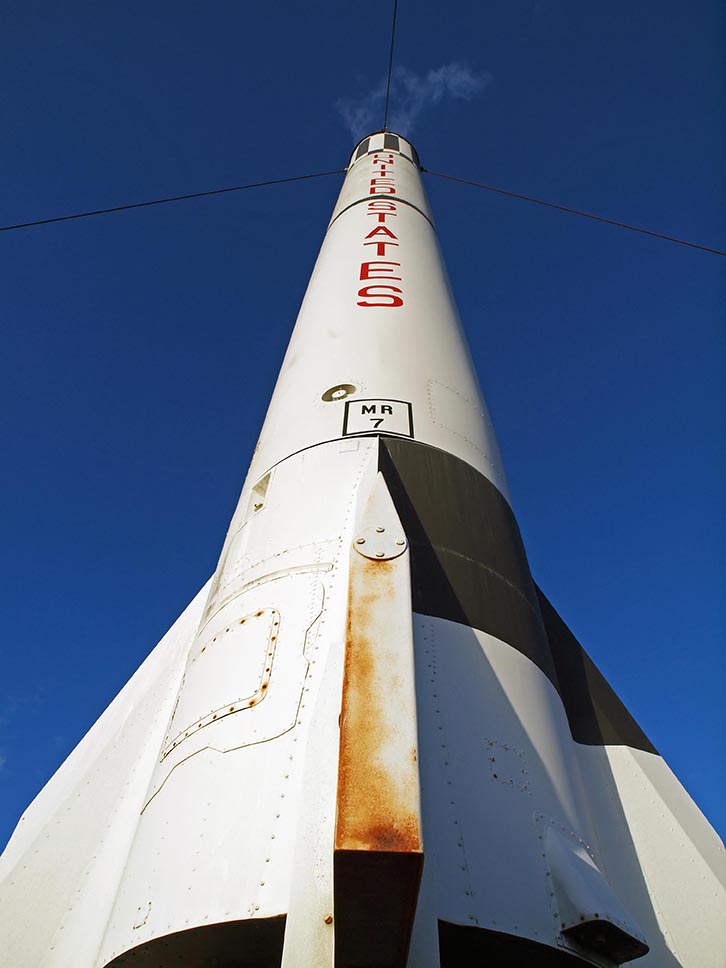 There's no sense in overcomplicating things: Start at the Kennedy Space Center, the crown jewel of Merritt Island. Previously the launching pad for Space Shuttles and the Apollo missions, today it's home to a state-of-the-art Visitor Complex and the U.S. Astronaut Hall of Fame.
Both the Visitor Complex and the Hall of Fame allow guests to explore the history of spaceflight through a rich collection of interactive exhibits, out-of-this-world artifacts and stunning 3D IMAX movies.
You can also do the little things, like saunter under a gigantic rocket booster, chat with an astronaut, get up close and personal with the Atlantis Space Shuttle and shake hands with a moon rock. While at the Hall of Fame, you can learn what it takes to survive a trip to space and the moon by trying your stomach at a variety of high-tech simulators and visual displays, each one demonstrating the sights and sounds of a journey skyward.
If that all piques your interest—and how could it not?—then you might want to check out the launch schedule. Nearby Cape Canaveral Air Force Station still regularly launches unmanned rockets throughout the year, and each launch is always a treat for spectators up and down Space Coast. But the best places for viewing are along the shores of Cocoa Beach, at the Kennedy Space Center and from any of the beaches south of Port Canaveral and along the Indian River.
Of course, there's more to the Space Coast than rockets, moon rocks and spacesuits. And outdoors enthusiasts will fall utterly in love with the picture perfect and fully preserved beaches and habitats found in a triple crown of protected park spaces: Pelican Island National Wildlife Refuge, Merritt Island National Wildlife Refuge and the Canaveral National Seashore.
Canaveral National Seashore is particularly breathtaking. Featuring 24 miles of white sandy beaches it's a haven for surfers, kayakers, wildlife photographers and nature lovers.
I Dream of Cocoa
Finally, for those in the mood to simply stroll, explore, relax and find that perfect slice of pie or enjoy an idyllic beachfront margarita, there's Cocoa Beach. Not to be confused with the City of Cocoa (just a few miles westward, on the other side of Merritt Island and the Indian River) Cocoa Beach is a quaint little island community full of eclecticism and refreshing charm. It's a place to watch dolphins, frolic in the surf, enjoy a romantic ocean sunset dinner, play a 27-hole round of golf or take in the international renowned surfing scene.
The Space Coast is defined by its attachment to the space race, the next frontier and to mankind's pursuit of the ultimate human adventure. But for all its high-tech marvels, space-age sights and stunning gadgetry, it's also a place where one can relax, unwind, connect with nature and simply sit back and people watch on the beach.
It just so happens you might also see a rocket reaching for the stars at the same time, somewhere off in the distance.
Check out the Florida Department of Tourism for more information.