Find out why snowbirds flock to Silver Palms RV Resort.
Each fall, retirees across the northern United States pack their RVs and leave the cold weather behind for several months of fun in the Florida sun.
For many of these "snowbirds" the destination of choice is Silver Palms RV Resort in beautiful Okeechobee, Florida, a top rated Good Sam Park for 2016. As a "for sale" property, Silver Palms offers owners a five-star resort experience full of countless amenities and engaging social activities that make one's time there truly unforgettable.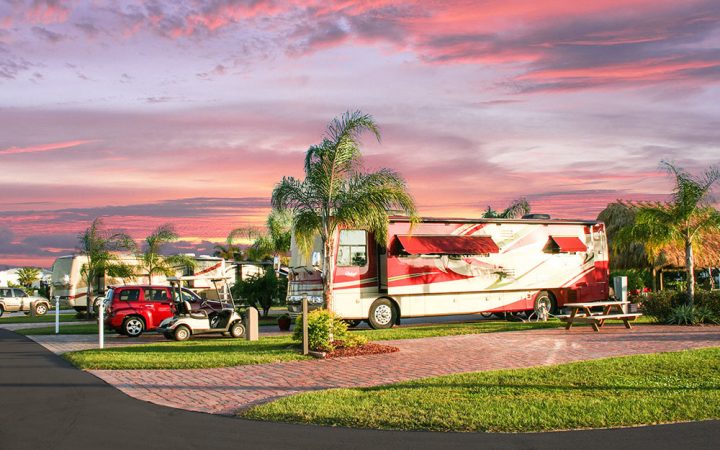 Equally as important is the ability to truly personalize one's site upon purchase. The excitement begins with the selection of your lot, whether it be a lakefront, interior, patio privacy or patio preserve site. Each can be customized to make it a true "home away from home" with custom brick pavers, a Tiki hut, an outdoor kitchen, beautiful landscaping and more!
On-site, residents and preview stay visitors can kick back and soak in the resort's natural beauty or take advantage of its expansive swimming pool and heated spa complete with various food and beverage options at the poolside bar and café.
Snowbirds Stay Active at Silver Palms
Get active by challenging your Silver Palms friends to Pickleball, volleyball, basketball, shuffleboard, and bocce ball or working up a sweat in the state-of-the-art fitness center. Daily and weekly activities include painting and crafts classes; ballroom and line dancing; yoga and zumba; bingo and bunco; and so much more.
Travel outside of Silver Palms to the town of Okeechobee and immediately be transported to a simpler time when small town values were revered and nature's beauty was enjoyed.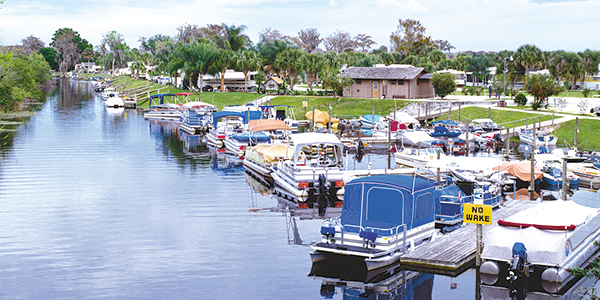 Known as "The Gateway to Central Florida," Okeechobee offers warm weather seekers access to many of Florida's top natural attractions—from a quiet day of fishing for speckled perch, looking for shells on the Gulf, basking in the sun and sand of the Atlantic, navigating the wonders of the Everglades, and so much more. During the Winter and Spring, Okeechobee hosts several fun-filled community events including the annual Christmas Festival (December 10), the Top of the Lake Art Fest (February 11-12), Taste of Okeechobee food festival (February 11), and the 52nd Annual Speckled Perch Festival and Parade (March 11-12)!
Golf, Sun and Fun for Snowbirds at Silver Palms
Golfers can take advantage of several nearby nine and 18-hole courses including Blue Cypress Golf Course and Spring Lake Golf Course, among others. For those who enjoy the occasional game of chance, nearby Seminole Casino Brighton features over 300 gaming machines, 4 poker tables and more. At Okeechobee's Quail Creek Plantation, hunting enthusiasts can enjoy sporting clay shooting (prices vary) as well as scheduled quail, turkey, and pheasant hunts.
A day of sun and sand is a great getaway as well, with six major beaches located within a 65-mile radius of Silver Palms including Jensen Beach, Fort Pierce, Stewart, Vero Beach, Jupiter, and West Palms Beach. The area is also rich with cultural activities including several major museums, performance theaters and galleries located within an hours drive. For those traveling to and from Silver Palms by plane, the Okeechobee County Airport and Okeechobee Jet Center are only 10 minutes away.
Bring all of this together and it's easy to see why "snowbirds" are flocking to Silver Palms as temperatures begin to dip back home. Leave the snow shovels and de-icing salt behind in favor of Florida living at its finest! Visit our website at www.silverpalmsrv.com at  or call 888-323-4967 to take advantage of purchasing one of our customizable RV lots or one of our few remaining move-in ready cottages.
Try out the Silver Palms lifestyle with a 3 night preview stay for only $129!