As "snowbirds" travel south, Southern culinary creations comes to mind, as these foods begin to appear on restaurant menus. If you wish to create one of these popular entrees yourself, checkout the Millcreek Ranch Resort in Canton, Texas—an RV resort with a"perfect" Good Samrating of 10/10*/10. Follow the Good Sam link to their website and blog for this and other delectable offerings:
Seafood Jambalaya
1-pound boneless chicken breast, cubed
1-pound mild Italian sausage, broken into chunks
1-pound mixed seafood (shrimp, crab, crayfish)
1/3-cup oil
1 large onion, sliced and chopped
1/2-cup celery, chopped
2 small red or green peppers, quartered and sliced
2 medium tomatoes, coarsely chopped
14-ounces chicken broth
3 cups okra, sliced
2 cups mushrooms, sliced
1/2-teaspoon cayenne pepper*
1-teaspoon black pepper
1-teaspoon white pepper
1-teaspoon gumbo filé (powdered sassafras leaves)
1 tablespoon Worcestershire sauce
1/2 cup orange juice
2 to 3 cups long-grained white rice
In a deep, 14-inch Dutch oven, sauté onions celery, and red or green peppers until tender, then move mixture to a separate bowl. Heat chicken and Italian sausage in the Dutch oven until cooked through, but not browned. In a separate pot, steam seafood mixture until done (2 to 6 minutes—shrimp will turn pink). Add the sautéed veggies, tomatoes, broth, okra and mushrooms to the chicken and sausage. Mix thoroughly.
Stir in dry peppers, gumbo filé and rice. Cover and bring to a boil, then reduce heat to a simmer. Add Worcestershire sauce and orange juice. Add additional water as necessary to cook rice. Add steamed seafood mixture. Simmer for another 10 minutes.
Serves 8 to 10.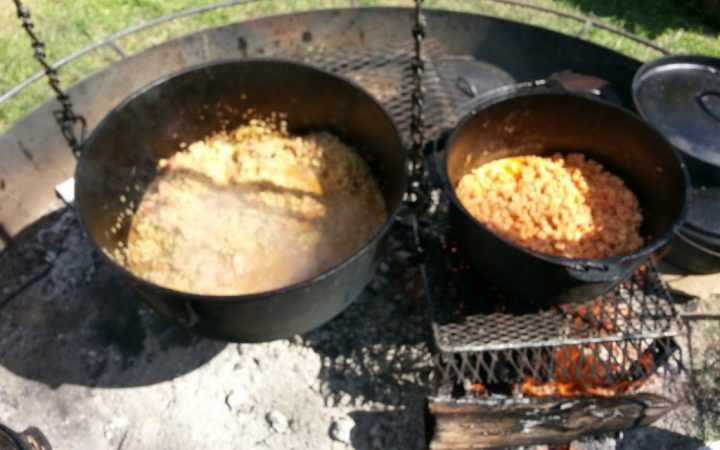 An array of other snowbird recipes and tips including "Trash Can Turkey", Campfire Snacks, Dutch oven cooking, and Greek Stuffed "Lamburgers" are among the temptations you'll find on this site alone. Are you hungry for more options?
From Texas BBQ to Key Lime Pie or easy breakfast casseroles, the potential for delicious cooking is endless. Inquire at your RV Park – often Snowbird Parks have compiled a book of their favorite recipes also.
Happy cooking from along the road,
Chris