Do you know the weight and height of your RV? How about the weight of your tow vehicle? Have you considered the problems that could be associated with overweight driving?
Here are some weight concerns to consider:
Weight limits on your RV are legally enforceable.
Your personal safety may be jeopardized if your RV is overloaded.
Overweight travel will diminish the reliability and durability of your RV.
Let's elaborate:
While RVs currently are not required to go through weight scales, law enforcement officers have the option of enforcing vehicle weight limits at their discretion. In the event of an accident, even if you are not at fault, nor are cited for being overweight, a lawsuit might still point to the weight of your RV as a contributing factor.
Most people are aware of the danger of a blown tire. However, excessive weight puts numerous RV components at risk, and the failure of any part—even the smallest—could put your personal safety in jeopardy. Being stranded along the highway because of a mechanical failure is not an activity you will find entertaining.
Overweight travel is asking your RV to do excessive work beyond what it was designed for. This may void the warranty on your RV.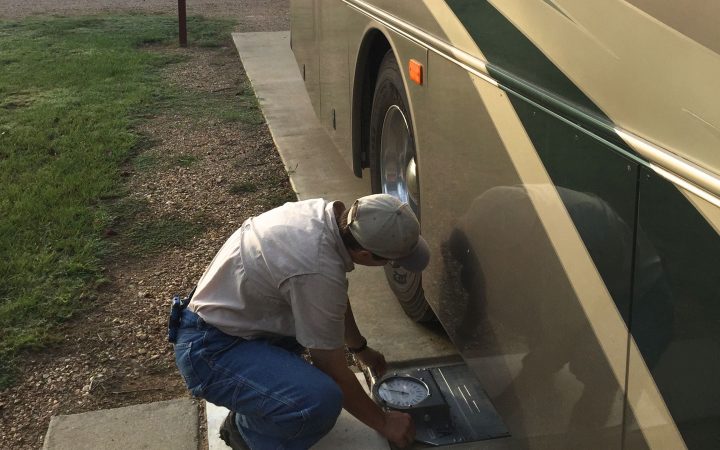 Know your RV's weight limits, and then weigh your fully loaded vehicle to ensure that you are driving safely.
Having your vehicles weighed takes about half an hour. A certified, precision wheel-by-wheel weighing procedure may also include measuring the height of your RV (this is good to know when traveling through areas with low overpasses). Take this opportunity to ensure the  proper tire pressure for both the RV and tow vehicle. Advice on axle-weight distribution and tow-bar capacity may also be given by technicians assisting RVers with the procedure. Pilot Flying Jay Travel Centers offer certified vehicle weighing scales that can be used by RV travelers.
Corrections to being overweight can include dumping gray-water and black-water tanks prior to any travel. Carry less fresh water (each gallon weighs 8.3 pounds!) and carry less on-board fuel. Redistribute and reduce personal items (food, tools, clothes, recreational gear, etc.), based on the wheel-by-wheel weighing data. Dispose of all but the necessities. Don't overfill the storage areas. Don't carry items you have not used in six months—you really don't need them. For every new purchase brought during your travels, eliminate something else.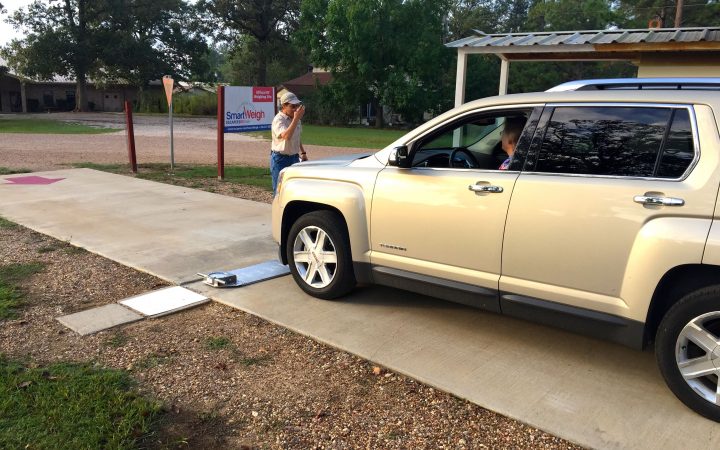 Now you can travel with peace of mind.
From along the road,
Chris