Check out these highlights of RV-related news, events and video from this past week.
**Update!** An agreement just annouced between Electric Motors Corp. and Gulfstream Coach will bring hundreds of jobs to Elkhart County, Indiana, where so many RV factory workers have been laid off in the past year. The two companies will be producing light-duty electric trucks, possibly by the end of 2009, according to reports from local news WBST 22. Read how this will affect laid-off RV plant workers in Elkhart.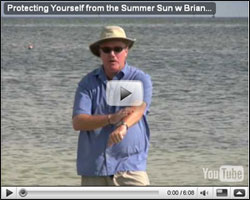 1. Wall Street Optimistic About Key Players in RV Industry: While the immediate future of the industry is shaky, investors see a long-term recovery for big RV manufacturers like Winnebago and Thor. "If you're in the motorhome buying market right now, you're probably going to see some deals that you'll never see again," said Winnebago President Bob Olson during the company's last earnings conference call (as reported by Reuters). Such huge discounting may force many manufacturers out of the market, but the ones that remain will enjoy higher market share and a steadier financial position.
2. Summer Sun Skin Safety: Green RVer Brian Brawdy's video shares tips for how to protect your skin from the sun's damaging rays while enjoying the great outdoors this summer travel season. May is National Skin Cancer Awareness Month, so use these precautions to reduce your risk of a skin cancer diagnosis.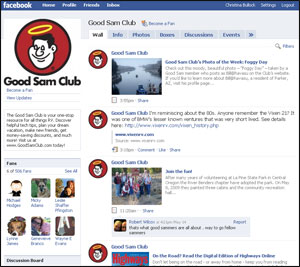 3. Avoid Stiffness with Sitting Stretches: On long trips it's hard to move around regularly to get the blood flowing. Health blogger Lynn Difley shares some stretches you can do while sitting to avoid muslce ache and joint stiffness. These also work for those of us (like me) who sit at a desk all day. Try them out, your body will thank you!
4. Join the Online Fun with Social Networking: Sue Bray shares how Good Sam is making the most of social networks like Facebook to share information between member RVers. Even if you don't keep up with cutting-edge technology, you can use these free (and easy!) online services to interact with others. Learn more and get started today!
5. RV Quick Tips: This segment of Quick Tips starts with a tip to keep your holding tank clean when you are airing it out. The second tip is a way to hang your paper towels on the outside of your RV. The third tip has a way to help keep your RV floors clean when mechanics come in and do maintenance. The last tip helps you with not burning what you are baking if your trays are close to the burners in your stove.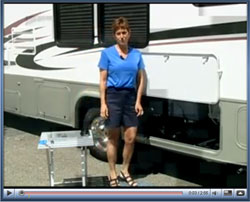 6. Tales of RV travel from Vacationing Aussies: While this story is from back in March, I found it to be an entertaining glimpse into how foreigners view Americans and the RV lifestyle. This Australian couple spent 3 months on a winter holiday trip along the West Coast in a 30-ft. Wanderer, and share their reactions to the million-dollar luxury RV coach sector (or what I like to call "rolling palaces").