Check out these highlights of RV-related news, events and video from this past week.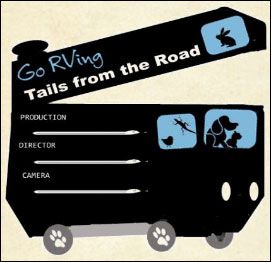 1. Enter the Go RVing Video Contest: Go RVing is calling for entries in its first Internet video contest, hosted on Facebook. The "Tails from the Road" contest asks contestants to create a positive, humorous video featuring a pet traveling in an RV. Entries will be accepted from June 1 through July 10, by uploading your video to the Go RVing Facebook Fan Page. See the Go RVing webpage for full contest details.
2. California State Parks Announce Geocaching Guidelines: Geocaching is reported to be one of the fastest growing outdoor recreation activities in the world today. If you don't know what geocaching is, it's essentially an activity that involves using GPS, Global Positioning System satellites and hand-held GPS receivers, to navigate and find or plant hidden containers known as geocaches that typically contain a logbook or small treasure. These new guidelines are designed to provide an appropriate conduct for the activity in those state parks where it's allowed, while still preserving and protecting the sensitive lands and facilities within those parks. Look over the guidelines before your next geocaching trip.
3. Good Sam Club Unveils Model "Lemon Law" Legislation to Protect the Rights of New RV Buyers : The Good Sam Club, the world's largest RV owners' organization with nearly one million member families, today unveiled first-ever model motorhome "lemon law" legislation, developed in conjunction with RV industry officials and the International Association of Lemon Law Administrators (IALLA). Pursuant to a series of conferences and negotiations sponsored by IALLA, both the industry and consumer representatives were able to agree on standards that would trigger lemon law liability for motorhome purchases, and provide consumer remedies through alternative means of dispute resolution. Read the full news release for more information.
4. Quick RV Safety Refresher Course: Been a while since your last RV trip? Refresh your RV safety knowledge on several topics before you hit the road by watching these short videos!
5. Boondocking and Dry Camping Solutions: Expert blogger Tony Cornett shares some tricks and tips for making life easier while boondocking and dry camping. No more hooking and unhooking the entire trailer when it's time to empty the holding tanks! Learn how you too can modify your rig!