Check out the latest RV-related news and events from this past week. This weekly series will feature only articles/videos of interest to the RV industry or RV community. Here's what's hot in the RV world this week: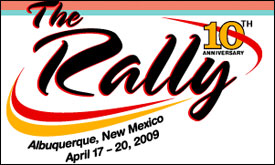 1. If you haven't already registered for Affinity's The Rally 2009, time is running short! On April 17-20 in Albuquerque, New Mexico, you can see thousands of RVs and RV-related products, take a local tour along the legendary Route 66, join the family-friendly activities, attend one of many educational seminars, enjoy the annual Dog Show, and groove to live entertainment from Neil Sedaka, Rita Coolidge and the Osmond Brothers.
2. Watch RV.net Bloggers Sean & Kristy on HGTV on Sunday, March 8. Sean and Kristy Michael, creators of The Long Long Honeymoon series, will be featured in HGTV's "RV 2009" program as they tour "America's Largest RV show" in Hershey, PA. The episode airs in prime time at 8 p.m. EST, 7 Central. Don't miss it!
3. Get a discount coupon for RV maintenance services: Oregon Motorcoach Center celebrates its first year of business with special discounts to help RV owners gear up for the summer touring season. In the spirit of celebration, OMC is offering a 10-percent discount through April 30, 2009, on labor for general maintenance and repair service, and customers who refer a friend will receive a $50 Visa gift card. OMC provides reliable, service-oriented motorcoach maintenance, repair and renovation at its facility in Eugene and also sends out a mobile service fleet to assist customers on the road.
4. RV manufacturing giant Monaco Coach, maker of Beaver Motor Coaches and several other brands, is searching for a buyer or financing to continue operations. KNBD Oregon reports that Chris Jackson, General Manager of Beaver Coach and Sales in Bend, says the local dealership is still open for business and is only indirectly affected by Monaco. According to the report, Jackson says the RV industry is going through a pruning period right now, but will not disappear.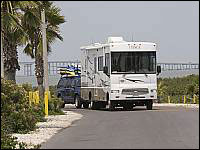 5. Play the March Mystery Challenge here on RV.net! Can you guess which campground the mystery RV camper has visited? Have fun testing your memory and your travel expertise, and end up with a great destination idea for your next trip.