RV galley dessert — add an easy-to-make confection to your Thanksgiving menu.
If you are looking for a fancy dessert that looks like it came out of a Viennese bakery, but can be made easily in your RV, you may like this recipe my wife makes. All you need is a microwave/oven and a little counter space. And it is delicious!
These are simple to make, look classy and great for a dessert with company. I used my Pink Lady apple and micro'ed for about 50 seconds. Perfect! These little individual apple desserts are real keepers!
| | |
| --- | --- |
| 1 Apple, cored and thinly sliced | ¼ cup Cream Cheese, softened |
| 1 Tablespoon Lemon Juice | 3 Tablespoons Sugar (or more, to taste) |
| 3 Tablespoons Water | Cinnamon (I like a generous sprinkling!) |
| 1-2 Sheets Puff Pastry | Powdered Sugar to garnish |
RV Galley Dessert Instructions
• Remove the core from the apple. (I found a small melon baller worked best.) Thinly slice the apple and place in a bowl. Add the lemon juice and water, gently tossing to cover all the slices.
Place in the microwave.
• Microwave for 45 seconds to 3 minutes until the apple slices have softened a bit.
• Immediately take the apple slices out of the bowl and place on a paper towel to dry somewhat as you prepare the puff pastry.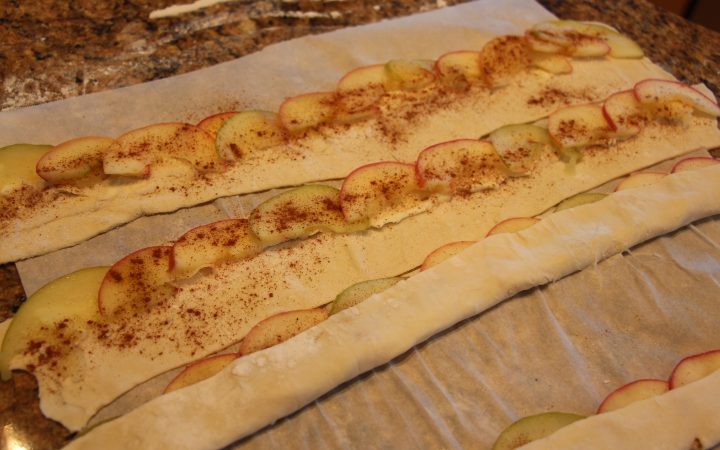 • I use the Tenderflake rolled puff pastry sheets. Roll out the puff pastry a bit more and cut into 4 even strips. Spread the cream cheese equally between the 4 strips and sprinkle with sugar. Arrange the apple slices along the top edge of the puff pastry; sprinkle with cinnamon. Fold the puff pastry in half lengthwise and roll. Place in greased muffin tins.
• Bake 40 minutes in 375 degree oven. Let cool somewhat then take out of the muffin tin and place on a wire rack to finish cooling. Place a bit of powdered sugar in a wire sieve and shake lightly over the rose tarts. Serve as is or with a scoop of ice cream. Amazing!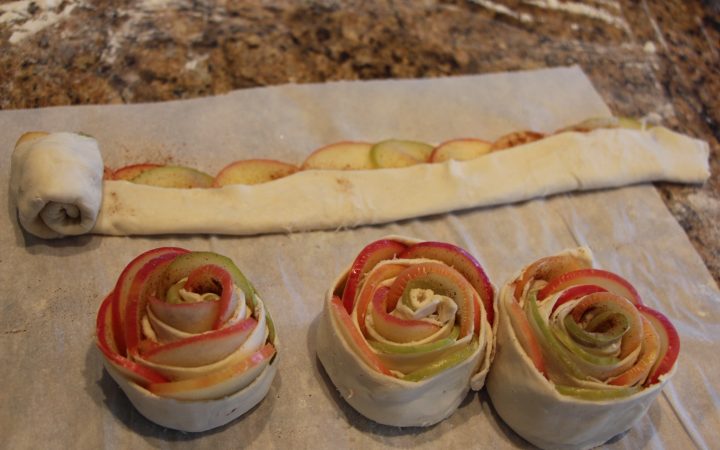 NOTES: (1) the second time I made this RV galley dessert I bought the Tenderflake 2 rolled individually wrapped puff pastry sheets. Use one sheet for 4 roses and the 2nd sheet stays frozen for future use. I just rolled out the sheet wider and longer, was so easy and the roses turned out great. (2) Also, I used a melon baller to remove the core. SO easy and quick, the absolute best way to core, from now on will be my method of choice for apples, pears, etc. (3) You want the apple slices microwaved just until they are pliable enough to roll up. Do not overcook as they will cook a bit more in the oven. When serving, you want the apple slices to hold their shape, a tad bit firm-ish, not real soft and mushy.
Need to add more cookware to your RV kitchen? Find all the supplies you need at Camping World.
Peter Mercer, for Cherrie — With a Taste of Heaven