SEAL-TITE ROOFTOP ACCESSORY INSTALLATION KIT CONTAINS:

30′ of butyl tape
2 tubes 501LSW, self-leveling lap sealant in white
1 putty knife
Many RV owners have their sights set on major accessory upgrades. Getting a new satellite antenna, skylight or fan can be the ideal addition to a home on wheels. But it's not so simple. Ensuring that the rooftop accessory installation is done the right way — with the right material — is critical.
That's where the Seal-Tite Rooftop Accessory Installation Kit comes in. This kit is designed to provide any service center or consumer with enough butyl tape and sealant to replace or update one or more RV rooftop accessories, depending on size. The rooftop accessory install kit is to be purchased in conjunction with any rooftop accessory, regardless of manufacturer or roof membrane.
Each kit includes 30 feet of Dicor butyl tape, two tubes of the 501 self-leveling lap sealant and a plastic putty knife for easy removal of old sealant.
Upgrade Your RV With These Accessories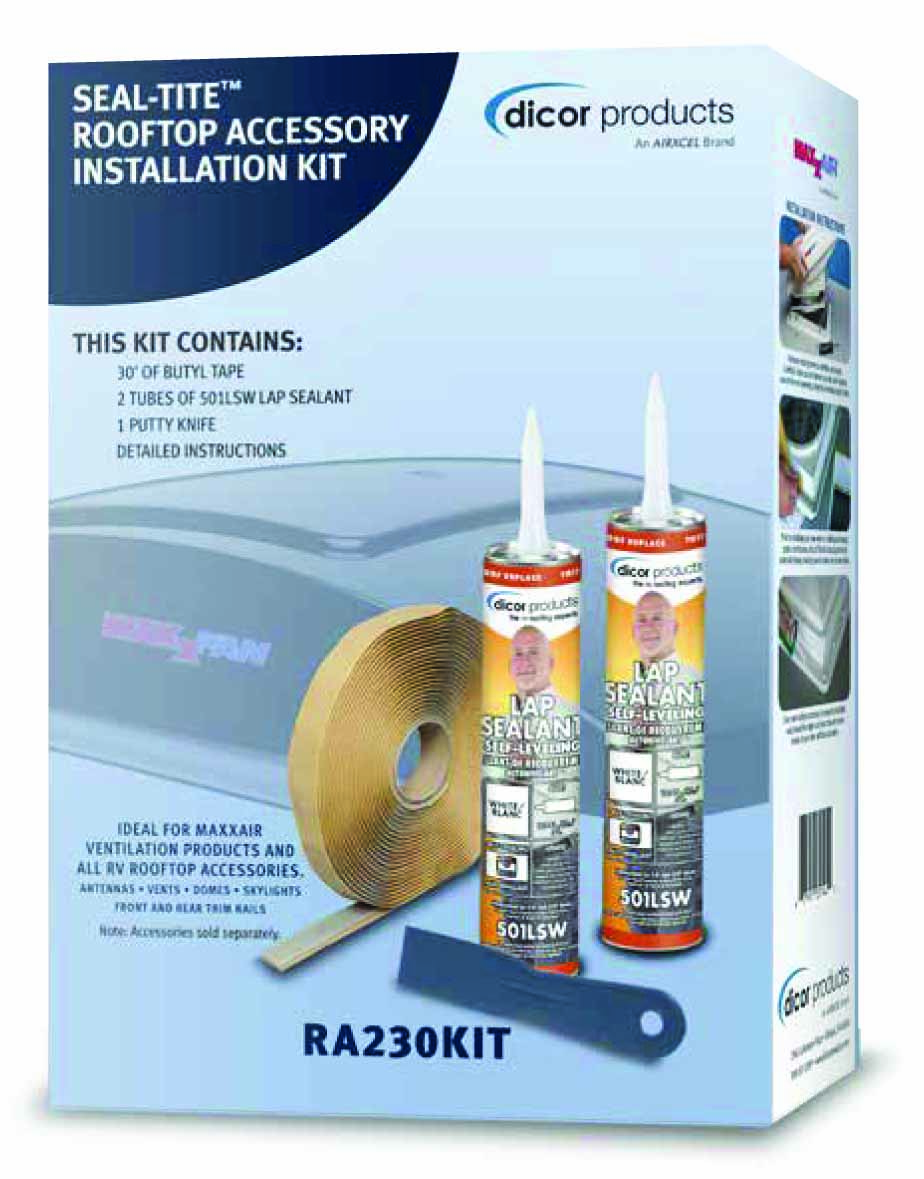 The Seal-Tite Rooftop Accessory Installation Kit is ideal for MAXXAIR's line of MAXXFANs and MAXXAIR Vents. It's also perfect for all RV rooftop accessories such as antennas, domes, skylights and front and rear trim rails.
Dicor Products
For 36 years, Dicor Products has been a reputable partner within the RV Industry, as well as a household name to consumers, by providing proven reliable products. Dicor is known for their wide range of superior roofing systems. This kit, among others within Dicor's extensive product offerings, is a universally compatible roofing solution that will help consumers protect their investment regardless of what type of roofing is on their RV.
Learn more about about MAXXFAN Dome and the Coleman Mach 10.